David Byrne's Festival Debut & Charlie Wilson's Gospel Stand Out on Jazz Fest's Sunday
Via Billboard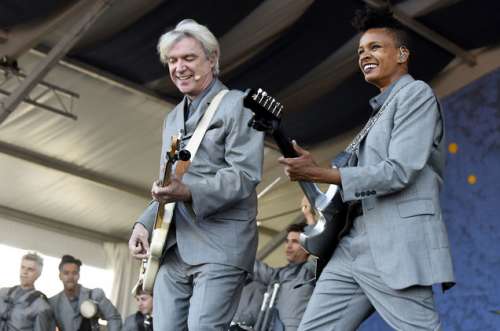 Photo by Tim Mosenfelder/WireImage
By Paul de Revere
The first Sunday of the 2018 New Orleans Jazz and Heritage Festival commenced at the Fair Grounds Race Course Sunday (April 29) with sets from bilingual New Orleans indie bands Royal Teeth and Sweet Crude, a very special Jon Batiste set with the Dap-Kings, master of funk and R&B Charlie Wilson and an aesthetically minimalist set from David Byrne, playing the fest for the first time in his career.
Here are the highlights from day three of Jazz Fest 2018.
12:30 p.m.: Royal Teeth is working with a fairly small turnout at Gentilly Stage. It's early in the day but they're definitely making the best of it, kicking off with "Kids Conspire" and a well-enunciated cover of The Knife's "Heartbeats." The band sprinkles in plenty of new unreleased material, including "Time Bomb" featuring horn players from fellow New Orleanians The Revivalists. By the time they show up, the crowd picks up a bit in numbers and enthusiasm. Vocalist/guitarist Gary Larson mentions it's the band's sixth time playing Jazz Fest, remarkable for such a young band. The band pays homage to its Louisiana Francophone roots with the anthemic "Mais La" (slang translating vaguely to "look at that!") and rounds out with their oft-licensed single "Wild."
Later in the day, Royal Teeth's core members sit down with Billboard to discuss how they're firmly on the other side of some label troubles. After three years of nonstop touring, with an appearance on American Idol under its belt, the indie band leveled up to a major (Elektra Records) but quickly parted ways and lost momentum in the process. So it came as a relief last year to finally settle on Roundhill Music as its new home, which Larson says will be releasing a new Royal Teeth full-length by the fall, most likely. "Hopefully, we'll have singles out by summer," said drummer Josh Hefner. "Album out by September. But, you know, that's the internal timeline. The label liked three of our songs enough to put out three singles, so we're excited."
1:55 p.m.: Sweet Crude raises the bilingual ante on the Gentilly Stage, starting with the peppy "Isle Dans La Mer" ("Island In the Sea") then "Mon Esprit," a crescendoing anthem introduced by co-lead vocalist Alexis Marceaux. "This song is for every woman out there who has been told they're too headstrong, too passionate," she told the crowd, an explicit feminist statement too rare at Jazz Fest. The band sprinkled new unreleased material throughout its set as well, concluding with "Little Darling."
In an interview later in the day, Marceau and co-lead singer Sam Craft talked about the message of "Mon Esprit." "That song's very special to me. It's saying, 'I'm going to sing to free my mind, I'm going to sing to free my soul.' It's talking about how singing is the only way to overcome these obstacles in life." And Craft offers a disclosure: he and Marceau used to date and wrote the song together, keeping Sweet Crude together as a way to remain in each others' lives. "It's a lot of back-and-forth about misunderstanding, miscommunication, it goes into gaslighting, not being forthright, that sort of toxic behavior [in relationships]," he said. "It was written before the movement that's going on now," Marceau added, referring to #MeToo and #TimesUp, "so I think it's one of those songs that needs to be out there, needs to be talked about."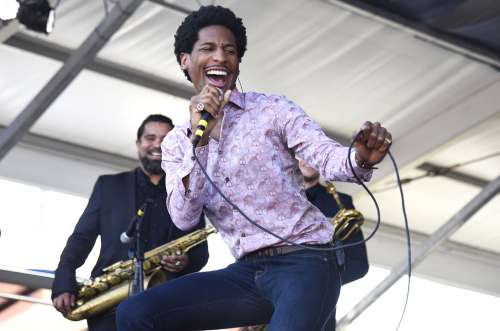 Photo by Tim Mosenfelder/WireImage
3:30 p.m.: Jon Batiste and the Dap-Kings had a plan. Batiste told Billboard the day before they had a whole setlist worked out of Louisiana soul deep cuts, a tight and modest performance that didn't go over time. That plan didn't work out so well. As Dap-Kings guitarist Binky Griptite tell it, you can always plan on things not going as planned. Batiste and the hardest-working soul band in show business messed around and changed the whole list.
"That just happens, regardless," Griptitle said after the set. "It usually makes the show better. You just gotta be ready for it. My motto is: chaos is your friend."
Here's how it shook out at Gentilly Stage: Batiste reprised his superb take on Fats Domino's "Ain't That A Shame," followed by one of his band Stay Human's tracks, "It's Alright (Why You Gotta)." Then came the Louis Armstrong portion with the band, "St. James Infirmary Blues," and a quiet somber solo take on "What A Wonderful World" listened to so rapturously by the huge crowd, you could hear errant coughs and clearing of throats in a huge field. Batiste brought the mood -- and the Dap-King s-- back up for a real funky cover of Allen Toussaint's "Yes We Can." Then came New Orleans' de facto anthem, "When the Saints Go Marching In," which Batiste hung back on for just an instrumental, letting the crowd sing it.
The Dap-Kings supercharged Batiste's usual set, delivering a punch where Stay Human tends to stay a bit leaner. The Dap-Kings are one of the most sought-after backing bands in America and this show with Batiste (with a tour of summer festivals to follow) is a fine demo of why. Also in that vein: Griptite also mentions a forthcoming team up with Mavis Staples at the Newport Folk Festival.
"We're still a band, that's what we want people to know," he says, referring to the Dap-Kings' career status, as they understandably slowed down following the death of singer Sharon Jones in 2016. "You got a record to make? You need a band? Give us a call. But, yeah, Sharon wanted us to stay together. Obviously, she didn't want us to grab some other woman and have her do her Sharon Jones act. It's nice when the music is true, comes from the heart, reaches the heart. So that's how we go forward."
5:30 p.m.: A few songs into his Congo Square Stage set, Charlie Wilson's band is a seriously well-oiled machine, riffing and transitioning seamlessly from the last ten years or so of Wilson's R&B solo work, his funky-synth-bass Gap Band past and covers of easily recognizable old- and new-school pop and R&B that bridge the two Uncle Charlie songbooks. Snoop Dogg's "Beautiful," a top-ten single featuring he and Pharrell, is followed by the impeccable "There Goes My Baby" penned by Kenneth "Babyface" Edmonds. His band vamps a medley -- not a dull moment -- while Wilson changes outfits. He comes back fresh with Gap Band classic "Burn Rubber," followed by a "Smooth Criminal" riff.
"How do I look?" says Uncle Charlie, on some James-Brown-Goes-to-Doctor stage patter about his health issues ("I got two knee surgeries! One on my back!") as he busts a move. He then jumps to a Gap Band jam about hard labor ("Humpin'"). By the time his set winds down, Wilson has hit peak Gap Band ("You Dropped A Bomb On Me") and, as an encore, sings a few bars of his renowned "Bound 2" hook, sprinkling in Ponderosa Twins Plus One's "Bound" source material as well.
If you paid close attention during Wilson's performance of his gospel single "I'm Blessed" it wouldn't be out of bounds to wonder if he'd like to try his hand at Jazz Fest's Gospel Tent one year. "I have thought about it a whole lot," Wilson told Billboard. "I do have half of a gospel record already done. I just need to figure out when I'm gonna finish it and make sure I have two or three singles I would roll for it." In fact, Wilson has a bone to pick in a gospel lane that most secular artists would never tread. "Not only do I think it would do well, I think it would just piss off some gospel people. They just don't understand sometimes. They say people that do R&B should stay in R&B. They don't have a clue that the same God that you love is the same God that I love. And I'm being blessed by the same God. So let's just love the music, love the people that's loving the music. Let's continue lifting them up. I can't wait to put some more gospel music out."
5:40 p.m.: Jazz Fest is among the last places one would look to find art-school or avant-garde takes on music given its focus on New Orleans roots and tradition. But that might only be because -- in his long storied career- - David Byrne has never played it before. But here he is, bopping and swirling in choreography around the Gentilly Stage with a small battalion of musicians. With their instruments in-hand or strapped to their person -- not an amplifier or monitor visible -- it's a strikingly minimalist concert experience unlike anything else. But for Byrne/Talking Heads fans, the band's baggy-fit dark grey suits evoke the seminal 1984 concert film Stop Making Sense. Some of the stage moves are a nod to Byrne's most recent 2016 concert film Contemporary Color, a celebration of color guard troupes. Even actor and part-time New Orleanian John Goodman swaying back and forth side stage was a nod of sorts. Goodman's an old pal of Byrne's going back to the 1986 cult favorite True Stories, starring Goodman, which Byrne directed, co-wrote and narrated.
These reference points span much of Byrne's career but the setlist was largely focused on his new American Utopia LP, with opener "Here""doubling as a quick TED Talk about the human brain and the slow contemplative "Dog's Mind" leading the whole band in unison to the lip of the stage. "That is as far as we can go," Byrne said dryly with a tiny smile. You can count on Byrne not to take this opportunity to march a second line out into the crowd. But he still has zydeco-like rhythms in his rework of The BPA's (a/k/a Fatboy Slim's) "Toe Jam," one of that duo's recent collabs. More American Utopia tracks follow with "Everybody's Coming to My House," the album's most joyful tune, "Doing the Right Thing," "I Dance Like This" and "Every Day Is A Miracle." Plus there's crowd-pleasing Heads classics "This Must Be the Place (Naive Melody)," "Once In A Lifetime" and "Burning Down the House." His finale -- a cover of Janelle Monáe's political screed "Hell You Talmbout," rattling off names of black victims of police murder -- was stirring, with an explicit political bent following a set of oblique aesthetics and restraint.