David Byrne's "True Stories" to Be Released on Blu-Ray/DVD by Criterion Collection
Via Nonesuch Records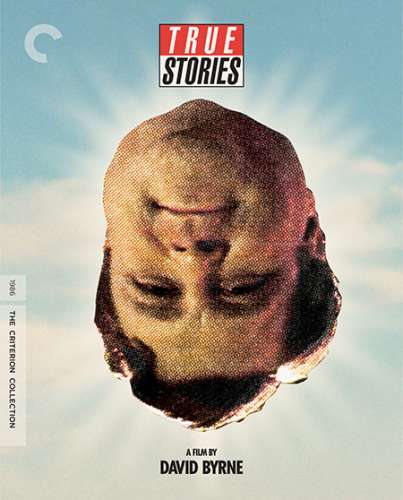 David Byrne's 1986 film True Stories will receive its Criterion Collection release on Blu-Ray and DVD on November 20, 2018, available to pre-order now in the Criterion Shop. The film's complete soundtrack will also be released for the first time on Nonesuch Records this fall; stay tuned for additional details to come.
David Byrne was inspired by tabloid headlines to make True Stories, his sole foray into feature film directing, an ode to the extraordinariness of ordinary American life and a distillation of what was in his own idiosyncratic mind. Byrne plays a visitor to Virgil, Texas, who introduces the audience to the citizens of the town during preparations for its Celebration of Specialness. As shot by cinematographer Ed Lachman, Texas becomes a hyperrealistic late-capitalist landscape of endless vistas, shopping malls, and prefab metal buildings. In True Stories, Byrne uses his songs to stitch together pop iconography, voodoo rituals, and a singular variety show-all in the service of uncovering the rich mysteries that lurk under the surface of everyday experience. Also in the film are John Goodman, Spalding Gray, and Swoosie Kurtz, among others.
The Blu-Ray special edition features a new, restored 4K digital transfer, supervised by David Byrne and Ed Lachman, with 5.1 surround DTS-HD Master Audio soundtrack, also supervised by Byrne, on the Blu-ray; a new documentary about the film's production, featuring Byrne, Lachman, writer Stephen Tobolowsky, executive producer Ed Pressman, coproducer Karen Murphy, fashion-show costume designer Adelle Lutz, consultant Christina Patoski, actor Jo Harvey Allen, and musician Terry Allen; the CD with 23 songs, containing the film's complete soundtrack compiled for the first time (Blu-ray only, and separately via Nonesuch); Real Life (1986), a short documentary by Pamela Yates and Newton Thomas Sigel made on the set of the film; No Time to Look Back, a new homage to the fictional town Virgil, Texas; a new program about designer Tibor Kalman and his influence on Byrne and role in the film, featuring Byrne and Kalman's wife, artist Maira Kalman; deleted scenes; the film's trailer; and an essay by critic Rebecca Bengal, along with, for the Blu-ray edition, new pieces by journalist and author Joe Nick Patoski and Byrne, a 1986 piece by actor Spalding Gray on the film's production, some of the tabloid stories that inspired the film, and a selection of Byrne's preproduction photography and writing about the film's visual motifs.