HeadCount: Getting Fans From The Stands To The Polls
Via Pollstar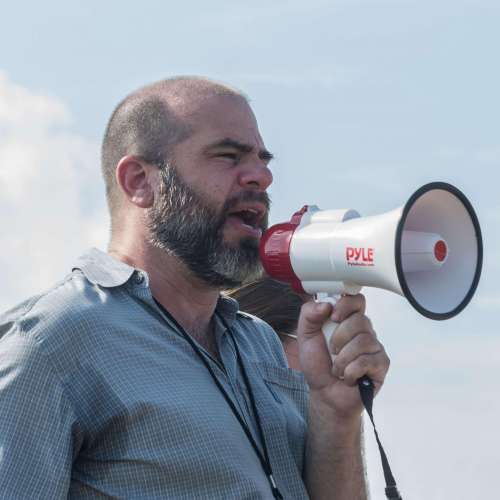 By: Francisco Rendon
Jim James' tour of six college markets in "swing districts" in the U.S. was done in partnership with HeadCount, a nonpartisan organization that works with musicians to promote participation in democracy, largely through voter registration drives at concerts and through social media.
The company has registered 500,000 voters since 2004 and has had 25,000 volunteers over that period. HeadCount executive director Andy Bernstein told Pollstar these days many of the volunteers come through the artists, who direct their fans to HeadCount through their websites and social media, and allow free admission for their time spent volunteering.
"When the volunteers are from the fanbase of a band/artist, we find people are more likely to engage with someone of a similar age," Bernstein said, citing Panic! At The Disco as a recent success.
Those volunteers are broken down into a tiered system, in which there are 130 team leaders with reach into all major U.S. cities. In order to build even more community within its volunteers, the org is sending whoever throws the best "Get Out The Vote" party on the Jam Cruise next year HeadCount is breaking all kinds of metrics this year, Bernstein said, as it has been on tour with Drake, Jay-Z and Beyoncé, Panic! At The Disco, G-Eazy, Odesza, and Dead & Company, as well as at festivals like Austin City Limits, Bonnaroo, Lollapalooza, Outside Lands, Newport Folk, and Grandoozy. Company reps said it has facilitated 75,000 registrations this year alone.
HeadCount's efforts are often conducted entirely by local volunteers. In the instances they embed staff on a tour artists will often provide bus space or pay for hotels to defray the costs.
"The music industry has really engaged in a way unlike anything I have ever seen," Bernstein said. "We've seen [so many] prestigious artists making this a part of their message.
"You are just seeing concerts and the whole music industry become a place of deeper engagement. We've been doing this for 15 years, so you really can tell when [registration] numbers are a lot higher compared to the year before or the previous midterm elections, and everything we are doing is off the charts right now."
The best event for voter registration Bernstein said, historically and this year specifically, was the now-ended Vans Warped Tour put on by Kevin Lyman.
"When you build civic engagement and social responsibility into the DNA of an event, it's going to be apparent in everything. Headcount will register more voters, food drives will collect more food, advocacy groups will get more petitions signed, etc.," Bernstein said.
"I always believed that Warped fans were some of the most engaged out there," Lyman told Pollstar. "Working with HeadCount to register voters helped prove it once again!"
All of the successes in registration mean nothing if people don't actually get out to vote though, Bernstein said.
Thus, although voter registration deadlines have now passed, HeadCount's continued action leading up to the mid-term election includes the release of an "Election Madlibs" game online to provide voters with laughs and information on things like polling place and election date; a sustained digital push (of which he said David Byrne is a great example), which already saw 300 artists engaging their audience for National Voter Registration day; and a PSA to be aired on PBS and Fox News, featuring the likes of Brockhampton, Kevin Abstract and Amandla Stenberg.
An important aspect of HeadCount is its non-partisan nature, Bernstein said, emphasizing that he would love to have more of a presence at country music events, though those artists have traditionally been "very skittish" about anything related to politics.
Bernstein noted that HeadCount's leadership is full of concert industry heavyweights, representing a broad cross-section of the biz. That leadership includes Marc Brownstein of Disco Biscuits, Rich Goodstone of Superfly, Peter Shapiro of Brooklyn Bowl, Dead & Company's Bob Weir, AEG Presents' Don Strasburg, Jonathan Levine of Paradigm, Andrew Dreskin of Eventbrite and Patrick Jordan of Red Light Management.

"Everything we do is from the perspective of music fans and music industry professionals," Bernstein said. "That's where we come from and that's where we do our best work."