Highlights from Sasquatch! 2018 Day One: David Byrne, Bon Iver, and more bring their energy
By Dana Sparks and Sarah Northrop
This year's Sasqautch! Music Festival has had a promising start with high energy performances and beautiful weather at the Gorge Amphitheatre. The Memorial Day Weekend festival has been criticized for its measly lineups in recent years, but 2018's has seemed more robust — featuring soaring indie-rock acts like Japandroids and Alex Lahey to EDM to art-rock veteran and former Talking Heads' frontman David Byrne.
Here are the Emerald's highlights from day one of Sasquatch! Music Festival 2018. Check out photos by Sarah Northrop and Dana Sparks below.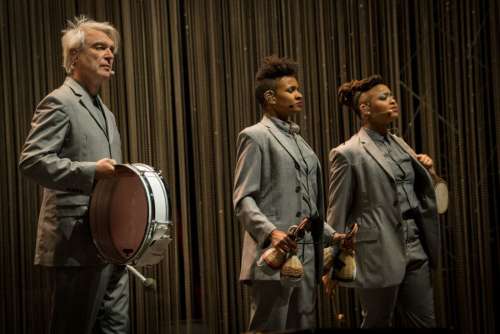 Dana Sparks / Emerald
Former Talking Heads' frontman David Byrne took to the Sasquatch Stage barefoot with a bead-like curtain falling like rain around him as the sun set in the gorge. He and his band all wore simple gray suits — musicians' eyeshadow and the colored stage lights filtering through Byrne's white hair were the only colors. Byrne performed "Who", a song that he wrote with St. Vincent in 2012. He also took advantage of his platform on the main stage to announce Head Count's presence at the festival and talked about the power of turning out to local elections. He said it's a way to more effectively evoke change rather than waiting for "the fools at the top." In addition to a few covers and his newer music, he played Talking Heads classics like 'This Must Be the Place (Naive Melody)" and "Burning Down the House." Byrne closed with "Hell You Talmbout," a protest song written by Janelle Monae in 2015, but amended it with more names of Black people lost to police brutality.