Hong Kong's Clockenflap 2018: Interpol, Shame, Big Shaq + Bodega own day one
Via Gigwise
By David McKenna
Clockenflap has been running since 2008 and has no rival as Hong Kong's biggest music festival. It's unusual in name – it sounds like it could perhaps be a Dutch event but it's really just a memorable piece of nonsense – as well as in location, taking place at the harbourfront on the North coast of Hong Kong Island, bang in the heart of what can only be described as HK's equivalent of Canary Wharf. Although a relatively small part of Hong Kong, the island and in particular the Central area is the financial heart of the region. Clockenflap's position there means that the festival doesn't push on into the night - shows are wrapped up by 11. But it's accessible, relaxed and features a winning mix of international headliners and regional bookings, with Jarvis Cocker, Khalid, David Byrne, Caribou and Erykah Badu (more on them to follow) joined by the likes of local rap duo GTB (Green Tea Beauty Queens) and math rockers GDJYB. On the opening night, our reporter David McKenna observed:
Partying on the set of Blade Runner
There isn't really any other way to describe the feeling of being circled by Hong Kong skyscrapers at night while wandering between the Clockenflap stages.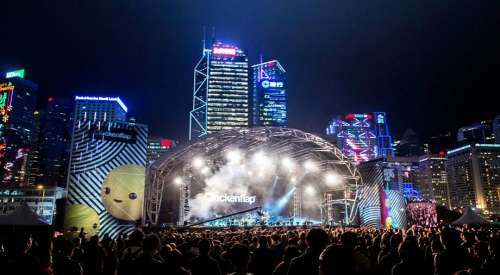 Bodega being so New York it hurts
It's hard to get past it, with the Jonathan Richman-like (ok Boston-born but NY in spirit) lead vocals and Mo Tucker-esque stand-up drummer Montana Simone and their sound fairly drips with references to the city's musical past. They do successfully come across like a gang, though, and their enthusiasm is infectious.
Recycling taken seriously
Top marks for the announcement from the main stage (Harbourflap!) reminding attendees to sort their litter.
Big Shaq bringing a touch of London humour
Michael Dapaah comes to HK in character as grime artist Big Shaq ('Man's Not Hot') creation and drops some gems like "one two three four five/once I caught a fish alive."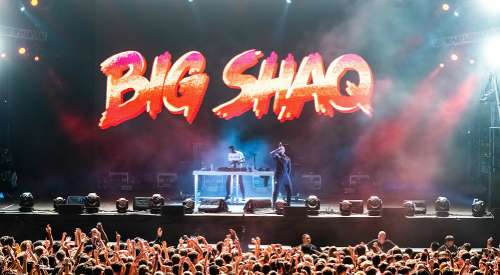 Cigarettes After Sex being all afterglow
CAS's music is perhaps intended to replicate the languid feeling of post-coital bliss, but more precisely it's like witnessing the moment of rolling over and snoring. It's difficult not to feel like you've missed the serious action.
Interpol Being Reliably Assured
Elder statesmen now of a certain gloomy 80s revivalism, Interpol can probably do this in their sleep and the set feels workmanlike in places. But they do have some powerful tunes in their locker, particularly from those first two albums, and 'Not Even Jail' really soars.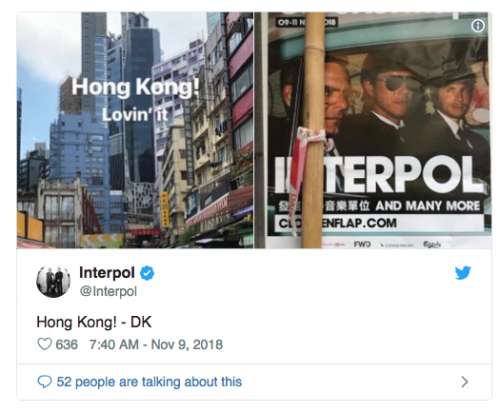 Shame giving it 110%
Shame are nothing if not thoroughly committed. Bassist Josh Finerty sometimes leaps around in his shorts like he's in Red Hot Chili Peppers but inevitably Charlie Steen is the focus, running through his repertoire of bare chest-beating, nipple tweaking, Christ-with-a-mic-stand posing and crowd surfing. One audience member gets a near-full bottle of water emptied over his head by Steen and looks genuinely delighted.