How Talking Heads' radical fourth album 'Remain in Light' almost never came to be
Via beat.com.au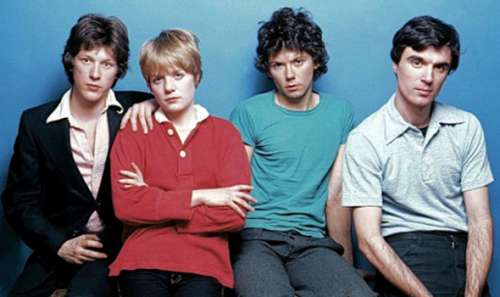 By Tom Parker
By 1979, Talking Heads had released three albums of strident art punk, positioning themselves as the nerds in science class. They were the goofy mad professors of the music industry, headed by an eccentric frontman whose awkward normal-guy persona nauseated traditionalists.
In front of a triplet up to their heads in adventure and innovation, David Byrne bent and twisted the conservative confines of rock to the point that the Chinese burn bled. Yet, it wasn't until Talking Heads' fourth album, Remain in Light, that the band truly understood their schizophrenia.
Their magnum opus, this eight-track release took them into the brain of Nigerian pioneer, Fela Kuti, reawakening the jewels Kuti had excavated -- African polyrhythms and funk confronted the band's clamorous appetite for electronic music.
One of the narrowest critiques of Talking Heads was that bandmembers, Chris Frantz, Tina Weymouth and Jerry Harrison were just passengers to Byrne's wizardry. Having finished touring their third album, Fear of Music, by early 1980, Weymouth and Frantz embarked on a much-needed vacation to consider their position in the band.
Weymouth was disgruntled to say the least, penning Byrne's unbridled dominion as an impetus to leave Talking Heads. Frantz was reluctant to forgo the beast, however, and a journey through the Caribbean swiftly rekindled their desire.
Immersed by the colour and vibrancy of reggae, Weymouth and Frantz mingled with Jamaican dub extraordinaires, Sly and Robbie, and were introduced to native percussion instruments from the region.
Subliminally, the seeds for Remain in Light were being planted and after Weymouth and Frantz purchased an apartment above Nassau's Compass Point Studios to conclude their holiday, the next leg of the Talking Heads had begun.
Byrne and Harrison joined Weymouth and Frantz in the Bahamas and the precedent was set -- the band's rhythm section wouldn't be reduced to puppetry this time around. To bridge the divide between visionary and support cast, Talking Heads entered wandering instrumental jams to sculpt the album blueprint diluting Byrne's authority in the process.
For a band that previously moved to the command of their screwball vocalist, this was an optimistic move of equality. Byrne was totally cooperative and suddenly, Remain in Light was in session. Fear of Music's euphoric opener 'I Zimbra' set the stage for the band's new experimental approach and demo after demo was cut in preparation for Brian Eno's consultation.
At the time, Eno's reputation preceded him -- the vanguard of ambient music in the mid-'70s, Eno had spent time with David Bowie in Berlin, accruing producing credits on his landmark "Berlin Trilogy" -- Low, Heroes and Lodger. Appending his late '70s dash with Bowie, Eno had also lent his services on More Songs About Buildings and Food and Fear of Music, Talking Heads' prior two albums.
So when it came to Remain in Light, Eno was reluctant to accommodate. He'd made the trip to the Bahamas but it wasn't until Byrne presented Eno with the band's frenzied instrumental demos that the great producer agreed to collaborate.
The music world was gravitating around them and while Talking Heads had already consolidated themselves as the industry's Christopher Lloyd, futurists around them were striding forward and not looking back.
For Weymouth, the rise of hip hop was enough to kick them into gear and so the Afrobeat expedition began. Kuti's 1973 album, Afrodisiac, formed the template for Remain in Light whereby the allure of polyrhythms proved persuasive.
In layman's terms, the concept of polyrhythms pairs two contrasting rhythms simultaneously which makes for an off-kilter beat. This crash and clutter can be heard across the entire album, and it's 'Once in a Lifetime', 'The Great Curve', and 'Crosseyed and Painless', that can't be overlooked for their groove-driven incompatibility.
To engineer the organic sound they were after, Talking Heads enlisted the help of as many as 12 creatives, including percussionists, horn players and vocalists. It was cultivated with a slapdash approach -- record jams, isolate the best parts and learn how to play them repetitively.
Awash with minimalist rhythms, loops were crucial on the album as the band attempted to find the chaos that would be Remain in Light's greatest asset. Sections were recorded in a long loop and then married together, however discordant or seamless they might have been.
By the end of Talking Heads' stint in the Bahamas, most of the recordings were complete yet Byrne had shed few vocal impressions. Returning to New York, Byrne stood at the foot of an instrumental behemoth, a beast which necessitated some sort of lyrical virtuosity to do it justice.
The poetry didn't come easily for Byrne and after succumbing to writer's block, concerns over the album's probability arose. Harrison and Eno spent time adjusting the compositions recorded in the Bahamas but Weymouth and Frantz were often absent from the studio, further clouding the situation.
With the recruitment of guitarist Adrian Belew, nonetheless, the band were liberated. Belew added guitar solos, making use of a Roland guitar synthesiser, and Byrne recorded them to a cassette.
Byrne championed African legend to free up his writer's block -- improvising new words when real ones are forgotten -- and finally Remain in Light came together. After a few months of fine-tuning and mixing, Talking Heads' most revolutionary musical sidestep was released on October 8, 1980.
Eno warned that the intricacy of the album lent itself to a live nightmare, so the quartet bolstered their stocks, expanding to nine musicians for the appending tours. Their shows were lauded for their immensity and the crowd sizes ballooned -- an audience of 70,000 at Canada's Heatwave festival was followed up by a 125,000-person album showcase at New York's Wollman Rink.
Remain in Light was the fourth album from a band who already lived alone in their quasi-electronic rock world. They'd already cemented themselves as music's infectious cranks, and while it seemed unlikely that anyone could echo their artlessness, Talking Heads accelerated again like Lance Armstrong doped up on EPO.
Byrne was empty -- his lyrics had always been the ugly duckling amongst the paddling and enduring the juxtaposition between his words and music had worn him down. So, Remain in Light almost never saw the light, but we are so thankful that it did as for generations of musicians, the concept of doing something weird is now real and envied.