How to Build a Music Scene, According to David Byrne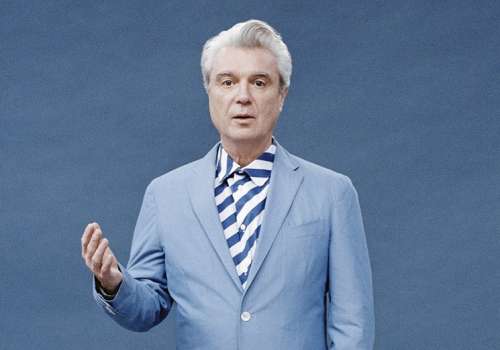 Photo: Jody Rogac
​By Lynn Trimble
David Byrne brings his American Utopia tour to Mesa on April 19, more than four decades after co-founding the Talking Heads. He's promoting a solo album by the same name, featuring his characteristic blend of nearly nonsensical lyrics with abrupt shifts in musical tones.
Byrne's renowned art-rock band took root during the rise of punk in the mid-1970s, opening for the Ramones at CBGB's in 1975. The band began as a trio comprising Byrne, Chris Frantz, and Tina Weymouth.
In 2002, the Talking Heads were inducted into the Rock and Roll Hall of Fame. Despite the fact that just one song, "Burning Down the House," made it into the top 10 on the U.S. charts, they're hailed for influencing generations of performers with their eclectic mix of rock, punk, funk, and other musical styles.
So Byrne, now 65, is well-qualified to give pointers on how to build a music scene. It's a topic he tackled in his 2012 book. Titled How Music Works, it's a blend of memoir, music history, and practical advice.
And there's a whole chapter on how to build a music scene.
It's not enough to have talented musicians, Byrne writes. It also takes a wide variety of venues, opportunities for creatives to cross-pollinate, and affordable housing.
"A confluence of external factors helps encourage the latent talent in a community to flourish," Byrne says.
With Byrne visiting the Valley this week, we were curious how Phoenix stacked up to his criteria.
First, Byrne says, a city needs venues with the "appropriate size and location" for performing new material. That's already happening in Phoenix, according to Mark Oxborrow, vocalist and bass player for The Haymarket Squares.
"Phoenix has a pretty nice range of venue size; there's kind of a venue for every stage of a band's development," Oxborrow says.
Over time, bands progress through the local-music ecosystem. For example, Phoenix Afrobeat Orchestra started out at The Lost Leaf, and later graduated to playing larger venues like the Van Buren, he says.
Still, something is missing from the venue mix, according to Jack Escobar, vocalist and guitarist for the punk band Acne Superstar. "We need to see more house parties and DIY platforms," Escobar says. "The DIY ethic and atmosphere helps musicians get out of their shell and get recognized."
It's happening in Tempe, where the underground house-party scene is thriving. The annual Vanishing Show is a roving night of performances that take place in the Maple-Ash neighborhood, and houses like Tobacco Row host DIY shows where the curious (and too young for the bar scene) can explore different sounds.
Byrne makes a similar point in How Music Works.
"It doesn't sound ideal, but maybe not having to perform under intense scrutiny (it always seemed as if only the few folks in front were really paying attention) is important, even beneficial," he writes.
For Byrne, the approach prompted what he calls "more natural, haphazardly development" on the band's part.
Like many others, Last Exit Live owner Brannon Kleinlein praises the prevalence of music venues. Still, he says, Phoenix needs more venues in close proximity to each other, so people can hit multiple places without having to get in their cars and drive.
It helps that Phoenix has light rail, says Anamieke Quinn, a vocalist and guitar/bass player for the Latin fusion funk band Las Chollas Peligrosas. Now though, she says, we need more venues outside of downtown Phoenix, in West Phoenix and South Phoenix.
Beyond a full spectrum of venues, cities also need music experiences where audiences don't have to keep rapt attention throughout a performance, according to Byrne.
Phoenix has that covered with a robust festival scene. This spring alone, there have been a half-dozen such events. And they range from the indie-focued FORM Arcosanti to the twangy party that is Country Thunder. Superfly's Lost Lake Festival launched in 2017, and returns to Steele Indian School Park this fall.
It's not just about the places and the vibe of the spaces, Byrne says. It's also about who participates.
Byrne recalls drawing inspiration from other creatives, such as poets and fine artists, during the early Talking Heads days. "Being forced to look outside of music was a good thing," he writes.
Here again, Phoenix is on the right track. Live music routinely happens with art, poetry, and dance at places like The Hive, Phoenix Art Museum, and Megaphone PHX.
But musicians sometimes get pigeon-holed into narrow genres or cliques, by booking agents, record labels, or their own insular approach. That means fewer opportunities for being inspired by each other, Oxborrow says.
There's something else worth noting. Byrne disavows the pay-to-play approach, where bands have to pay a fee in order to perform in a particular venue. It happens in Phoenix, but musician Andy Warpigs sees a straightforward solution. "Musicians need to do more research on venues, and market themselves better," Warpigs says.
Clearly, most of Byrne's thoughts on creating a vibrant music scene aren't particularly original or earth-shattering. Still, they have value – because the fact that he's the one sharing them might make some people listen, even when they ignore similar tips coming from Phoenix creatives.
One of Byrne's observations is particularly relevant for Phoenix just now.
Rents have to be low, and stay low. "Cheap rent allows artists, musicians, and writers to live without much income during their formative years," he says.
That's not happening in Roosevelt Row, where multi-level apartment buildings now occupy three of four corners at Roosevelt and Third streets, and rent for a studio apartment runs more than $1,000 a month.
"Everybody knows that when these neighborhoods get gentrified, both the locals and the struggling creative types get pushed out," Byrne says.
Evan Liggins, who books bands at Yucca Tap Room in Tempe, shares Byrne's concern. "I just hope property values in the areas that are becoming more hip don't push out the stuff that makes those areas what they are," Liggins says.
For Quinn, development also has an upside. More people moving in means more people can appreciate the local-music scene.
But even as more people arrive, some talented musicians are moving to Los Angeles or other areas in search of greater opportunity. Having more local recording studios and labels is starting to stem that tide, according to Quinn. Sometimes it's just a matter of helping musicians find the right fit, with recording studios and record labels that fit their specific needs.
And several Valley bands have garnered national attention. Recent success stories include Kongos, Doll Skin, and Injury Reserve, who relocated to Los Angeles last year.
In part, the Talking Heads rose to stardom with help from vehicles that helped people find the band's music without seeing them live. It's a topic Byrne tackles in a different part of How Music Works, and it rings true here in Phoenix.
The city could use more zines and videos that help raise the profile of Phoenix musicians, says Pete Petrisko of RPM Orchestra.
"Nobody knows who 99 percent of Phoenix's bands are," Petrisko says. "We need more ways to spread the word about what's out there."
Radio stations can also play a role, as they did for the Talking Heads several decades ago. "We need more independent radio stations not bound to the same mainstream playlists," says Nicole Laurenne, vocalist for a garage-rock band called the Darts. Right now, the one to beat is KWSS, a nonprofit station launched in 2005.
It's one of many items on her long wish list for the Phoenix music scene, along with "a record-store culture of in-store shows, signings, listening parties, and overall hanging out."
Like Byrne, Phoenix creatives have plenty of ideas about how to make a music scene. They're already doing it, and they've got good instincts about what needs to happen next.
Oxborrow agrees, "We need to make the Phoenix music scene even more vibrant."
David Byrne performs at Mesa Arts Center at 7:30 p.m. on Thursday, April 19, as part of his American Utopia Tour. Tickets are sold out, but you can learn more at mesaartscenter.com.