Listen: David Byrne Co-Hosts on BBC Radio 6 Music with Lauren Laverne
Via Nonesuch Records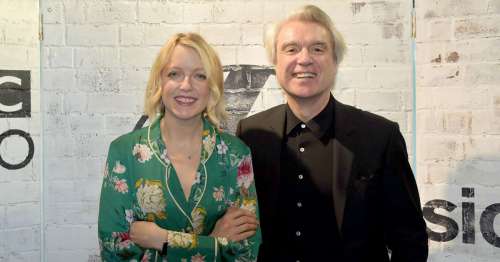 Photo by BBC 6 Music
David Byrne stopped by the BBC studios to join Lauren Laverne as co-host for the final hour of the BBC Radio 6 Music morning show on Wednesday. The two discuss his Reasons To Be Cheerful series of talks (named for the Ian Dury song, which gets a spin by Laverne), which he had presented at the Sackler Space at the Roundhouse in London the night before, and his forthcoming album, American Utopia, which fits hand-in-hand with his vision for the series. You can listen to the full episode at bbc.co.uk, and hear the world premiere of the American Utopia track "This Is That," a collaboration with Daniel Lopatin (aka Oneohtrix Point Never), at one hour and fifty-one minutes in. You can listen to the thirty-six-minute interview portion of the show below.
Later in the day, Byrne headed to BBC Radio 2 to talk with Simon Mayo about the new album and tour on the Drivetime show. You can hear that at bbc.co.uk.
To pre-order American Utopia, head to iTunes and the Nonesuch Store, where orders include an instant download of album track "Everybody's Coming To My House," as well as an exclusive print facsimile of an early handwritten lyric sheet to the song. To find out where the American Utopia world tour is headed near you, visit nonesuch.com/on-tour.