Live Review: Clockenflap remains Hong Kong's premiere music festival, with artists appealing to both
Via The 405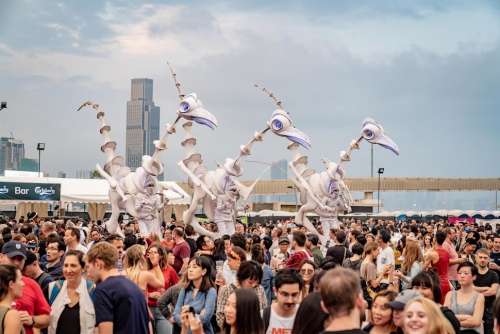 Photography by Kitmin Lee
Lauren Mullineaux
In its eleventh year as Hong Kong's premier, and basically only, music festival Clockenflap seems to have taken a step back to its family friendly roots. What started as a small festival has grown to a phenomenal size, so it's somewhat disappointing to see it seemingly occupying less and less of the harbour front it calls home. That being said there were some fantastic acts and it clearly still has enough weight to attract some legendary names.
Kicking things off on a subdued Friday evening were Interpol who, despite not having many hardcore fans in the crowd, slayed with a stellar set of their earlier classics like 'Slow Hands'. Friday night headliner is a tough spot to fill at a city festival where typically people arrive after work in crumpled suits and tired looks, but according to festival buzz Big Shaq livened things up.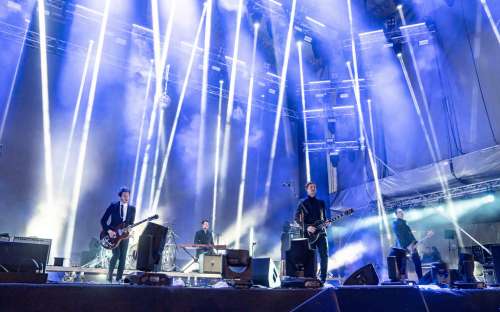 Photography by Kitmin Lee
The highlight of the weekend was a phenomenal David Byrne who packed the main stage and even managed to drag me back from Caribou. The Talking Heads front man has been wowing audiences worldwide with this show and with a barefoot 11 piece backing band in constant choreographed motion across the stage it's incredibly easy to see why. Initially Dan Snaith's Caribou seemed the more enticing option; he's a live innovator and has some of the best electronic music of the decade while Byrne is a 66-year-old man. Playing a mixture of his own tracks and Talking Heads hits and commanding his troupe with vigor it's a show so perplexingly weird that you can't look away. Is there a point to it? Definitely not. But it sure does make for one of the most entertaining live experiences you'll ever see.
In another act of retro comeback, Jarvis Cocker with his latest project Jarv...Is was as enthralling as ever. Somehow the perfect combination of sex symbol and embarrassing dad, it was hip-thrust galore up on his stage, and you have to concede; they just don't make 'em like this anymore. While the audience may have had difficulty with his thick Sheffield accent - I overheard someone question what language he spoke - it didn't limit his interaction. After the bizarre 'Must I Evolve' wrapped up, he jumped into the crowd to give some impromptu advice on how to deal with fears. Unluckily for Jarvis one of those fears was "the Chinese government"; diplomatically aware he was cautious in reply.
Appealing to the family crowd there were acts for all ages and the number of teens in attendance this year seems to have sky-rocketed. English rockers Wolf Alice and 20 year old Khalid seemed to be peak teen, while Sunday night headliner Erykah Badu got the parents. Bounding on stage in pants far too tight for anybody's comfort and some kind of sport harness(?), Khalid had one of the most jubilant receptions I saw all weekend. Barely singing over a backing track he had a lot of time to pull poses and I'm sure will be huge on the Gram today.
As a festival, Clockenflap seems to be depreciating rather quickly, there were less market stalls and interactive exhibits than ever, the acts are becoming ever more tepid and the ticket price higher. As Hong Kong's only real music event it's a great weekend and offers local bands like the wispy Stranded Whale the chance to reach new heights, but it really needs to kick things up a notch if it's going to compete on an international and long-term basis.