Live Review: David Byrne frees the mind and soul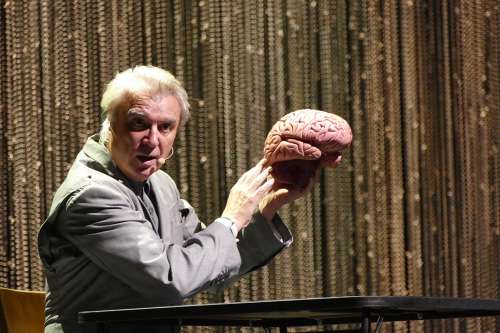 Photo Credit: Paul Robicheau
By Paul Robicheau
David Byrne will likely never reunite Talking Heads, but he still loves his old band's catalog — as do fans. Eight choice Heads tunes grace his current 21-song show, which concludes a two-night stand at Blue Hills Bank Pavilion on Wednesday.
More than the music, however, Byrne's American Utopia tour (named after his latest album) aspires to the brilliant conceptual staging of a 1983 Talking Heads tour famously captured in the Jonathan Demme film "Stop Making Sense," then flows into wonderous new possibilities.
Like "Stop Making Sense," Byrne began Tuesday's show alone on another barren stage — except for a table and chair where the singer began to ponder a fake brain, intoning, "Here the sound gets organized — into things that make some sense" in the new "Here." And he reprised the film's giant, moving silhouettes of a foot-lit Byrne and company during a riotous, percussive take on the later-era Heads nugget "Blind."
But most everything else was wide open – literally in the case of Byrne's mobile, barefoot 11-piece band, which roamed about the stage like a drum corps with body-mounted percussion and keyboard in addition to guitar, bass and vocals. The resulting show provided a stark, celebratory breath of fresh air from typical concert staging.
Musicians emerged and sometimes disappeared through the chain curtain that boxed in the stage, while Byrne — in a normal-fitting suit, thank you — acted the ringmaster, donning a guitar by Talking Heads' hypnotic beat-bed "I Zimbra."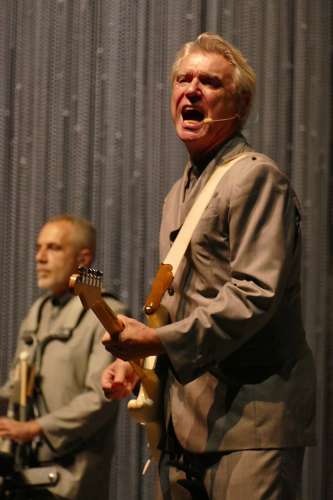 Photo Credit: Paul Robicheau
As befits musical theater, songs often stood out as choreographed set pieces. Musicians froze after Byrne sang "Love me 'til my heart stops" in "This Must Be the Place (Naïve Melody)" and rose from lying positions in the new "I Dance Like This," where three percussionists tapped bow-like berimbaus before a strobe-lit climax. "Burning Down the House" broke anticipation when Bryne's false start on acoustic guitar dropped into a slower-than-usual dance tempo, but that set-closer built momentum with rippling red lights on the stage walls and musicians pogo-ing onstage, waking up fans to do the same rather than primarily watch the show unfold.
Apart from the giddy new "Everybody's Coming to My House" and Byrne's older "Like Humans Do" (the perfect song to watch bodies interact onstage), his solo material couldn't stand up to the Heads catalog, particularly three gems from 1980's seminal Remain in Light. The singer commanded the throbbing "Once in a Lifetime" with jerky ruminations, though "Born Under Punches (The Heat Goes On)" and the first half of "The Great Curve" seemed to have trouble translating the tight, textural impact of their original polyrhythmic weave with mobile instruments.
And while the staging – both abstract and nakedly human – complemented his typically offbeat, whimsical dissection of culture, Byrne's band ended the night with Janelle Monae's 2015 protest song "Hell You Tambout," updating the names of Americans of color killed by vigilantes or police, only to repeat "Say his name." If confusing to many in the audience, that straightforward final encore served as a reminder that Byrne has more on his mind that non-sequiturs lyrical and visual.