Live review: David Byrne, Royal Concert Hall, Glasgow, Fri 15 Jun
Via The List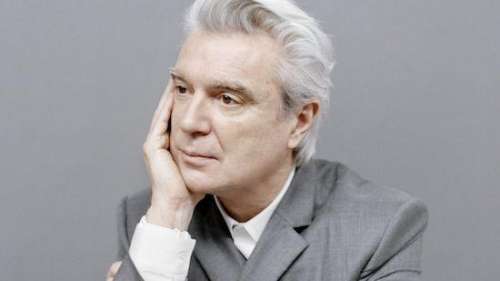 Photo by Jody Rogac
By David Pollock
Now this is how you do a late-career renaissance. Of course, David Byrne – the Dumbarton-born, Baltimore-raised former lead singer of New York art-punks Talking Heads – doesn't have to look far to find continuing relevance to what he does, with high-profile collaborations alongside St Vincent, Arcade Fire and Anna Calvi marrying well with his ongoing dabbling in music for film, theatre and television. Yet this tour in support of his new American Utopia album, Byrne's first record where he hasn't shared headline billing in 14 years, is a tour-de-force, a reimagining of the manner in which a live band concert is enacted in the age of the laptop and the lightshow.
Pioneering the concept of the 'untethered' mobile concert, Byrne is joined by two dancers and nine musicians, all uniformly grey-suited and barefoot, each of them carrying guitars or sporting drums, percussion instruments and keyboard as wearable backpacks. There is no drum riser or obtrusive cabling to get in the way, just a clear stage around which the dozen performers stage loosely choreographed dance sequences; for example, Byrne and his dancers' joyous foot-shuffle and fist-shake to 'This Must Be the Place (Naïve Melody)', the singer's stagey breakdown during 'Once in a Lifetime', or the brisk formation parade which accompanies the upbeat 'Every Day is a Miracle'.
The sensation throughout is an emphatic reflection of Byrne's stated interest in embracing the optimistic with his new album, despite a sense of realist balance here or there, most notably his solemn hymn to fake news and relinquished freedom 'Dog's Mind', delivered with the ensemble standing in a row under blood-red lights. Yet so many other moments tug at the heart, embracing beauty and reclaiming lost faith. 'And the world won't end / it will just change its name,' he hollers over 'Doing the Right Thing', with gorgeous, visceral funk lines pervading 'Born Under Punches (The Heat Goes On)', 'Blind' and the strutting, boundlessly confident 'Burning Down the House'.
It's a show which marries effortless, contemporary vitality with stunningly simple production (the shadowplay lighting sequences are highly impressive), as well as subtly reintroducing us to the breadth of Byrne's career; the setlist also features his solo hit 'Lazy', his St Vincent collaboration 'I Should Watch TV', and 'Toe Jam', from he and Norman 'Fatboy Slim' Cook's 2010 musical about Imelda Marcos. That he has already booked venues the size of the Hydro for later in the year suggests that, even at the age of 66, his career is undergoing a massive and deserved revival. Think of him, then, as the David Bowie we still have.
David Byrne plays the SSE Hydro, Glasgow, Mon 22 Oct.