Live Review: Weird Icon David Byrne Presents a Nonstop Spectacle at the Paramount
Via The Stranger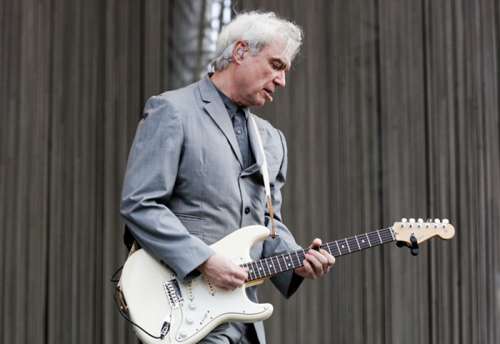 Alessandra Del Bene / Getty
By Brittnie Fuller
At the Paramount Thursday night, a single spotlight illuminated the stage on up-and-coming songwriter Benjamin Clementine and a blank-faced mannequin draped loosely in an American flag. The bright lights cast down on Clementine's white Stetson, feeling especially eerie as he sang the line "sending my condolence to fear" from "Condolence," sparking a collective shiver down all spines in the room. The political undertone of the set was tangible, if not obtuse, with mannequin body parts scattering the stage floor and with Clementine at various points serenading the flag-wearing mannequin face-to-"face," cradling a separate child mannequin around the stage, and then eventually disassembling and vehemently casting the pieces into the pit.
The 29 year-old English poet and ecstatically gifted musician, artist, et al. crafted his own fantastical world of falsetto lines that fluttered and warbled like a young Nina Simone, contrasted by smooth soul crooning with the depth of a vast, unknown star system. His voice is a special feat on its own, vibrantly unique with the ability to chameleon-shift styles from intimate half-whispering to show-stopping belt-outs, and at one point, even resulting in a punchy, Sparks-like, cabaret freakout.
As a pianist, Clementine also demonstrated tremendous technical dexterity, pairing with experimental electronic flourishes as seamlessly as jam on toast. But this is some no-holds-barred, avant-garde jam, like the kumquat marmalade of musical performance: generally tangy-sweet but also complemented with surprising bursts of bitter rind. The rind left us much to chew on, with each new musical twist more delightful and thought-provoking than the next.
This was a performance that felt purely brilliant and original, continuously stunning after-the-fact with beauty that reaches out to grab the soul, contrasted with unabashed strangeness. I predict very big things for Clementine, even bigger than being presented with an array of lovingly created paintings of his face after a show and coyly selecting his favorite, which is already a thing he has done.
As a production, David Byrne's American Utopia is extraordinary to behold. Metallic beaded drapes closed off the perimeter of the stage, as the show began with Byrne at a small table holding a prop brain. With no gear onstage, it felt open and appropriately vast. Soon, he's joined by a whole cast of back-up vocalists and dancers, a fully fledged drum line and band all straight-up partying across the stage with cordless instruments in coordinated suits of monochromatic gray.
I still have no idea how this works from a tech perspective, but Mr. Byrne reassured the audience that everything heard was being played live by the musicians onstage. Their presence felt effortless without being physically bound by gear, and probably also was required for the amount of highly produced choreography throughout the show.
The warm and fuzzies illuminated the room (okay, and the cell phones) during "Once in a Lifetime," as folks got their emotional sing-along, blissed-out nostalgia moment. But really, Byrne provided those moments in droves, with plenty of Talking Heads material scattered into the mix: a slowed-down, grooved-out version of "Burning Down the House," the effusively funky "I Zimbra" from 1979's Fear of Music immediately following the '80s classic, "Slippery People." The crowd even got their lover-cradling and hand-holding on to "This Must Be the Place (Naive Melody)," delivered with the driving, dance-ready pace that defined the set's musical output.
All in all, the night shared five tracks with Talking Heads' crucial 1984 live release, Stop Making Sense, hinted at by Byrne himself, calling American Utopia "the most ambitious show I've done since the shows that were filmed for Stop Making Sense." A bold assertion as that release marks his genre-framing band in its prime, but for its occasional misses, American Utopia is balanced with the fierce insistence on delivering something new and fresh for a man who's been creating for over 40 years.
"Everybody's Coming to My House" is the mega-jam off the new record, and was delivered—as most of the set—with danceable persistence. Byrne's voice still sounds the same as it ever did, and longtime fans likely went home pleased with the number of old tracks mixed in with the new.
Visually, the show provided nonstop spectacle peppered with moments of arty abstractions to be expected from a Byrne production. At one point, a single lamp lit the entire theater; can you imagine the wattage of the bulb that could light the high-ceiling, vintage theater and still inspire showgoers to reach for their sunglasses? This lamp was later used to create the illusion of an overlord Byrne shadow against the metallic backdrop, eventually including the smaller shadows of his players at different parts of the stage.
The double encore Janelle Monáe track "Hell You Talmbout" ended the show on a poignant note, recalling the names of black lives lost through police brutality. Although not lacking flaws (i.e., the hard-rock/quasi-dubstep breakdowns in "I Dance Like This"), American Utopia feels like an assertive and intentional show, and finds the veteran weirdo icon far from Byrne'd out.