Music lookback: Jazz, Byrne and more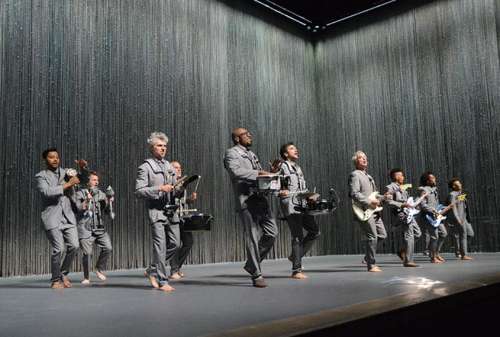 Photographer: Michael Hochanadel/For The Daily Gazette
By Michael Hochanadel/For The Daily Gazette
Couldn't believe my ears! All 17 local heroes of Keith Pray's Big Soul Ensemble filled the Van Dyck last Tuesday (Sept. 4) with … "Free Bird"! Could "Whipping Post" be far behind?
Extra playful, Pray was feeling it, soloing more than usual and calling his most boisterous tunes, especially the big-city swing of "Upper Manhattan Medical Group," "Blues for PG" and "Wind Machine," with pianist Dave Gleason's arrangement of "North Rampart" changing things up. "Free Bird" changed things WAY up and proved this crew can play anything.
Saxophonist Sharel Cassity reached back further than Pray's gang last Friday to kick off A Place for Jazz's new season with classic bebop and originals bursting from the same bag. Playing mostly alto (also soprano and flute), she ran her quintet with glances and musical cues. She synced closely with pianist Richard Johnson, who often echoed Horace Silver, or with strategically used trumpeter Freddie Hendrix, who always swung for the fences a la early Freddie Hubbard or Clifford Brown.
Unafraid to tackle Charlie Parker's daunting "Donna Lee," the fluent, fiery Cassity also offered her own "Cochise," based on Bird's encyclopedic chord changes on "Cherokee." Some of her best tunes swung in waltz time, including the new original "Surrender" that showed her pushing boundaries with ambition and imagination, the band hanging tight with her. "Call to Order" closed in jubilant, free-for-all mode.
Jazz on river
The next day, confident experience and youthful energy pumped Albany's Riverfront Jazz Festival.
Up first, welcoming everyone to a fine February day, the nine-piece wonderfully entertaining Dylan Perillo Orchestra went antique-campy at times, mining ancient tunes for humor, bounce and youthful zip. Nick Manzella's operatic vocal on "Barnacle Bill" and "Learn to Croon" tickled the funny bone, but Nate Giroux's tenor virtuoso riffing in "Body and Soul" cut deep. Crisp and driving, even when wind blew their music off the stands, the fun band warmed the place.
To Perillo's arch drollery, drummer Jeff Siegel answered with sincerity in a modernist mode of suave veteran assurance, at times recalling Cassity's bop forays but also evoking Art Blakey in "Art's Message," a cozy tribute to the Jazz Messengers. "Peace on Earth" used a gong, cymbals, bowed bass and subtle piano to frame flugelhorn and tenor waves, like Coltrane's "Naima." But Siegel's sextet really blossomed up-tempo, finishing strong with "In Wavu," a tribute to elders, Nick Brignola and others Siegel respectfully named.
Young New York nonet Brighton Beat took over, slamming jacked Afro-funk that drew dancers close for the first time. Songs circled repeating rhythms aimed for ecstasy and hypnosis, but stop-and-go cadences and even some juggling broke the spell for laughs. "Momentum" earned its title, peaking in a Nat Ranson trombone solo. Drummer/juggler (I wasn't joking!) Sammy Wags said they plan to return as some members have family here; it'll be a party when they do.
Veteran (he played with Miles) guitarist Mike Stern grinned through a spirited set of fusion tunes stretched every which way with drummer Dennis Chambers (last seen here with Victor Wooten at The Egg), sax-man Danny Walsh and bassist Edmund Gilmore. Stern only departed from a sweet, chiming, resonant tone when he closed with Jimi Hendrix's muscular blues "Red House."
Maurice Mobetta Brown closed the festival before stupendous fireworks over the Hudson. His rap "Stand Up" gets the most attention of songs from his new "The Mood" album, but Brown showed Saturday he's an even better trumpeter, maybe the top crossover talent since Trombone Shorty. Praising his band for following his detours, Brown was loose as he was commanding, a bold, energizing presence onstage and a gifted talent who knows how to entertain. "On My Way Home" set a fun funk mood, "Moroccan Dance Hall" took us to Marrakech and "Stand Up" urged pride and strength. He lightened up with "Shenanigans" and quick-changed slow grooves, gospel fervor and mellow uplift, closing big with the inviting "It's a New Day."
Byrne at Palace
Half a mile away, 24 hours later, David Byrne issued a clarion call for that new day — a better America — in a compelling theater piece with music, pumping principle and the leveling, egalitarian fun-power of funk.
Barefoot, in gray suits, Byrne and 11 highly mobile players and singers roamed a silver-curtain-sided, completely open stage with instruments strapped on, no amps or cables in sight. Following precise but relaxed-looking choreography, they boomed big, percussion-heavy riffs.
It was intricate and complex but never seemed 100 percent perfect: Byrne laughingly forgot the lyrics to the new "Lazy" early on and later introduced the band one by one — as in "Stop Making Sense" — cueing each to play, sing or dance to prove "everything you're hearing is being played on this stage." New songs from "Utopia America" posed tough questions, particularly the graphic "Bullet" and "Say His Name," both mourning those shot by police. However, Byrne also provided answers, in the combustible Afro-funk of late expanded-Talking Heads masterpieces "I Zimbra," "Slippery People," "Once in a Lifetime," "Born Under Punches" and — especially! — "Burning Down the House."
The new "Everybody's Coming to My House" led beautifully into "This Must be the Place (Naïve Melody)" but song choices and pacing were seldom this obvious and showed a restless creative mind at work/play.
Openers tUnE-YarDs were well chosen to display the same strengths, melding message and medium. The bass drum was the loudest thing onstage, a relentless shifting floor for Merrill Garbus's vocals, loops, ukulele strums and synthesized outbursts. Some danced, some fled. Garbus expressed gratitude for opening "the most incredible show I've ever seen."
Amen, a big amen, shared by everybody in the dance-jammed Palace.