Music review: David Byrne, Glasgow Royal Concert Hall
Via The Scotsman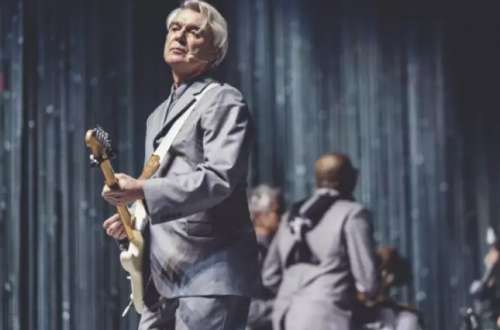 Photo: Bryan Derballa/The New York Times
By Fiona Shepherd
David Byrne is one of a number of musicians over the last year who have chosen to respond to a global rise in repression and intolerance by pushing back with positivity. Mass exposure to his glorious, life-affirming American Utopia show alone would make the world a better place.
David Byrne, Glasgow Royal Concert Hall *****
This brilliantly conceived and executed celebration of a performance began with a Samuel Beckett-like minimalism. Byrne sat alone at a table on an otherwise bare stage contemplating a plastic brain before stimulating his audience's pleasure centres as the twelve members of his silver grey suited-not-booted barefoot band joined the party by degrees, sashaying on to the stage through a chain mail curtain, each performance-ready with their instruments strapped to their bodies.
There was a beautiful fluid symmetry to the movement of the band, who were free to glide around the stage and engage in a sort of semaphore dancing to Lazy or form a conga line of, well, congas to the tribal groove of I Zimbra. Byrne himself executed a mean arabesque during This Must Be The Place.
The lighting was a work of art, as were the instruments, including floating keyboards, tree-like configurations of drums and a trio of designer African lutes, and the choreographed set-pieces, from the hypnotic rotations of Born Under Punches to the deconstructed marching band of Burning Down The House to the powerhouse version of Hell You Talmabout, Janelle Monae's war-dance for victims of racial violence, which concluded this extraordinary, ecstatic show.