New Music Revue: David Byrne shows his genius once again on American Utopia
Via Nexus Newspaper
By Fred Cameron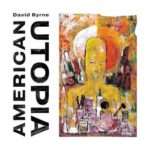 David Byrne
American Utopia
(Warner Music Canada)
4.5/5
There is no point in using comparative words—David Byrne is in a class of his own. His latest release, American Utopia, showcases everything that has made Byrne a lasting success. Whether it was as frontman with the Talking Heads, working solo, or in collaboration with artists like Brian Eno or St. Vincent, Byrne has always found a way to remain relevant. Defying time and genre, the 66-year-old covers all emotions in his music, and it's always expertly articulated, both musically and poetically.
American Utopia has moments of nostalgia, with an '80s feel, but, as always, Byrne brings new sounds, which are shocking for the first spin. An odd choice for lead track, "I Dance Like This," is mildly off-putting as it pairs melodic piano and wonderfully crooned storytelling with dirty electronic hell. Then "Gasoline and Dirty Sheets" brings a taste of the past, and it's impossible not to dance as Byrne reminds us of just how good the Talking Heads really were.
Is it better to burn out or fade away? If you ask David Byrne, he would probably say "neither." At 65, his voice remains impeccable, his sound is still fresh, and American Utopia—his 11th solo album—is a work of art that moves the feet of four generations. The man is a genius.