New York Stories: David Byrne & Kip Hanrahan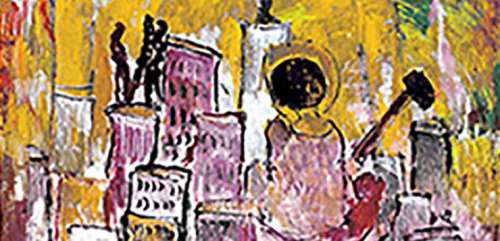 Written by Brian Wise
AMERICAN UTOPIA – DAVID BYRNE (NONESUCH)
CRESCENT MOON WANING – KIP HANRAHAN (AMERICAN CLAVE)
While they are poles apart in terms of commercial success and recognition, David Byrne and Kip Hanrahan are not dissimilar. New York has been a massive influence on both musicians. The former came to the city in 1974 at the age of 22, the latter was born and raised in the Puerto Rican neighbourhood of the Bronx.
​Byrne founded Talking Heads, one of the most adventurous of the so-called 'new wave' bands, and percussionist Hanrahan worked with Argentine tango maestro Astor Piazzolla. At some point, musical tastes coincided as Byrne also explored world music and Latin rhythms. In fact, one could argue that the brilliant album My Life In The Bush of Ghosts which Byrne made with Brian Eno back in 1981 was one of the first so-called 'world music' albums. (Listening to it these days, it seems incredible that the album is now 37 years old. Few albums have aged as well).
While Byrne was exploring world music and starting the Luaka Bop label, Hanrahan founded the American Clave label and was gathering musicians around him to create marvelously adventurous music, underpinned by his love of Latin rhythms and his willingness to experiment. Hanrahan was like some musical Orson Welles, putting together projects with an extraordinary vision.
The 1983 album Conjure: Music For The Texts of Ishmael Reed is one of the best examples of Hanrahan's work. It teams Allen Toussaint, David Murray, Olu Dara, Carla Bley, Steve Swallow, Jamaaladeen Tacuma, Lester Bowie and Taj Mahal. What a cast! It is but one of the many wonderful projects that Hanrahan has facilitated over the past three decades.
Hanrahan's latest work – Crescent Moon Waning – is another beautiful recording with a terrific cast. It has been years in the making but it is worth it. (I doubt that it will get wide distribution so you might have to find it at the American Clave website).
Hanrahan steers the album on percussion. Robbie Ameen plays trap drums and percussion with Milton Cardona and Lusito Quintero on congas. You can see that it is strongly driven by the rhythms. Fernando Saunders is on bass and vocals, with Michael Chambers on guitar and Brandon Ross on guitar and vocals. Charles Neville, Craig Handy and Chico Freeman all guest on sax with Steve Swallow and the late Jack Bruce contributes electric bass. The singers include Jennifer Hernandez, Roberto Poveda and Lucia Ameen. It sounds fantastic!
David Byrne will get a lot more publicity for his new album which explores some similar rhythms and also sounds gorgeous. It was made in collaboration again with Brian Eno (who also co-writes) and also Rodaidh McDonald (The xx, King Krule). Remarkably, this is Byrne's first solo album since 2004's Grown Backwards. During the interim he has been busy on numerous other projects including his recent acclaimed album with St Vincent. (Byrne has recently apologised for not collaborating with any women on the new album).
American Utopia fits in with Byrne's series Reasons To Be Cheerful, named after the Ian Dury song, in which Byrne has been collecting stories, news, ideas, and other items that all either embody or identify examples of things that inspire optimism.
"These songs don't describe this imaginary and possibly impossible place," writes Byrne, "but rather they attempt to describe the world we live in now—and that world, when we look at it, as we live in it, as it impacts on us—immediately commands us to ask ourselves- is there another way? A better way? A different way?
"I am as mystified as any of us—I have no prescriptions or sure-fire answers—but I sense that I am not the only one asking, wondering and still willing to hold on to some tiny bit of hope, still willing to not succumb entirely to despair or cynicism. It's not easy, but music helps."
"We're only tourists in this life /Only tourists but the view is nice /And we're never gonna go back home," sings Byrne in 'Everybody's Comin' To My House.' Byrne is concerned with some weighty matters. "The judge was all hung over when the President took the stand, so he didn't really notice when things got out of hand," he sings on 'Dog's Mind.' "The bullet went into him his skin did part in two," he intones on 'Bullet.'
Yet there is the usual Byrne whimsy on 'Everyday Is A Miracle,' ('God is a very old rooster and eggs are like Jesus, his son') or 'It's Not Dark Up Here' ('There's nothing funny about going to heaven and there's nothing funny about love.').
The songs are underpinned by some stunning production and, like Hanrahan's album, American Utopia sounds exceptional.