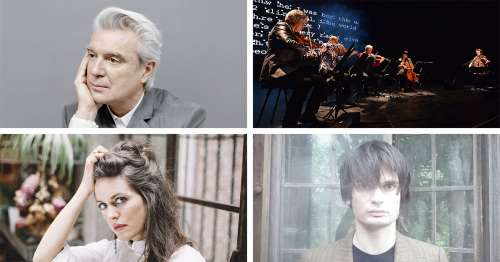 There's just over a month to go before 2018 comes to a close, and the UK music magazines have begun to weigh in on the year's best music. Uncut and Mojo have published their lists of the Best of 2018, and included among them are David Byrne, Laurie Anderson, Kronos Quartet, Olivia Chaney, and Jonny Greenwood.
David Byrne's new album, American Utopia, was included on the Best New Releases of 2018 from Uncut, which called the album a "surreal state of the nation address." The American Utopia tour, which comes to a close in Australia this week, has been named the Event of the Year by Mojo. "Every now and again, you're at a show that you realise, then and there, will be spoken of as one of the greatest its attendees ever saw," said reviewer Danny Eccleston of the show at Hammersmith Apollo in London. "This is one of those shows."
Laurie Anderson and Kronos Quartet's Landfall is also on the list of the Best New Releases of 2018 per Uncut, which calls the album "sublimely bittersweet." Inspired by Anderson's experience of Hurricane Sandy, Landfall is the first collaboration between the iconic storyteller/musician and the groundbreaking string quartet, who perform together on the recording. It juxtaposes lush electronics and traditional strings by Kronos with Anderson's powerful descriptions of loss, from water-logged pianos to disappearing animal species to Dutch karaoke bars.
Olivia Chaney's new album, Shelter, has made the Best New Releases of 2018 list from Uncut, which had called the album a "transcendent refuge from the storm" in its review. Shelter is also featured on Mojo's list of the Best Folk Albums of 2018. Following a long period of life on the road, Chaney returned to a family retreat, a rustic, 18th-century cottage in the hills of the North Yorkshire Moors, to write the songs of Shelter. Produced by Thomas Bartlett, the album features eight original songs, plus Chaney's interpretations of Purcell and Everly Brothers songs.
Jonny Greenwood's Academy Award–nominated score to Paul Thomas Anderson's film Phantom Thread has been named the No. 1 Best Soundtrack of 2018 by Mojo. The soundtrack "capture[s] the emotional heart of a strange and elusive film," said the five-star review, "soaring from rapturous highs to quiet introspective lows, vital romantic life undercut by a melancholy twilight sadness."
To see the complete year-end lists from Uncut and Mojo, pick up the latest issues of the magazine, on newsstands now. To purchase the albums on CD, vinyl, or multiple digital formats, head to the Nonesuch Store today.