On His 'American Utopia' Tour, David Byrne Will Be Asking Us To Look Inward
Via WBUR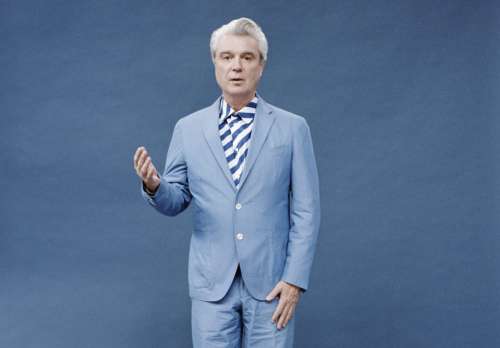 Photo by Jody Rogac
By Jim Sullivan
You hear that an artist, especially an artist like David Byrne, has released an album called "American Utopia" and immediately the irony bell rings loud and clear. Byrne — who has trafficked in irony a fair amount as a solo artist and as lead singer-songwriter-guitarist with his seminal new wave band Talking Heads -- is well aware of this.
In the liner notes for the album, his first solo album in 14 years, he addresses the issue straight-away: "Is this meant ironically? Do I mean this seriously? In what way? Am I referring to the past or the future? Is it personal or political?"
As it turns out, none of the above, at least not explicitly. Byrne, 66, writes: "The songs are sincere -- the title is not ironic … These songs don't describe an imaginary or possibly impossible place but rather an attempt to describe the world we live in now … We look around and we ask ourselves -- well does it have to be like this?"
Talking Heads fans may smile at this last line, recalling "Once in a Lifetime" and its climactic line: "And you may ask yourself/ How did I get here?!"
Byrne likes posing questions. And sometimes offering possible but not definitive answers.
"Here," from the new album, is the song Byrne has been starting concerts with on his current tour, which stops at Blue Hills Bank Pavilion in Boston on July 31 and Aug. 1. Barefoot and wearing a gray suit, he begins sitting at a small table, holding a model of a human brain. "Here is an area of great confusion," Byrne sings. "Here is a section that's extremely precise/ Here is an area that needs attention/ Here is a connection with the opposite side."
Byrne is soon joined by his 11-piece troupe of singers and musicians, the musicians carrying their instruments. And, thus, the celebration begins.
You might have used the word celebration early in the Heads career — their first single "Love Goes to Building on Fire" is pure jubilation — but the group's early period ("Psycho Killer," "Don't Worry About the Government," "The Big Country") was more marked by nervous energy and wariness.
Talking Heads — Byrne, bassist Tina Weymouth and drummer Chris Frantz, began as a trio, all out of Rhode Island School of Design. I saw that lineup at CBGB in New York City in 1977, just after their first album came out. It was a taut, tense, terrific gig — very minimalistic. They added keyboardist-guitarist Jerry Harrison (formerly of Boston's Modern Lovers) shortly thereafter and by the time the four-piece Talking Heads expanded to a nine-piece band in 1983 they were a full-on art/funk ensemble.
Byrne, who was born in Scotland and raised in Canada and the U.S., has been on a journey of constant exploration. On his last three albums, he collaborated with Brian Eno (a longtime mate going back to Talking Heads days and his first non-Heads album, "My Life in the Bush of Ghosts"), Annie Clark (aka St. Vincent) and Norman Cook (aka Fatboy Slim). He's written nine books, the latest being 2012's "How Music Works."
What he hasn't done, and evidently will never do, is reunite Talking Heads, which ceased working together three decades ago. In 1997, I was giving Byrne and his wife at the time a ride from Providence, where he'd played the night before, to Cape Cod, where he was playing later that night.
We spoke about his developing solo career: "It's a way of saying, 'I'm my own person, I'm of my own identity, I'm not just the singer from a band who's doing a vanity project,' " he told me.
At that time, he also noted the reality that on his own, he hadn't hit the commercial heights of Talking Heads. "You feel like some of the new stuff is better, or at least up to, the level of the 'acclaimed' stuff you've done in the past," Byrne said, "and yet you feel like, 'Why isn't this getting the mass popularity some of the other stuff did?' Occasionally, it will. Sometimes, the zeitgeist or moment will hit."
We also talked some Heads. The dissolution was strange and acrimonious. Byrne took part of the blame for not immediately telling the other three he was leaving. But he says the strife within the band, both personal and creative, had been taking a wearying toll.
"I thought this is not why I play music," Byrne told me. "This is very miserable. It was not a very pleasant divorce… People want bands to last forever because it's part of their growing up, part of their adolescence. You want to have that touchstone to be able to go back to. Yet, they're specific times, and [bands] are human beings. It's not like a movie that you saw when you were 19 that you can go back and watch again."
Asked if he mourned the Heads passing in any way, Byrne replied, "No, it was an incredible relief for me."
On this tour, though, about a third of the material comes from his Talking Heads days, suggesting Byrne has not turned his back on the material, just the idea of playing it with the people he created it with.
Reports from previous tour stops cite Byrne's ambition, the show's precision choreography, its "transcendent" quality. Kitty Empire, writing in the Guardian, says, "This tour is an artistic endeavour not far off Stop Making Sense's high-water mark. Byrne's youthful air of surprise has given way in recent years to a more professorial demeanour, to which he has recently added a foppish Andy Warhol haircut."
Consider "I Dance Like This." A gentle piano line abruptly segues into a robotic electronic throb with Byrne singing, "I dance like this because it feels so damn good/ If I could dance better, you know that I would!" It's an awkward, disjointed song -- purposefully so, I think -- and you just know this will result in some audience smiles when played in concert.
As to the politics, although Byrne dodges the question in his liner notes, it does surface in "Dog's Mind," a song on the new album and played in the show. (Not the first time Byrne's written doggie songs.) It starts with Byrne etching details of our world where "things got out of hand," referencing "the president." It drifts into a bit of blissful escapism, what it must be like to not consider Trump's scatterbrained proclamations all the time: If you could be like a dog you'd be "dreaming all day long/happy all day long."
It's hard to argue with the music magazine MOJO's assessment: That Byrne "filters grace, wonder and apocalyptic portent through his fractured worldview."
There's one truly disturbing song, the eerily melodious "Bullet," with Byrne dispassionately, from a third person point of view, describing a bullet's journey through a man's body. "The bullet went into him, his stomach filled with food/ Many fine meals he tasted there/ But the bullet passed on through."
With "American Utopia," Byrne has a hit on his hand -- that "zeitgeist" he talked about in 1997 has come around again. The album debuted at No. 3 on Billboard's chart and at No. 1 on the Top Current Album chart. Most of the dates on Byrne's tour have sold out. The first Boston show has done so, with a handful of tickets remaining for the second.
I suspect something Byrne told me in '97 will ring true this week: "It definitely turns into a thing where by the end the focus has gone from the stage and us personally. By the end, the audience is the star. The lights focus on them and we're all grooving; we're just the DJ playing the records."
---
David Byrne performs at Blue Hills Bank Pavilion in Boston on Tuesday, July 31 and Wednesday, Aug. 1.