ON TUESDAY NIGHT IN DALLAS, DAVID BYRNE WAS PERFECT.
Via Central Track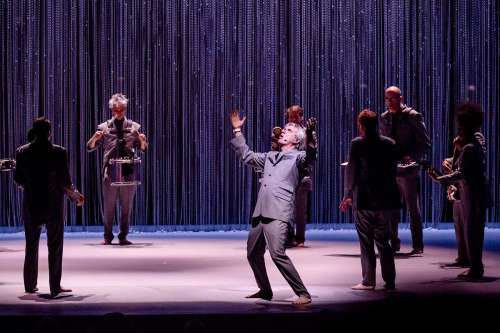 By Allan Hayslip
David Byrne's performance at the Winspear Opera House was perfect.
Stopping into the AT&T Performing Arts Center venue as part of his "American Utopia" tour, his voice was, well, just perfectly Byrne-like, sounding on-pitch and beautifully harmonizable with just the occasional hint of sharpness to keep it beautifully weird.
The dozen-or-so-member backing band of multi-instrumentalists using an array of instruments modified (and maybe even invented) for marching-band style choreography? That group was perfect, too, with their understated, easy and effortless movements complementing the characteristic efficiency of Byrne's motion, which kept everyone on stage in a cheerful sweet spot.
The audio in the venue, even with the considerable extra firepower brought in for the style of music, was also immaculate — no small feat considering that, for much of the show, there were 12 or 13 performers on stage, each with one or more notoriously finicky wireless instrument rigs and wireless monitoring rigs. If there were any backing tracks supplementing the sound, they weren't easily spotted, instead seamlessly and invisibly integrated into the performance.
The spectacularly stark, disciplined and richly simple set design, meanwhile, only served to highlight all of the above. It worked especially well in a showcase theater like the Winspear, as opposed to a more conventional rock venue where it would've been impossible to control so many variables. Plus, the setting, one imagines, helped encourage the crowd to STFU, which it managed to do, until the last few, anyway. (Try that at Starplex, or whatever the hell it's called these days.)
Instead, the crowd was fully transfixed by Byrne and his every move. Even at 65 years old and without any NFL-sized shoulder pads, his silhouette was unmistakable in his signature, tie-less grey suit-and-shirt combo — a point driven home when a single floor light was used to cast a shadow-play on the backdrop behind him and his co-conspirators on stage.
There was a timeless nature to it all, indeed, as Byrne managed to liberally spread the most recognizable of Talking Heads material throughout the set: "I Zimbra," "Slippery People," "This Must Be The Place," "Once in a Lifetime," "Born Under Punches," "Blind," and "Burning Down The House" brought people to their feet, as did the encore's "The Great Curve." For fun, he threw a couple of covers in there, too, and even a song from his partnership with St. Vincent. Then, for the kids, he brought the night to its close with a powerful drum-and-a capella version of Janelle Monae's "Hell You Talmbout" ending the final encore.
By that point, the entire room was standing and dancing — a fact that unfortunately diminished the impact that a standing ovation might've normally had for a performer.
Too bad. Because, in this case anyway, such a sign of adoration and approval was absolutely merited.