Our Six Favorite Sets at Shaky Knees 2018
Via Flagpole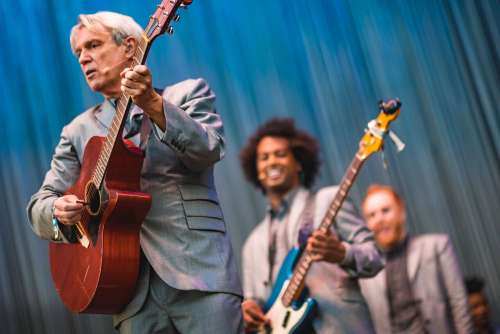 Photo Credit: Courtesy of aLIVE Coverage for Shaky Knees Music Festival
By Nathan Kerce
David Byrne
With a steady mix of solo material, covers and Talking Heads classics, David Byrne inarguably had the best set of the weekend. Dressed in a signature grey suit and without shoes, Byrne had the crowd at the Peachtree Stage hanging on his every word and trying to emulate each and every one of his wacky dance moves. His 11-piece band, who also were largely without shoes, looked to be having the time of their lives on stage. It can't be easy trying to keep up with Byrne's choreographed dance routines while playing an instrument—sometimes multiple instruments at once—but they made it look fun.
My favorite moment came when Byrne performed "This Must Be the Place" and nearly everyone in the crowd attempted to mimic the song's opening instrumental using strange mouth noises. I do that at home alone all the time, but it was surreal seeing thousands of other people trying to do it simultaneously. The finale was a cover of Janelle Monáe's "Hell You Talmbout," a 2015 single in which Monáe listed names of African Americans unjustly killed by police and in racially motivated attacks. Byrne's cover, which unfortunately had to be updated to include additional names, was a powerful statement after an hour of pure fun and games. It felt especially fitting in Atlanta, Monáe's hometown in a state that is no stranger to the topic of police violence.
The Distillers
Reuniting earlier this year after a 13-year hiatus, Los Angeles punk legends The Distillers played a quick, nostalgic set at the Peachtree Stage that should have satisfied any and all fans. Most of the set was culled from the final and most popular album of the band's three-album run in the early 2000s, Coral Fang. Lead singer Brody Dalle's unmistakable raspy growl and intensively emotive vocals sounded record-perfect, but the set did feel unusually truncated for a band returning to the stage after more than a decade away. The group doesn't have as much material to grasp from as other bands with the same impact and legacy, but a more comprehensive setlist would've been appreciated either way. Still, as someone who grew up getting viruses on my computer after trying to download Distillers albums off of Limewire, I was satisfied just seeing them up on stage again.
Charly Bliss
Brooklyn four-piece Charly Bliss had one of the best albums of 2017 with their debut, Guppy. Their set at the Criminal Records stage was mostly songs from Guppy with a brief detour into promising new material wedged into the middle. At one point during the set, a random dude walked up to me and asked, "Is this Paramore?" I'm fairly sure he meant it as some sort of dis, probably related to the fact that lead singer Eva Hendricks is a woman who has the gall to sing pop-punk tunes. Joke's on him, because I think Paramore is fucking awesome, and Charly Bliss is indeed worthy of being in the conversation of such a legendary band. My only response to this mystery festival-crowd comedian was "no," followed by an awkward stare-down as he shuffled away. Anyway, the point is, Charly Bliss does sound like Paramore, and that's a good thing, and I'm sure they would take that as a compliment.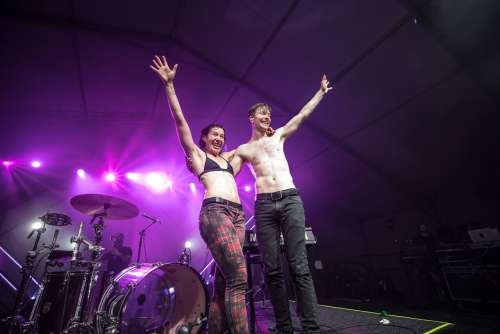 Photo Credit: Courtesy of aLIVE Coverage for Shaky Knees Music Festival
Matt and Kim
Brooklyn electronic pop duo/couple Matt and Kim are back on the touring scene after drummer Kim Schifino's ACL tear put them out of commission for a year. This was their first festival show in the United States since the injury, and the high energy they displayed on stage was nothing less than infectious. Matt and Kim have been around for over a decade, and they've gone from playing humble indie-pop shows in the back of bars to being fully prepared to entertain a crowd of thousands at the Ponce de Leon Stage.
Gigantic beach balls, confetti and an elaborate light show were just some of the tricks utilized, and while these are standard fare for most EDM-heavy festivals, Shaky Knees didn't have any other set like it. I appreciated the reprieve from the festiva's more generic rock acts. Covers of hits from DMX, Duck Sauce and Van Halen garnered huge responses from the crowd, furthering the notion that the duo feels more like festival DJs than a traditional rock act. While their gimmick-heavy live show doesn't necessarily translate to great albums anymore, Matt and Kim are still a touring powerhouse, and we're lucky to have them around.
Alvvays
Toronto dream pop-ers Alvvays opened their set by letting the audience know that their van had broken down on their tour route and they had to grab a flight to get into Atlanta at the last minute. I'm glad they made it into town, because this might have been the best Alvvays set that I've seen. Something about singer Molly Rankin's voice over booming speakers just feels right at home on a sunny day in Central Park. Coming off the release of their excellent sophomore album Antisocialites late last year, the band played about a 50/50 split set of songs from their first and second releases. It made me happy to see a band that I've been following since my earliest days in college radio play to a massive crowd on the Peachtree Stage, and judging by the quality of their set, that spot was well deserved, to say the least.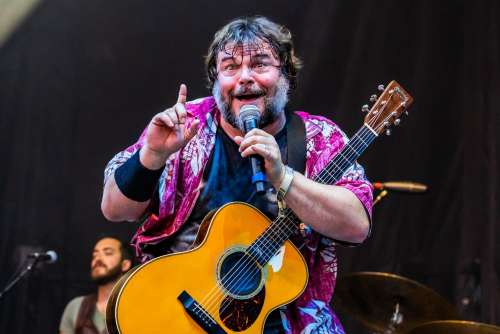 Photo Credit: Courtesy of aLIVE Coverage for Shaky Knees Music Festival
Tenacious D
I was 10 years old when rock-comedy duo Tenacious D put out their 2001 self-titled debut, and 15 when they released their first and only movie, The Pick of Destiny. Needless to say, I grew up listening to Jack Black and Kyle Gass on a nearly daily basis throughout the entirety of my teenage years. So, if I'm being honest with myself, no matter what Tenacious D did, I would have been overjoyed. With that bias in mind, I'd rank their Piedmont Stage performance as one of the most entertaining of the weekend.
Wisely leaning on songs from their first album and the soundtrack for their underrated movie masterpiece, Black and Gass kept the crowd consistently laughing while providing some of the heaviest metal all weekend. The set was heavy on scripted bits that transitioned into songs. Black chastising a roadie led into the song "Roadie," Gass storming off the stage after a screw-up led into "Dude, I Totally Miss You," and so on. One bit about producing a sequel to Pick of Destiny (an infamous box-office bomb at the peak of Black's popularity) got reported by a lot of musical outlets as legitimate news the next day, but I assure you it was just a funny joke to lead into a song from the soundtrack.
My personal highlight of the show was a brief cover of Charlie Daniels' "The Devil Went Down to Georgia," which in many ways feels like a predecessor to the best Tenacious D song, "Beelzeboss," in which Gass and Black challenge Satan himself to a rock-off in order to save their souls. The hour-long set ended with the band's infamous hit "Fuck Her Gently," which, while not my favorite Tenacious D tune, had almost the entire crowd (including many surprisingly young children) singing along passionately.