Panorama 2018: The Killers, The xx, David Byrne Lead Indie Rock-Heavy Day Three
Via Billboard
Photo by Rob Loud
By Billboard Staff
Day one didn't go as planned, but day two of New York City's Panorama Music Festival brought fans back out to Randall's Island to catch Janet Jackson, SZA, Gucci Mane, and a host of others for a hip-hop and R&B-dominant evening. For the fest's final day (July 29), a lineup catering towards alt rock and indie capped off Panorama's third year. Cancellations had dogged the 2018 schedule (with Lil Wayne a surprise no-show Saturday) and Sunday wasn't immune, as hotly-hyped retro rockers Greta Van Fleet backed out over a finger injury to drummer Daniel Wagner.
Here's Billboard's on-the-scene rundown of all the highlights from day three of Panorama 2018:
1:42 p.m. It's early and the midday sun is beating down, but there's a riot goin' on at the Pavilion stage. "We're Shannon and the Clams," announces vocalist-bassist Shannon Shaw. "Big thank you to Downtown Boys, they spiced it up nice and early." After shouting out the raw and righteous punks who'd opened up the stage, S&TC start to work their own magic: syrupy vocal harmonies and slick, hook-filled rock that recalls '60s girl groups, R&B, and surf. A conga line gets going and Shannon later salutes one person up front who's apparently been doing the Macarena. -- CHRIS PAYNE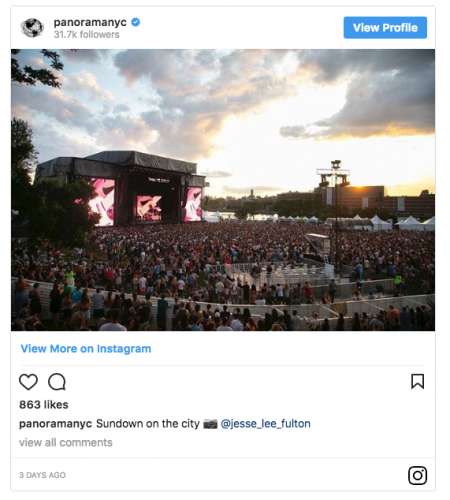 4:08 p.m. Hear the acoustic cover of Alicia Keys' "No One" coming from the Pavilion stage? That's Rex Orange County, who took a break from serenading the crowd with Apricot Princess melodies to put his signature happy-go-lucky twist on the 2007 throwback. A few minutes later, he makes another detour -- this time pausing midway through "Corduroy Dreams" to bring the festival paramedics' attention to a struggling concert-goer near the front. "Uh, I guess I'll carry on," the 20-year-old mumbles once help has been provided, prompting a ripple of applause from the crowd. -- TATIANA CIRISANO
​4:24 p.m. He doesn't quite save it for last, but Rex Orange County's most popular song arrives with appropriate panache. "Loving Is Easy" sounds like it's descended from the sunshine and clouds above, its beams of saccharine strings guiding the oh-so-easy soul singalong home: "Loving is easy/You had me fucked up/It used to be so hard to see." It's not all perfect and cheery, but Rex is already so adept at making life's tougher moments feel like a breeze. -- C.P.
4:40 p.m. Amidst Greta Van Fleet canceling, Robert DeLong's set is pushed back an hour, and he draws a sizable crowd for the first Panorama (main) stage set of the day. A robotic voiceover warns the crowd that everything we're about to see is an illusion, and that Robert DeLong never existed. But the singer and multi-instrumentalist looks real enough upon taking the stage, and he opens with "Don't Wait Up," as trippy visuals flash behind him. "Pano-fucking-Rama, how ya doing?" DeLong yells, and promises to play some fresh music before delivering unreleased jams like "Revolutionary," as well as favorites such as "Long Way Down" and K.Flay collab "Favorite Color Is Blue." -- GAB GINSBERG
6:32 p.m. Next on the main stage after DeLong, it's the legendary David Byrne. The one-time Talking Heads leader is backed by a diverse troupe of suited players who share his affinity for dance. The band is never seated, not even the drummers; instead, they carry their instruments around in constant choreo, producing the poly-rhythmic percussion and mosaic of sound for several Talking Heads songs, in addition to Byrne solo tracks, some off this year's American Utopia. Naturally, "Once in a Lifetime" gets a rousing response. -- C.P.
7:04 p.m. It's a mad dash from David Byrne on the main stage over to the Pavilion stage, where Fleet Foxes are readying to perform with the sunset as their backdrop. The Seattle indie rockers' setlist is Crack-Up-heavy, but they make sure to work in plenty of iconic cuts like "White Winter Hymnal," "Mykonos" and "Blue Ridge Mountains." Frontman Robin Pecknold's voice is as supernaturally melodic as always; the band's performance is equal parts mellow and electrifying, serving as the perfect bridge to the rock-dominated evening ahead. -- G.G.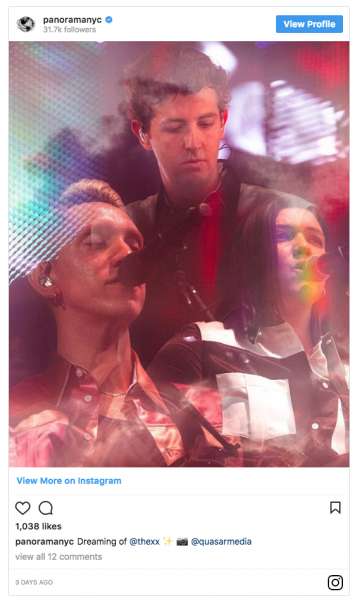 8:08 p.m. "I'm not much of a crier, but I'm close," admits the xx's Oliver Sim, who joins bandmates Jamie xx and Romy Croft on the Panorama stage tonight for the final stop on their colossal, 138-date I See You world tour. "The first writing sessions we did for this album were in New York, our first show was here in New York, so it's perfect to finish it here," he explains, and by the end of their emotional 50-minute set, both the trio and a number of audience members are in tears. -- T.C.
8:50 p.m. Over at the Pavilion stage, Seattle electronic duo ODESZA deviate from performing hits off last summer's lauded A Moment Apart LP to remix Little Eva's 1962 classic "The Loco-Motion" with help from a live trumpet player, before -- somehow -- seamlessly transitioning into their own buzzy "Late Night." Just because a song doesn't have words, doesn't mean you can't sing along, as demonstrated by the cacophony of "ooh-was" and "eee-was" that burst from the crowd. Up next? Album highlight "Higher Ground," which prompts a guest appearance from featured singer Naomi Wild, on the vocalist's birthday, no less. -- T.C.
9:30 p.m. Your Sunday night headliners have arrived! With their stage adorned with a water tower labeled "NEW YORK" (among other accents), The Killers launch into a hit-packed set with their 2008 single "Spaceman." Next up, it's "Somebody Told Me," summoning the crowd's impassioned Hot Fuss nostalgia right away. -- C.P.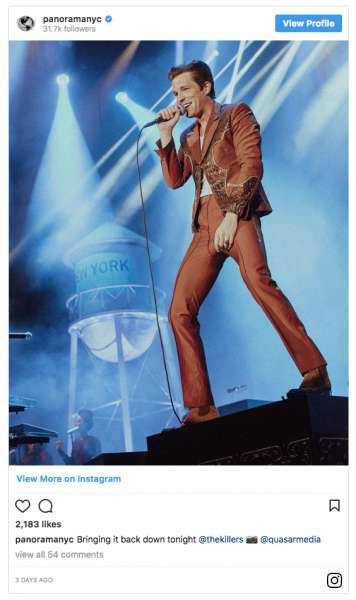 11:00 p.m. After a set that included last year's alternative radio hit "The Man," a fan pulled from the crowd to drum on "For Reasons Unknown," and no shortage of dramatic flair from singer Brandon Flowers, the sound curfew hits, and the Killers are forced to send the Panorama crowd home. Last, it's their eternal classic "Mr. Brightside," performed with all the requisite swagger. After it's over, the crowd starts to dissipate, but drummer Ronnie Vannucci sticks around an extra minute to go on the mic and shout out a dedicated front-row fan and toss them some drumsticks. -- C.P.