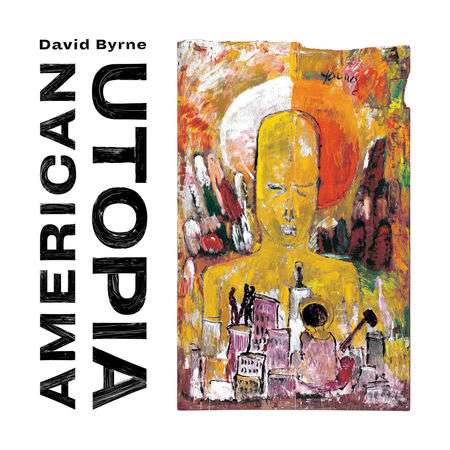 There are few artists like David Byrne – in many ways. The founder of The Talking Heads basically also founded the modern 'art-rock' concept, and has done everything from win an Oscar to duet with Homer on The Simpsons (about stupid Flanders). In many ways he reminds of another tall, lanky, New York-adopting art-rock icon, David Bowie. And now, after releasing collaborative records for most of this century/millennium (like Love This Giant with St. Vincent – QRO review), he puts out his solo American Utopia – which is oh so David Byrne.
Ever since his Talking Heads days, Byrne has mixed afro-dance rhythms with intentional weirdness and angular moves, and that is the hallmark of Utopia. It's best when most danceable, like single "Everybody's Coming To My House" (where Byrne's own band dances, drummers included), "Gasoline and Dirty Sheets", and "Every Day Is a Miracle". Byrne's art-moves can make material less than accessible, which is why the afro-dance is so important, particularly when Byrne can get too weird, like the stark mix of piano-vox & robot-tech opener "I Dance Like This" or the over-Byrne "Bullet". His strange lyrics on songs like "Miracle", "Dog's Mind", and "Doing the Right Thing" are open to interpretation, but do seem directed towards uplift (American Utopia is part of his 'Reasons To Be Cheerful' multi-media project).
David Byrne is always going to be a bit of an acquired taste, more praised by critical circles than embraced by popular ones – indeed, it is impressive how wide his acclaim has reached. American Utopia distills Byrne for this new world we live in.