Queens of the Stone Age shimmied and shook their way through the first night of Zagreb's INmusic Fes
Via NME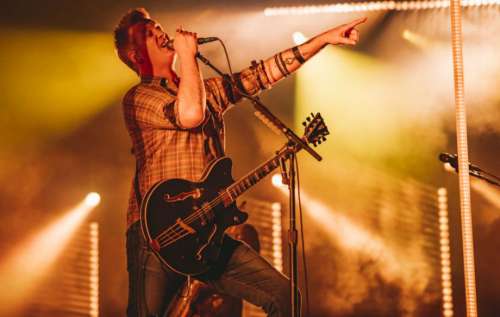 Photo: Andy Hughes
By Jordan Bassett
Queens of the Stone Age closed the first night of INmusic Festival in Zagreb, Croatia with a swaggering set that drew heavily on last year's acclaimed album 'Villains'. Frontman Josh Homme shimmied and shook his way around the Main Stage like a cross between Jerry Lee Lewis and Herman Munster, drawling come-ons to the audience ("Boy anD a girl over there – I'm in Room 302. Meet me.") between pummelling riffs offset by his sweet falsetto. Homme's stage presence has always traded on the way he undercuts macho posturing with sexy semi-campness, and this slick show proved he's honed the performance to a fine art.
Earlier in the evening, the Main Stage was dominated by east London upstarts False Heads, whose frontman Luke Griffiths, his hair a mop of bleach blonde, had a look of Kurt Cobain about him as he shrieked through a set that boasted the fittingly titled 'Sleaze' and the crushing 'Weigh In'. The trio dedicated the latter number to fellow punks Frank Carter and the Rattlesnakes, who were due to perform in this slot but whose bus crashed en route to the festival (all parties were safe). "We hope Frank Carter makes a full recovery," Griffiths told the audience. "What a legend that man is."
During the song's final, snarling refrain, he leaned out across the barrier and held the microphone out for a fan to bellow the words back at him. Had the band played later on in the evening, this would have undoubtedly incited a circle pit. In lieu of that, a skinhead teenage girl towards the back of the modest crowd led a handful of friends in their own cheery mini-pit.
The Main Stage was a much less raucous place when art-pop hero David Byrne took to the same stage later on. His impeccably choreographed 'American Utopia' tour, in support of the recent barnst0rmin' record of the same name, has been astonishing audiences across the UK – and the reception here was much the same.
Byrne and his 12-piece band wore matching grey suits, dancing each other in a series of perfect formations. His troupe accompanied 'Lazy', the ironic pop smash that he released with British house duo X-press 2 back in 2002, with marching percussion drums that they beat as they looped around the stage in a loose circle. The arch 'I Should Watch TV', which Bryne co-wrote with Oklahoman art-rock darling St Vincent, who also performs at INmusic this weekend, resembled a dramatic moment during a West End Musical: the band on the right of the stage, Byrne to the left, they leaned in to one another as though in a stand-off that you suspected he would somehow win. The set is beautiful realised – audacious, camp and utterly brilliant.
Despite its innovative nature – and new material – this greatest hits show was stuffed with '80s Talking Heads classics such as 'Burning Down the House' and 'Once In A Lifetime'. Yet the most moving moment occurred when Byrne closed with 'Hell You Talmout', Janelle Monae's 2015 protest song about police brutality against black men. The band chanted out victims' names like a Greek chorus amid a righteous cavalcade of percussion.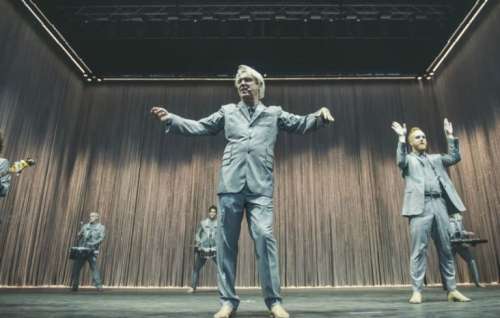 Over on the OTP World Stage, seasoned transatlantic duo The Kills brought turned in an austere yet effective set that saw co-founding member Alison Mosshart whip her shock of blonde hair around the mic stand like a bare bones rock'n'roll Cousin It. Meanwhile, Jamie Hince alternated between cocking his guitar like a firearm and acting as though it were a machine pulling him backwards and forwards – a schtick so exciting that you almost didn't notice he wasn't doing a tremendous amount with it. As the band performed 'Black Balloon', taken from their hit 2009 album 'Midnight Boom', actual black balloons floated over the audience.
This warmed the festival crowd up for Queens of the Stone Age's performance, for which the main stage was studded with upright strip lights that wobble when Homme occasionally knocked into or kicked them (well, it makes a change from photographers). The highlight of the show was perhaps an elongated rendition of 2007 spit'n'sawdust slowjam 'Make It Wit Chu', which was so sexy that a couple near NME snogged throughout its entirety, not coming up for air even once. "You sing so fucking wonderful," Homme told the appreciative – and rowdy – audience as they crooned the words back at him. "I'm so thankful for all of you."
Queens of the Stone Age played:
'If I Had a Tail'
'My God Is the Sun'
'Feet Don't Fail Me'
'The Way You Used to Do'
'A Song for the Deaf'
'No One Knows'
'The Evil Has Landed' (dedicated to David Byrne)
'Long Slow Goodbye' (dedicated to Alison Mosshart)
'Smooth Sailing'
'Domesticated Animals'
'Make It Wit Chu'
'Little Sister'
'Go With the Flow'
'A Song for the Dead'