REVIEW: David Byrne at Wellington's TSB Arena
Via Radio NZ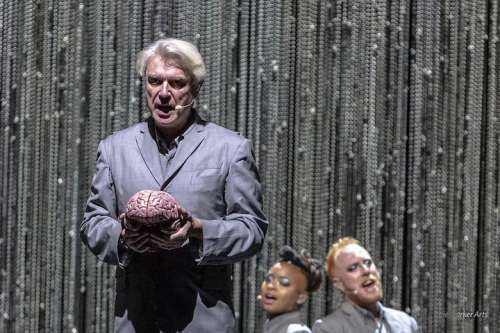 Photo: Bruce Mackay / Darker Arts Live
By Kirsten Johnstone
I already know it's going to be good. Variety called it "the most exhilarating touring rock spectacle in years". NME wondered if it might be "the most ambitious and impressive live show of all time."
Were these reviewers speaking in hyperbole? A few YouTube clips of Byrne's previous American Utopia shows later and I'm convinced it isn't going to be earth-shattering. But it might be a pretty great show.
Of course, video clips never capture what a live performance is really like and, once the show begins, like the reviewers before me, I am overwhelmed by the incredible display of musicianship, movement, and joy on stage. I love every moment of it.
David Byrne opens the set solo and seated on a near bare stage, with a model brain in hand, enacting the lyrics of American Utopia's closing track 'Here' like a surgeon lecturing his students. Three walls of hanging chain rise up slowly around him, as his eleven-piece band join him on stage one by one.
There is no fixed backline, no mic stands. Every instrument they play is carried on their bodies, freeing them up for the stunning kaleidoscopic choreography by notable New York-based choreographer and director Annie-B Parson.
Despite the egalitarian, utilitarian grey suits everyone's wearing, they're a diverse and charismatic bunch, each bursting with personality. Those smiles on their faces are wide and contagious - are they really that happy to be here after eight months on the road, playing the same songs night after night?
I'm soon convinced they are, and they're clearly digging the audience as well. Without any stage props, there are no barriers between us and them. It feels like they see us, they're dancing with us.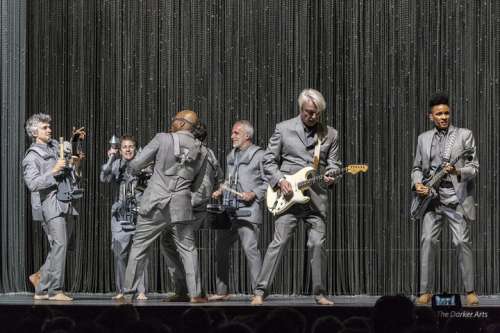 Photo: Bruce Mackay / Darker Arts Live
By the third song - the 1979 African dance party that is 'I Zimbra' by Talking Heads - the stage is heaving with percussion and sweat, and the audience is wriggling in their seats.
At times I lose David Byrne amongst the action: there's the backup singers jiving and diving, the drummers in a circle strutting, and then there's our white-haired hero in the middle, flapping like a chook.
He's obviously aware - and happy - that he's not always the focal point of the show.
The show uses every inch of the stage, in every way you can think of. In one song it's just Byrne with a bare lamp, while limbs and instruments peek through the chains that had dropped down earlier.
For American Utopia song 'Dogs Mind' the band is in a sombre line at the front, bathed in red, Byrne looking more presidential than you-know-who. At times he stalks the stage gesticulating like a motivational speaker. One well-placed spotlight throws giant shadows of the band up on the backdrop, adding yet another dimension of movement.
Then they're all lying down, having a disco nap before launching into American Utopia's comic and ironic opening track 'I Dance Like This'.
If you came in knowing nothing but a few Talking Heads songs, you won't have been disappointed. There were hits: 'Once In A Lifetime', 'This Must Be The Place (Naive Melody)' and 'Burning Down The House' had the very polite crowd up in the aisles dancing.
They're still great songs, they're played pretty faithfully, and Byrne's voice hasn't lost any range as he heads into his seventh decade.
Even if he didn't have his bicycle on tour with him (he does, and says to us that he enjoyed his ride around Oriental Bay earlier), this tour will be keeping him fit. It's over an hour and a half of constant exertion. And those grey suits show all the sweat, with some shirts soaked through by the time the show ends. I wonder if they also bring their own dry-cleaner on tour?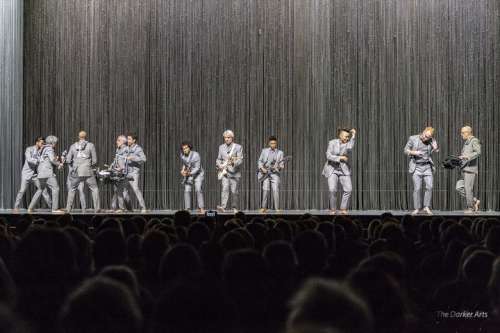 Photo: Bruce Mackay / Darker Arts Live
The encore starts with 1985's 'Road To Nowhere', segues quickly into 'The Great Curve', an angular number from Remain In Light and winds down with a cover of Janelle Monae's protest song 'Hell You Talmbout'.
The song lists African-American men and women who have died after racial violence or police brutality. Its chanting of each person's name and "say his name" response is affecting, and reminds me that we're not only here for a good time: Byrne wants us to take something of this experience away with us to think deeply about.
Perhaps his band is a microcosm of how he'd like to see the world. Of all skin shades, genders and sexualities, religious and political persuasions coming together in this weird dance of life to make amazing music.
David Byrne plays Thursday, 15 November at Horncastle Arena, Christchurch and Saturday 17 November at Spark Arena, Auckland.