REVIEW: David Byrne brings the greatest live band on Earth to the Jube
Via Edmonton Journal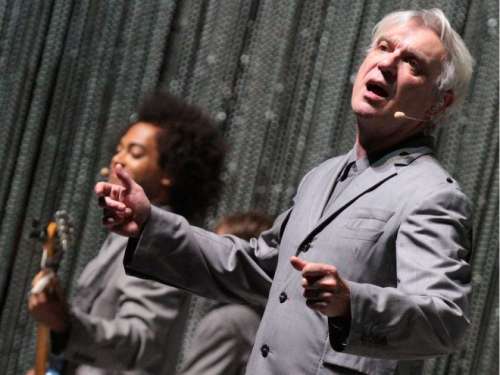 Photo by Fish Griwkowsky / PostMedia
By Fish Griwkowsky
Kicked off by the mesmerizing Benjamin Clementine throwing a child mannequin into the darkened wings of the Jubilee Auditorium Sunday night, an older tension was already in the room — that feeling that it's not that you want to make art right now, but that we all damn well better.
A single razor of light cut straight down to Byrne as he first appeared in the dark, seated at a card table, stroking the lizard stem of a model brain. In total, only three other props would appear during the next 100 energizing minutes — all lights. Other than this, pure minimalism.
No risers, no microphone stands, no drum kit. Like all brilliant ideas, such a simple one: whatever the nomadic band would play, they'd need to carry. Every sound was wireless, live-performed and mobile.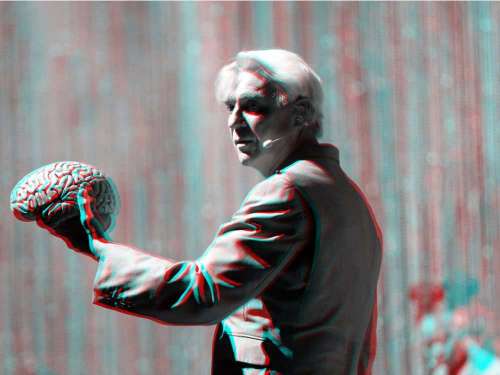 Photo by Fish Griwkowsky / PostMedia
As Byrne, singing the gruff new Here, moved forward like a postmodern Hamlet with his handheld thinker, singers Chris Giarmo and Tendayi Kuumba emerged, the first two of the 66-year-old's 11-piece band.
The upbeat song Lazy by X-Press 2 introduced us to the full troupe, everyone in grey Kenzo suits, more than half doing percussion — next slamming into Fear of Music's mimetic headbanging experiment, I Zimbra.
This was the first of eight well-loved Talking Heads numbers in a lucky 21-song night, the jittery funk Slippery People up next, bassist Bobby Wooten getting his first chance to shine.
A luminous stage-left bar of LEDs lit Byrne's collaboration with St. Vincent, I Should Watch TV, and he disappeared into it and the shimmering curtain of beads that surrounded the stage on three sides like the Poltergeist kid before singing the new number, Dog's Mind.
"Well, we're in Canada — we just came from down below," Byrne said with a smile, definitely as a metaphor. Switching between red and blue lighting, the hilariously menacing Everybody's Coming to My House was brilliantly paired with a just-lovely version of This Must Be the Place (Naïve Melody) — Byrne surfing on the spot and hitting his higher notes with a perfectly intact voice.
As soon as he began twitching, the screaming started and a fresh and wild version of Once in a Lifetime hit us, Byrne bending backwards and falling to the ground to be lifted by his players amid the strobes as the song went back to its roots and echoing weirdness. Bravo!
I need to name the percussion section here: Gustavo Di Dalva, Daniel Freedman, Aaron Johnston, Tim Keiper, Mauro Refosco and the standout Davi Vieira, with Karl Mansfield on portable keyboards.
The soothing-then-techno Doing the Right Thing was the next show highlight, Byrne, always glib, wishing us a good long weekend — "Thank you for not going away and staying for the show" — before noting his next song, a collab with Brighton Port Authority — was "not safe for work."
More magnetic funk buoyed the magnificent Born Under Punches (The Heat Goes On), Byrne pulling out his guitar and doing a little Sonic Youth feedback freakout.
Everyone was down on the floor and still as the amazing new I Dance Like This began, but the 12 were soon doing a fists-up-to-the-left, down-to-the-right dance as the song smashed into its Brian Eno noise chorus.
A simple pole lamp on wheels illuminated Byrne for Bullet — one of many allusions to guns during the night — a slo-mo journey through the end of a human life. Where a lamp signified suburban comfort during Naïve Melody in Jonathan Demme's film, Stop Making Sense, bringing one here to a gun death in 2018 felt tragically intentional, a marker of how far we've fallen in just a few decades.
The band stood in a facing circle for the lovely Every Day Is a Miracle, already timeless at less than a year, Byrne then doing the twist for Like Humans Do.
Lots of soloing for the jerky Blind, then Burning Down the House, well, totally did. Despite his assurances, this singer is not "just an ordinary guy."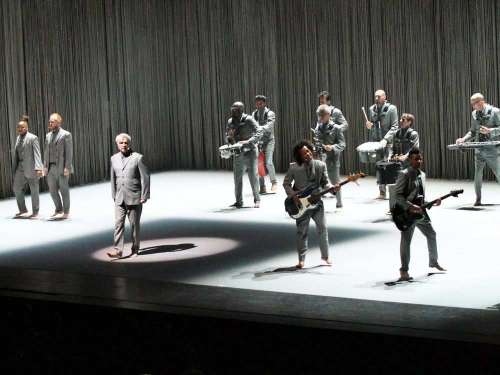 Photo by Fish Griwkowsky / PostMedia
Two encores! The first was a Here Lies Love song, Dancing Together — and everyone did, crowd included. Then, thanks for this, the swirling, dizzying The Great Curve — Angie Swan killing it here and all night on guitar, Byrne down on one knee in the back watching her, nodding his head. Such choreography all night — front row to back row, all the best seats in the house.
Off the band disappeared again, getting ready for the most powerful moment of the night.
In a single line, every player held a drum of some taxonomy, Byrne's village moving to the front, unleashing Janelle Monae's protest song Hell You Talmbout. The white-haired singer would declare the name of an African-American who died in gun violence — usually during an encounter with law enforcement — and the band would shout, for example, "Phillip White! Say his name! Phillip White! Say his name!" You could almost hear Childish Gambino's This Is America over in the next warehouse.
It was an incredibly powerful way to end the show: a wall of blood to match Slayer's across the river — yet instead of doomy, totally inspiring. It's up to us to fix this.
Much has been made of Byrne's earlier work, which first sent our heads a-talking back in the late '70s. But the contemporary vitality of this concert shows there's really no turning back — why would you? — from the greatest live band in the world.
Who: David Byrne with Benjamin Clementine
Where: Jubilee Auditorium
When: Sunday night