Review: David Byrne dances through new music, Talking Heads' classics in Portland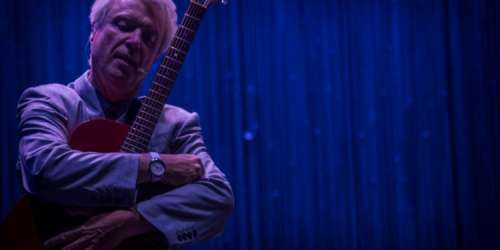 Dana Sparks/Daily Emerald
By Sararosa Davies
When I was touring colleges, my dad brought along a stack of CDs he loved during his college days. As we drove through the Midwest, he pushed "Talking Heads 77" into our gray Honda CRV's CD player, and we talked about the bands that shaped his college experience. Through David Byrne's eclectic vocals, I saw a glimpse of my dad's experiences at school: drunk roommates, studying in Bologna, Italy, and eventually meeting my mom.
David Byrne is probably something else to the current generation of college students — not archaic but not new, either. The band's former frontman is an icon— but arguably not one of the defining musical icons of our college generation in the way that he was for our parents.
But that doesn't mean students should skip out on seeing Byrne's current tour in support of his first solo album in over 10 years, "American Utopia." His music is as relevant now as it ever was. After a stop at Sasquatch! Music Festival just a few days ago, Byrne played the Keller Auditorium in Portland on Sunday, May 27. He will play the Hult Center in Eugene tonight, May 28.
The show began in darkness and ended with a crescendo. British musician Benjamin Clementine opened the concert sitting at a grand piano in a dark blue shirt with elbow patches and a white cowboy hat. After playing a few songs, Clementine had trouble with one of the looping pedals on his black baby grand piano. "That's the 21st century for you," he said before leaving the stage for a bit to figure out the technical difficulties. He returned to play tracks such as the eerie and spacious, "Jupiter," and "One Awkward Fish," where he walked to a tiny mannequin of a baby on stage next to a mannequin of a pregnant woman draped in an American flag. He struggled to put arms on the baby, walked across the stage and kicked the baby off at the end of the song.
Clementine's discordant piano playing, wide vocal range and odd stage habits fit perfectly with Byrne's art-rock aesthetic. Byrne has championed Clementine's music during interviews in recent years and is bringing the musician along for the whole tour. As stagehands undid the gray chain curtains, audience members craned their heads to look at the bare stage. A stagehand brought out a desk and chair.
The lights went out and the audience hushed. Clad in a gray suit and holding a prop brain, with gray chains rising behind him, Byrne appeared alone on stage singing "Here." "Here is a region that continues living / even when the other sections are removed," he sang as the lights went up on him. Members of his band, also all in gray, emerged from the curtain playing their instruments. Every instrument was wireless and the band danced as they moved throughout the setlist like the marching bands and color guards Byrne has been fascinated by for years. Byrne's two back up vocalists danced freely across the stage with simple and jagged choreography, and occasionally Byrne would grab a guitar from off stage to join them.
With such a physical and intentional presence on stage, it was hard to believe that the band was playing live, but according to Byrne, they were. The setlist ranged from Talking Heads classics like "I Zimbra" and "This Must Be the Place (Naive Melody)" to songs from the musical about Imelda Marcos, a former first lady of the Philippines. The audience was standing for most of the show and danced in sync with the sporadic percussion in Byrne's music.
The show didn't wind down towards the end. Instead, Byrne pulled out the Talking Heads' classic "Burning Down the House," before two encores. He and the band came together on stage for an extended version of Janelle Monae's "Hell You Talmbout," a protest song naming Black people killed by police brutality. "Say his name!" the band shouted to the audience, voices hoarse and chests out. For those who doubt Byrne's relevance or maybe skipped his set as Sasquatch wondering, "Who's this old guy?" He's so much more than the white hair on top of his head.
Setlist:
Here
Lazy
I Zimbra (Talking Heads song)
Slippery People (Talking Heads song)
I Should Watch TV (David Byrne & St. Vincent)
Dog's Mind
Everybody's Coming to My House
This Must Be the Place (Naive Melody) (Talking Heads song)
Once in a Lifetime (Talking Heads song)
Doing the Right Thing
Toe Jam (Brighton Port Authority cover)
Born Under Punches (The Heat Goes On) (Talking Heads song)
I Dance Like This
Bullet
Every Day Is a Miracle
Like Humans Do
Blind (Talking Heads song)
Burning Down the House (Talking Heads song)

Encore:
Dancing Together
The Great Curve (Talking Heads song)

Encore 2:
Hell You Talmbout
(Janelle Monáe cover)