REVIEW: David Byrne, Lukas Nelson's surprising performances highlight winning XPoNential Fest
Via The Morning Call
By John J. Moser
"You may ask yourself, well/How did I get here?" David Byrne sings in the song "Once in a Lifetime," which he wrote for his former band Talking Heads.
Byrnes' concert Friday at BB&T Pavilion in Camden, N.J., had bit of that disoriented effect – in a good way.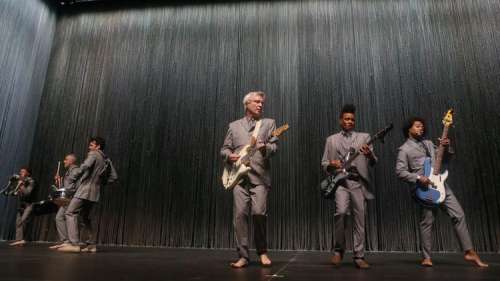 Photo: BRIAN HINELINE/Special to The Morning Call
Decidedly quirky, definitely campy, the new wave auteur put on a 16-song, 75-minute set that was successful partially because of exactly that: Not the kind of show what you would expect from the headliner of Philadelphia radio station WXPN-FM's three-day XPoNential Festival, but entertaining in its surprises.
Byrne started the set alone on an open, empty stage whose backdrop, and sidedrops, were plain gray curtains, seated and contemplating a human brain (likely fake?) as he sang the song "Here" from his new album, "American Utopia," released in March.
Then for the next song, "Lazy," he was joined by eight drummers, all dressed as he was in gray suits (only the 66-year-old Byrne's shock of white hair distinguished him) and playing African beats on drums they carried.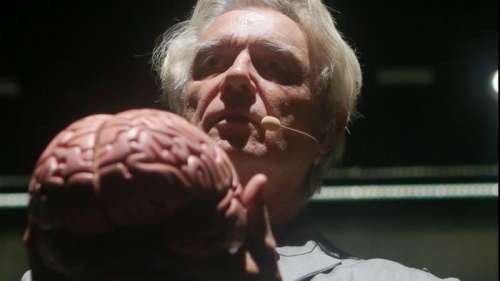 Photo: BRIAN HINELINE/Special to The Morning Call
That was the way the rest of the show played out, as that troupe sometimes swelled to a dozen players – all of whom, like Byrne, were barefoot -- with a full array of instruments. Byrne later noted there was not surreptitious sound. "The music you hear – every bit of it, coming from these incredible musicians," he said.
That arrangement made the concert play out very much like a musical stage production that included four songs from the new disc and seven from Talking Heads.
The first from that group was "I Zimbra," from its 1979 third album, and it, like several of the songs to follow," featured Byrne on guitar and taking part in choreographed dance with the band.
The next song was a more recognizable Talking Heads tune, "Slippery People," from 1983's "Speaking in Tongues, with its thumping drums sounding like that disc's hit "Burning Down the House." Those songs are now nearly 35 years old, but sounded fresh and vital.
That was even more true of the Talking Heads hit "Once in a Lifetime," which not only still is a great song, but was performed strongly and still connected. The crowd gave it a huge cheer.
There was much of the expected Byrne oddity throughout the set – his voice still screeching in off-kilter squawks during the new wave delivery of "I Should Watch TV" from his 2012 album with St. Vincent.
And Byrne, in the first and one of the few times he addressed the crowd, turned that tune into an admonition to be informed, saying it's "very important to vote in every election – every time we can."
The new "Everybody's Coming to My House" also had that chirped delivery, and Talking Heads' "This Must Be the Place" had him skipping about the stage. "Toe Jam," the 2008 song he did with The Brighton Port Authority, was fun and silly.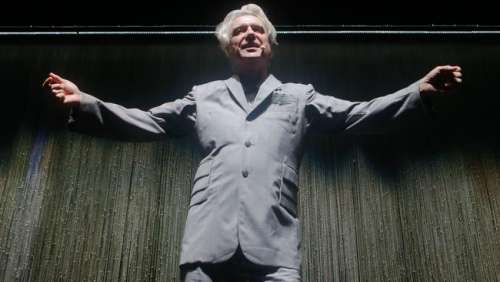 Photo: BRIAN HINELINE/Special to The Morning Call
But other songs were more serious. He started the new "I Dance Like This" starkly -- alone on stage at a keyboard before the other joined him. The new "Every Day is a Miracle" was almost choral in spots, and "Like Humans Do" again turned into a drum line.
Byrne closed his set with three Talking Heads songs: "Blind," "The Great Curve" and "Burning Down the House," but then returned for a cover of Janelle Monáe's 2015 protest song "Hell You Talmbout," which name-checks racial violence victims Walter Scott, Jerame Reid, Phillip White and more.
It was impactful, a political left curve that might have left the audience again asking "Well, how did I get here?"
On the rain-shortened part of XPoNential Fest in Camden's adjoining Wiggins Park (the park's headline concert by The Lone Bellow was canceled), the day's highlight was a set by Lukas Nelson and Promise of The Real.
Nelson's rip-roaring, rocking set was largely from last year's self-titled album, with a few exceptions, one of which was the opening "Entirely Different Stars" – a sinewy blues number on which he played a blazing guitar solo.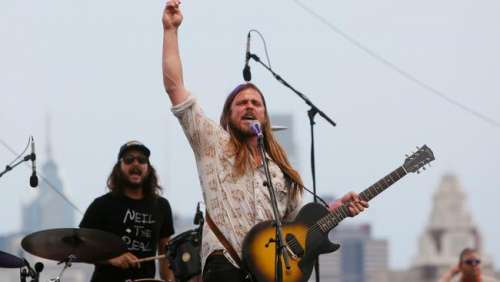 Photo: BRIAN HINELINE/Special to The Morning Call
He introduced "Die Alone" by telling the crowd, "We're gonna boogie a little," and indeed he and his three-man band did just that – a rumbling, chugging blues song. "Fool Me Once" was lilting country blues, and "Four Letter Word" a rock-country shuffle during which he shook a raised fist as he growled out the lyrics, and ended with a wild, high kick.
"Something Real," the title track from his 2016 album, was faster, chugging blues, as he quacked out the lyrics, "I'm begging you to gimme something real" and hopped as he played.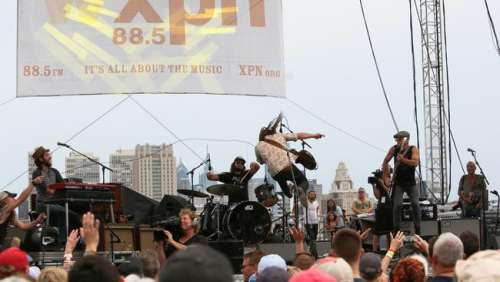 Photo: BRIAN HINELINE/Special to The Morning Call
"Forget About Georgia" was the set's slower, more sensitive offering, but also included a long, picked-string solo, and "Find Youself" sounded like The Band.
Nelson in recent years has consistently delivered a strong show, both from his and his band's playing and their strong songwriting.
But the XPoNential Fest set closed with a wonderful new song, "Turn Off the News," that laments the venom of current discussion.
"Hatred is a symptom of the times/Lost in these uneducated blues," Nelson sang in the soft country-folk tune. "Turn off the news and raise the children." It was a flash of how much of his father's talent Nelson has, and how insightful it can be.
Catch Nelson when he returns to BB&T Pavilion on Sept. 15 with his father's Outlaw Festival with Van Morrison, Tedeschi Trucks Band and Greensky Bluegrass.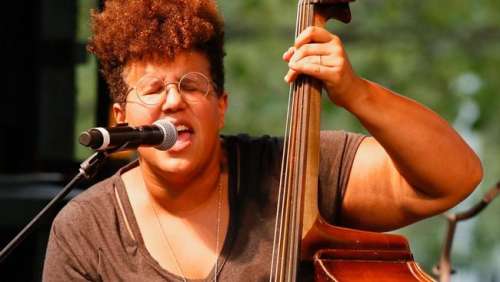 Photo: BRIAN HINELINE/Special to The Morning Call
Closing the shortened Wiggins Park part of the day was Bermuda Triangle, the folk super group of Britney Howard of Alabama Shakes, Becca Mancari and Jesse Lafser, playing the band's very first festival gig.
The group's six-song, rain-shortened 25-minute set was, at least for those who know Howard's work through Alabama Shakes, surprisingly traditional folk.
The opening "They're Trying to Tear Us Apart," was sweet three-part harmony, as was the even quieter "What You Took Away."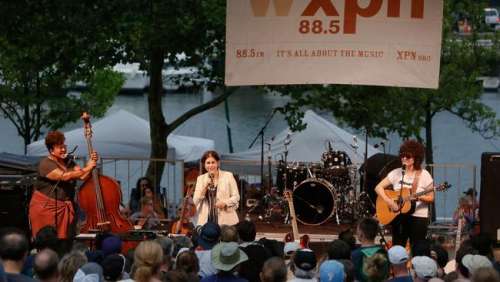 Photo: BRIAN HINELINE/Special to The Morning Call
While Howard may be the best-known of the trio, the other members had equal contributions. Lafser took lead vocals on the very quiet and folky "Rosey." And when Howard sang lead, her voice was far more studied than it is in Alabama Shakes.
But the trio worked best when it layered its vocals, as it did on its theme song, "Bermuda Triangle."
A full-set performance is something to look forward to.
XPoNential Festival concludes today with 11 performances in Wiggins park only, starting with Harmony Woods at noon. Headliners are Josh Ritter, JD McPherson and Blind Boys of Alabama.