Review: David Byrne searches for utopia at joyous Sony Centre show
Via Now Toronto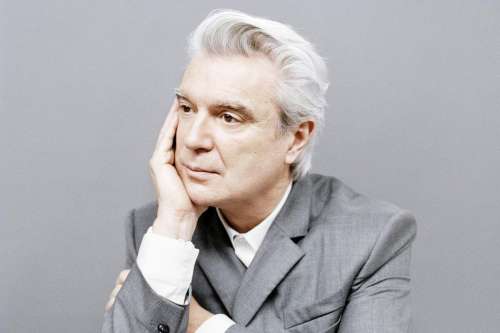 Photo by Jody Rogac
By Max Mertens
David Byrne is an eternal optimist. From his "Reasons To Be Cheerful" talks to the accompanying website of the same name, where fans worldwide can submit the wide-ranging civic initiatives and cultural projects making their communities stronger, the Scottish-American art-rock iconoclast has been doing his part to combat general universal feelings of political hopelessness and negative news cycles. This never-ending search for positivity also inspired the former Talking Heads front man's eleventh solo album (and first in 14 years), the fittingly titled American Utopia, which Byrne worked on with a cast including Brian Eno, Daniel Lopatin (aka Oneohtrix Point Never) and Sampha.
For the latest tour, described as his "most ambitious" shows since those filmed for Jonathan Demme's influential 1984 concert doc Stop Making Sense, he's put together an 11-piece band, choreographed by long-time collaborator Anne-B Parson (who also worked on his 2015 Contemporary Color shows), and hand-picked the opening acts. Attendees who arrived early at the first of his two Sony Cenre shows were treated to a soulful, magnetic set by British singer and poet Benjamin Clementine, who played the piano shoeless while accompanied by a lone guitarist.
After a brief intermission – during which soothing bird noises were piped through the venue – the curtain lowered on a charcoal grey-suited, headsetted Byrne sitting at a table holding a toy pink brain. As he began singing American Utopia closer Here, his band slowly emerged from behind a shimmering curtain, wearing matching outfits and with their instruments strapped to them. Untethered and barefoot, they were able to make full use of the stage, moving in marching lines and circles with Byrne serving as benevolent conductor. The 66-year-old singer and guitarist matched them step for step, occasionally dramatically rolling up his pant legs and sleeves, and joyously swaying like a marionette being pulled by an invisible hand. By the time they broke into a rendition of Talking Heads' percussion-heavy I Zimbra, the crowd – which skewed baby boomer although there were plenty of younger members wearing vintage tees and their best oversized suits – were on their feet and would remain so until the bands's second encore ended.
Leaning heavily on material from his latest album, songs like the somber Dog's Mind and the upbeat Every Day Is A Miracle (which contains delightfully quirky Byrne-isms such as "God is a very old rooster" and "The mind is a soft-boiled potato") benefitted the most from dynamic live arrangements, which he briefly paused at one point to acknowledge they were performing without the assistance of backing tracks. Strobe lights flashed during the pulsating I Dance Like This, and Byrne's 2012 St. Vincent collaboration I Should Watch TV saw him bathed in a solitary purple spotlight.
One unexpected highlight was a funky rendition of Toe Jam, a one-off 2008 team-up between the singer and big beat producer Fatboy Slim (under his The Brighton Port Authority alias), and Byrne was sure to acknowledge its cheekily NSFW music video. The most enthusiastic audience responses predictably were reserved for Talking Heads anthems This Must Be The Place (Naive Melody), Once In A Lifetime, and Burning Down The House, which sounded as every bit triumphant as when they were written several decades ago.
Following a two-song encore of the Imelda Marcos-referencing solo cut Dancing Together and Remain In Light favourite The Great Curve, Byrne's shirt soaked in sweat, they returned for a cover of Janelle Monae's Hell You Talmbout. Earlier in the night, the singer wryly commented on U.S.-Canada politics, saying, "It's amazing what a line on a map can do" before lightheartedly reminding everyone to participate in elections. (Byrne has partnered on this tour with HeadCount, a non-partisan American organization that promotes voting, who had a booth in the Sony Centre lobby.) Forming a single line with his band, the call-and-response song listing Black Americans killed by police (updated to include Nia Wilson's recent death in Oakland) was a powerful closing note to the evening, and a timely reminder that utopia still is a long ways off.