Review: David Byrne wiggles, spirals through his warm Auditorium show
Via Chicago Tribune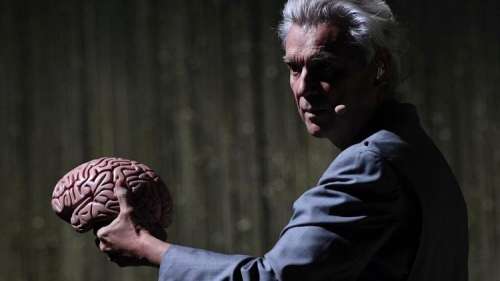 Photo by Paul Beaty / Chicago Tribune

By Joshua Klein
David Byrne, clad in a gray suit yet strangely barefoot, sat at a small table, lit starkly by a single spotlight. Singing "Here," from his newest album, "American Utopia," he slowly stood and held aloft a model human brain, which he pointed to like he was delivering a deranged TED Talk. Soon Byrne was joined by more suited singers, filling the once nearly empty stage with 11 others, most musicians, each fully mobile with their instruments mounted on their shoulders, like a neo-futurist drumline. And then the dancing began.
Byrne has never shied away from high-concept ideas or elaborately choreographed performances, but the former Talking Heads frontman's transformation has still been striking, from a guy who once made strumming a guitar look awkward to, at 66, a warm, smiling face with a shock of floppy white hair who wears a headset microphone so that he never has to stand still.
That warmth pervaded Byrne's show at the Auditorium Theatre on Friday, the first of three sold-out nights. A marvel of staging and motion that was at once utterly novel and oddly comforting, the evening proved a celebration of Byrne's music at its most rhythmic and transcendent, whether the Talking Heads' classics "This Must Be the Place (Naive Melody)" and "Once in a Lifetime" or perhaps lesser known solo cuts such as "Like Humans Do" and "Dancing Together," the latter a giddy track from his unlikely rock opera about Filipino kleptocrat Imelda Marcos.
Throughout the night, Byrne and his band wiggled and spiraled and skipped and spun, moves maybe a tad silly or simplistic but magnified and magical when watched in toto, especially considering nearly everyone was singing or playing as they glided and marched. Byrne's voice in particular has never sounded better, and a lifetime of serious bicycle riding has apparently made him built to last. But stillness, too, played a role, enhancing the nightmarish menace of "I Should Watch TV" as well as the dreamlike start of "I Dance Like This," which featured almost everyone sprawled across the stage as if asleep, gradually waking with looks on their faces like they, too, were as impressed by what they were seeing as the enraptured audience.
That Byrne chose to punctuate his ecstatic penultimate song "The Great Curve" with an intense cover of Janelle Monae's police brutality protest chant "Hell You Talmbout" was a curious decision, but in context served an important role: What's the point of impeccable escapism without a reminder of the reality you're escaping from?