Review: David Byrne's American Utopia tour at the Shrine: The same, and not the same, as he ever was
Via LA Times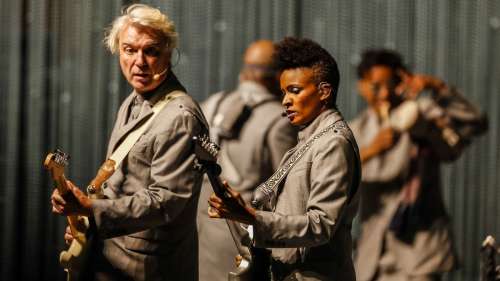 Maria Alejandra Cardona / Los Angeles Times
By Randy Lewis
Most pop concerts live or die on the strength of the artist's songs, plus the energy and commitment that artist invests in putting them across. Some rely heavily on technological production elements, eye-popping special effects or pure spectacle.
And then there's David Byrne.
From the start, the mercurial singer, songwriter, guitarist and Renaissance man has approached the concert experience as more than a way to bring his music to audiences in person. Instead, he sees the totality of possibilities available to him and his musical cohorts whenever they set foot on stage.
That truth was realized yet again on Saturday when Byrne brought his American Utopia tour to the Shrine Auditorium in L.A., a city where he has delivered so many unforgettable moments since he first came west with the Talking Heads in 1977 for their dynamic debut at the Whisky A Go-Go.
Since then, he's delivered time and again, among the highlights over the years the Heads' 1983 Stop Making Sense tour at the Pantages that the late director Jonathan Demme captured so brilliantly in the concert film of the same name, Byrne's first big solo outing with his Rei Momo tour, also at the Pantages, in the early '90s, his 2004 Grown Backwards visit to the august surroundings of Walt Disney Concert Hall on up through his 2012 stop at the Greek Theatre with his "Love This Giant" collaborator St. Vincent.
The American Utopia show is, quite simply, a wonder of imagination, ambition and execution, a frequently breathtaking celebration of the miracle of life, even with all of humanity's trials and tribulations. It's also a perfectly timed tonic for the toxicity in our current political environment.
Freed from the standard rock/pop stage setup built around mounds of instruments, amplifiers and other gear, Byrne and his 11 compadres — outfitted in matching gray-green suits and dark, open-collar shirts — made use of every inch of the Shrine's wide-open stage, framed on three sides by bead-like curtains that slowly rose from floor to ceiling at the beginning of the 100-minute performance.
The setup allows the performers to enter and exit the stage with ease. At times, Byrne would mosey toward stage left while singing. Almost magically, his guitar would appear through the curtain just in time for him to slip the strap over his head, dole out a solo, then hand it back and continue with the rest of the song.
Byrne, 66 commands attention organically, not forcefully. It's no accident that this tour eschews video screens that would divert attention from all that's happening on stage.
At the outset, he was seated at a card table center stage, a single dramatic spotlight above illuminating him, the table and a model (we certainly hope) of a human brain on that table, which he soon lifted and used to illustrate "Here," one of several "American Utopia" songs liberally sprinkled among his Talking Heads standards and other solo and collaborative material.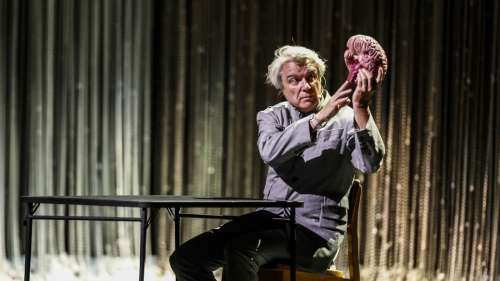 Maria Alejandra Cardona / Los Angeles Times
The quirky workings of the human brain have always fascinated Byrne, and in "Here" he deftly brings science and metaphysics together as he notes: "Now it feels like a bad connection/No more information now/As it passes through your neurons/Like a whisper in the dark/Raise your eyes to one who loves you/It is safe right where you are."
As he sang, along on the stage, the connection he so clearly prizes begins to happen, as another singer appears through the curtain at the rear, then another, joining voices in harmony.
Soon the band members filtered on with them, all mobilized with apparatus mounted keyboards and drums, wireless headsets, no plugs or technological connectors to be seen.
Numbers are smartly choreographed, evocatively lighted in warm reds, cool blues, blinding whites. There's nary a wasted movement, note or expression. As he's often done in the past, Byrne and his band members are nearly constantly in motion, projecting their effervescent energy throughout the theater.
Musically, he continues to chase the funk that makes bodies want to get up from their seats and dance. His own body language remains charmingly — and quite in all probability consciously — awkward, a reality he sweetly addresses in the new album's opening track, "I Dance Like This."
I dance like this
Because it feels so damn good
If I could dance better
Well, you know that I would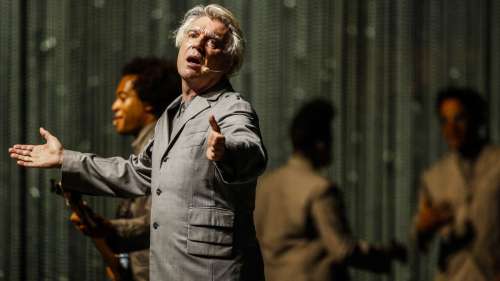 Maria Alejandra Cardona / Los Angeles Times
The same, it should happily be noted, can't be said of his resourceful band and dance mates.
In addition to providing harmonies and musical accompaniment on a plethora of instruments — with contributions of up to a half-dozen percussionists in several songs — Byrne's band also delivers the smart choreography that physically expresses and amplifies the songs' themes, yet another illustration of the fully intentional quality of every aspect of the evening.
Pop music aficionados have long prized the outsider perspective Byrne taps in his songwriting, a deliciously skewed perspective that remains uncommonly illuminating.
About two-thirds of the way through, he served up "Every Day Is a Miracle," in which he arrives at that conclusion after considering what's going through the minds of this planet's other life forms: "A cockroach might eat Mona Lisa/The Pope don't mean [anything] to a dog/And elephants don't read newspapers/And the kiss of a chicken is hot… Every day is a miracle/Ev'ry day is an unpaid bill."
Of course, he also folded in some of the Talking Heads' most ebullient songs: "Slippery People," "Once in a Lifetime" and "Burning Down the House" among them, some employing the signature disorienting lighting effects used on the Stop Making Sense tour and film, to the delight of the sold-out crowd.
It seemed hard to imagine he could top the visceral energy he and the band brought to their second encore number, the Heads' "Great Curve," but returning to the stage for a second encore segment, he offered Janelle Monae's "Hell You Tambout," her politically charged song that he said by way of introduction she'd authorized him to update with more names of people of color killed in disputed incidents with police. That number featured human voices and percussion only, driving toward an even more powerful climax.
Along with a very few other peers — Peter Gabriel, Laurie Anderson and Tom Waits come to mind — Byrne remains an absolute master of the theater of live music, and his latest is no exception: American Utopia is a joy to behold.