Review: David Byrne's American Utopia at Manchester Apollo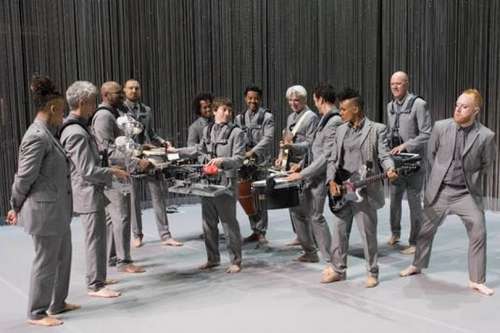 By Manchester Evening News
When you think of musical innovators you think of Bowie, Prince, Kraftwerk - but David Byrne is firmly in this bracket too.
As people took their seats for the show, there was a single light illuminating a table and chair with a brain on, to sounds of the jungle echoing around the PA system.
Billed as his most ambitious show since the amazing Stop Making Sense tour in the early 1980s, this set is an 'untethered,' highly choreographed show, full of energy and enthusiasm.
Each member of the band was decked out in a grey suit, barefooted, carrying their instruments around 'untethered' as part of the show. It was like witnessing the funkiest marching band ever.
The all seated crowd were brought to their feet early on with Lazy - and they didn't want to sit down from here on in.
Each part of the show felt like an artistic piece on its own. The subtle lighting along with a stage surrounded by a cubic metallic chain curtain meant there was little need for extra visuals. Dance moves delivered by the band were the only accompaniment the music needed; each succinct and well planned movement echoing whatever sentiment the particular song was showcasing.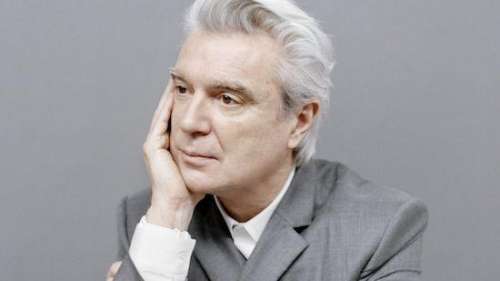 Photo by Jody Rogac
Of the new songs, I Dance Like This was a particular highlight. With the band all laying on the floor, the piano played like a lament before the industrial noise brought the entire stage to life in a fit of strobe lights and wolf-whistles for the grey haired, mad genius of ringleader Byrne.
Byrne played his role to perfection all evening with his bizarre dance moves (none more so than during Once In A Lifetime) and still phenomenally powerful voice driving every song with incredible energy. Huge smiles and heartfelt thanks emanating from the stage showed how much joy he, and every band member, gets out of performing this show.
Incredibly funky renditions of Blind and Slippery People coupled with a show stealing Burning Down The House towards the end were set highlights.
In between songs, Byrne shared anecdotes about how he campaigned to get people to vote in America and how he feels local councils and their influence is so important were met with huge cheers.
The American Utopia Tour is a quite majestic show that is slickly choreographed, crisply delivered and oozes class, with a uniqueness that only David Byrne can bring to the stage.
After this smaller warm up, Byrne is back in town for a Manchester Arena gig on November 2 - miss this show at your peril.