REVIEW: DAVID BYRNE'S SILVER LODGE AT BASS CONCERT HALL
Via Austin Monthly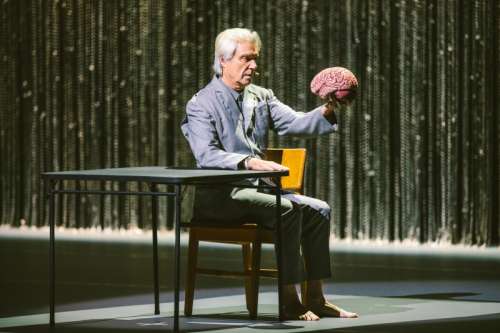 Photo by Bryan C. Parker
By Bryan C. Parker
ACL first hosted a slate of official late night shows in 2011. While festivals allow music lovers to see a slew of bands in a short timeframe, the additional late night programming allows superfans of artists to enjoy a more complete experience. For some acts, that might just mean a longer set, replete with all the songs that wouldn't fit into an abbreviated festival time slot. In the case of an artist with a live show as rich as David Byrne's, the late night show provides not only that longer set, but also an immersive experience with light, staging, and sound that simply cannot be replicated during the daytime hours of an outdoor festival. Make no mistake, Byrne's commitment to the choreography and theatrical nature of his current stage show impressed on Friday at ACL, but his performance on Wednesday night at Bass Concert Hall surpassed it entirely.
Individual strands of grayish cords form back and side walls, leaving the fourth wall open to the audience, forming a large silver box that serves as the stage. Byrne enters in dim light, and his shadow moves to a solitary chair and table at the center. When the spotlight hits him, he clutches a soft pink brain, as he begins the set with "Here," the closing track from his recent and widely acclaimed album American Utopia. Halfway through the song, as it hovers between verses, Byrne turns 90 degrees to his left and holds the brain up, mirroring his own head, and stares at it. It's an apt introduction to a stage show that dives deep into the consciousness of one of the most inventive and daring musicians in rock music's history. Deeply conceptual, the show discards many of the traditional methods of light and arrangement to create an experience wholly new.
The simplicity and the flowing "walls" of Byrne's silver box remind me somewhat of another creative genius's creation—David Lynch's Black Lodge from the Twin Peaks series. While that David's fabrication thrives on terror and eeriness, Byrne's world takes a more whimsical and joyful perspective. However, as in Lynch's Black Lodge, Byrne's Silver Lodge is a place where energy echoes and reflects; it is a prism in which thoughts and actions are refracted, examined, and deconstructed.
All 11 of the musicians who soon join Byrne onstage wear their instruments. Nearly half of these are percussive instruments—various drums, shakers, and cymbals. Bass, electric guitar, keys, and a pair of backup vocalists account for the other players. Byrne's marching band collective moves constantly about the stage in quirky yet precise choreography by Annie-B Parson (a longtime collaborator of Byrne's)—forward and back in pattern, and then with more complexity as they circle, group up, and disband. Performers glide in through the permeable walls of the Silver Lodge to join the party, and then exit just as easily—passing through as if fleeting thoughts. The use of these porous, soft walls feels significant in an era when physical walls feel more concrete than ever. As the performers move, the visual impression of the stage never settles, and its constant state of flux stimulates and excites in a way that the anchored positioning of a traditional rock band setup never could.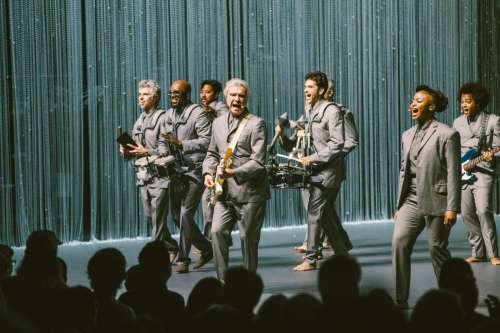 Photo by Bryan C. Parker
Rather than beams of LEDs or can lights searching the stage, lighting is used to turn our silver box blue or red. On "Bullet," the ensemble paces in a slow circle around Byrne, as a he grasps a lamp with a single, bare incandescent bulb, recalling the famous lamp of the Talking Heads' concert film Stop Making Sense. For "Blind," a dim light source is placed low, casting enormous shadows of the performers on the wall behind them. These giant figures dance and sway with their human counterparts beneath them.
Viewing these thoughtful gestures of light and movement, we exist inside a brain, teeming with energy, as pulses of neurons fire in an array of color and sound.
Byrne takes nothing for granted. Why does a rock show have to be presented in one way? Everything is an opportunity for reimagining, reinventing, modifying. In this way, the questions Byrne asks of himself transfer to the audience, as we are left in reflection, a slight tilt of the head as we consider, with an ever-intrusive half grin curling our lips.
The pure joy of this show cannot be overstated. We, grown humans, transform into little children, in awe of something tantamount to a magician's performance. Audible laughs erupt at physical jokes: the moment the band stops for a pause on the word "stops," or the intentionally awkward dancing that lingers for several beats after the band stops playing during "I Dance Like This." Euphoria courses through the room when the band launches into some of the biggest songs from their catalog—"This Must Be the Place (Naive Melody)," "Once In A Lifetime," "Road To Nowhere," and "Burning Down the House," to name a few.
At one point in the set, Byrne mentions that his band frequently tries to partner with organizations that register voters as he tours. He encourages everyone in attendance to not only register to vote, but also to make sure they show up to the polls. Before the band's final song, Byrne calls it a chance for everyone, himself included, to reflect on how we can change. The group delivers a powerful version of Janelle Monae's "Hell You Talmbout," which has various members of the band shouting names of black Americans—Walter Scott, Freddie Gray, Eric Garner, Botham Jean—unjustly killed, many at the hands of police officers. Representation clearly matters to Byrne, whose band happens to represent a variety of genders and racial backgrounds. While this should be the norm, it is for now of note.
David Byrne could just play his new songs and Talking Heads' greatest hits, and everyone would love it. He'd sell out concert hall after concert hall each night. But he doesn't. Byrne has pushed himself in every way as an artist and performer, and has produced a rare and wonderful work of art. His is the sort of musical performance that distinguishes art from entertainment, reminding us that ultimately music can be as culturally responsive and incisive as any other form of art. We do not merely watch to be entertained, but instead engage in a thoughtful and reflective process. As an audience, we peer into Byrne's brain and what we find is exquisitely beautiful.
David Byrne and his band play the second weekend of ACL on Oct.12 at 3:45 p.m.