Review: Sasquatch! Draws Crowds for David Byrne, Tyler the Creator + More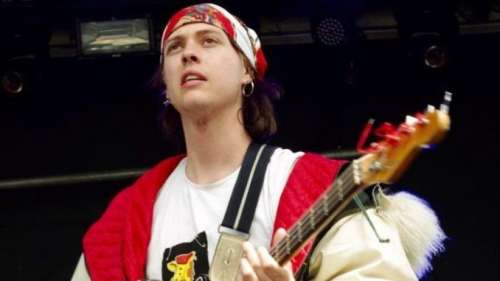 Wyatt Shears of The Garden at Sasquatch! - Photo by Kailey Harvey
Review and Photos by KAILEY HARVEY
In a breathtaking location within the canyons of George, Washington, just about three hours outside of Seattle alongside the Columbia River, The Gorge Amphitheater held the 16th annual Sasquatch! Music Festival last weekend.
Sasquatch! was founded in 2002 by Adam Zacks. At the time being a concert promoter in the Pacific Northwest, this was his ideal music festival intended for anyone and everyone.
Being the first festival to draw such a large following in this region, the yearly lineups offer up a magnitude of eclectic music genres where all sorts of people gather together to share the unique and memorable experience of live music.

Tash Sultana at Sasquatch! – Photo by Kailey Harvey
The heat comes out in Washington this time of year but is guaranteed to get fairly cold at night, so it was necessary to prepare for both circumstances, especially when camping. Car camping is always a go-to accommodation at Sasquatch! because the closest hotels are a ways away and only one car camping pass is required per car, so road tripping with friends is a ton of fun and saves you some extra cash to spend on the cool items offered by art vendors throughout the venue and specialty foods to keep you fueled up for the weekend.
There were great performances by household names like David Byrne of Talking Heads, Tyler, The Creator, Bon Iver, Modest Mouse, The National, Ray LaMontagne, Anderson .Paak & The Free Nationals, along with indie favorites such as (Sandy) Alex G, Big Thief, Pond, The Garden, and female powerhouses like Tash Sultana and Noname.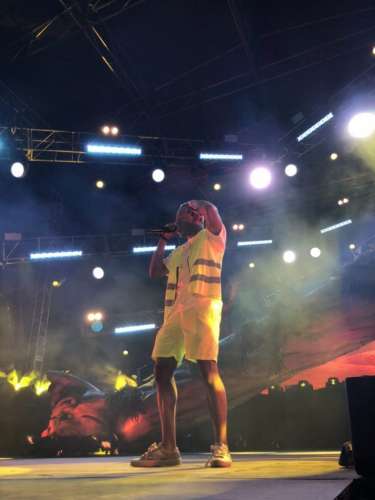 Tyler the Creator at Sasquatch! – Photo by Kailey Harvey
In addition to recent chart-topping albums that everyone was excited to hear live like Tyler, The Creator's Flower Boy and The National's Sleep Well Beast from 2017, Anderson .Paak's Yes Lawd! and Bon Iver's 22, A Million from 2016, Anderson .Paak had the crowd going crazy with his brand new single "Bubblin'" that came out on May 17th and Ray LaMontagne also has a brand new record out called "Part of The Light" that was just released on May 18 and debuted here at Sasquatch!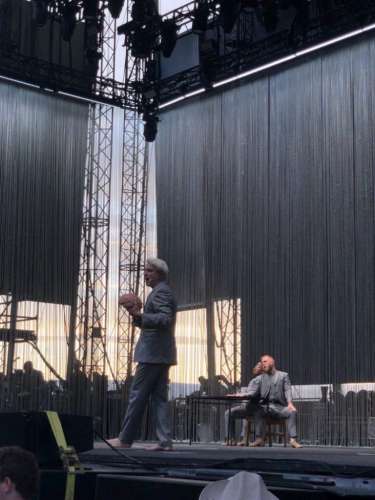 David Byrne – Photo by Kailey Harvey
Byrne had some legendary Talking Heads tunes up his sleeve including "This Must Be The Place (Naive Melody)" and "Burning Down The House."
His elaborate barefoot performance embodied both classic and modern times with music performed from his first proper solo album in 14 years titled American Utopia, which was released on March 9 and an updated cover of Janelle Monae's powerful and politically charged song "Hell You Talmbout," adding on additional names of Black lives lost due to police brutality. He also connected with the audience by speaking about the importance of young people in America voting and having their voices heard given the arduous times we're living in.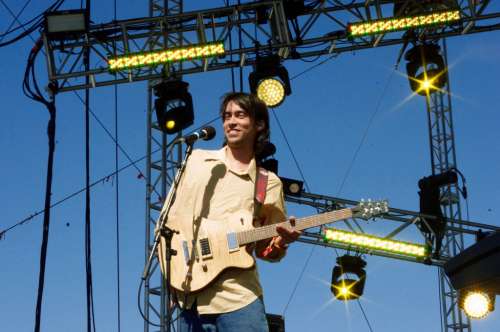 Alex G – Photo by Kailey Harvey
I was up close at Tyler, The Creator's feet during the last set of the night. Amplifying his cartoon-esque nature stage setup, cheetah print hair, neon green Golf Le Fleur outfit and silver sneakers, he brought a playful and lively energy out of the crowd right as he stepped out from backstage. Between songs, Tyler said "It's 1am what are y'all doing awake? Weirdos."
One of my favorites, (Sandy) Alex G performed songs off of a plethora of records including 'Rocket' from 2017, 'Trick' and 'Rules' from 2015, also making sure to mention that while the whole band was wearing button down shirts, he bought a new pair of blue jeans to look sexy. He and the band had the long time fans in the crowd singing the entire time and took requests for the last song, with that, choosing to play one of their more well known tunes, "Mary."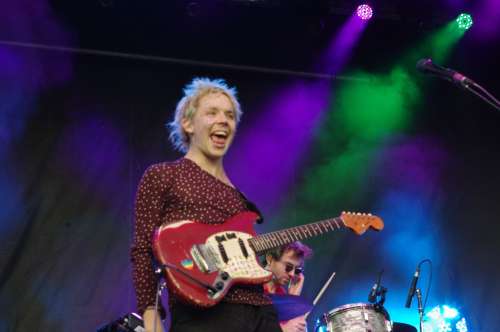 Nick Allbrook of Pond – Photo by Kailey Harvey
Big Thief's set took place during golden hour as the light accentuated Adrianne Lenker's mustard yellow tank top and Max Oleartchik's equally mustard yellow outfit. They played their 2017 album 'Capacity' and 'Masterpiece' from 2016 while dragonflies flew over head the Yeti stage for the entirety of the hour and had me mesmerized at the beauty of the performance as a whole. Something she said between songs that stuck with me was "It feels like we shouldn't be making noise over here, it's so beautiful. I wonder if there's a little bird across the Gorge thinking, what's all that?"
One of my favorite glitter covered front men, Nick Allbrook, of the band, Pond, jumped over my head in the photo pit and splashed water on the audience while he was singing a tune off of the record 'The Weather' that was produced alongside Kevin Parker of Tame Impala. Reminiscent of 70s Glam Rock, Nick Allbrook puts on a high-energy show and gets people moving. Without knowing who Pond was before the festival, I walked away from that set with a new favorite band.
In conjunction with these anticipated performances, there were stages set up for DJ sets inside the venue, if you wanted to diversify your experience a bit.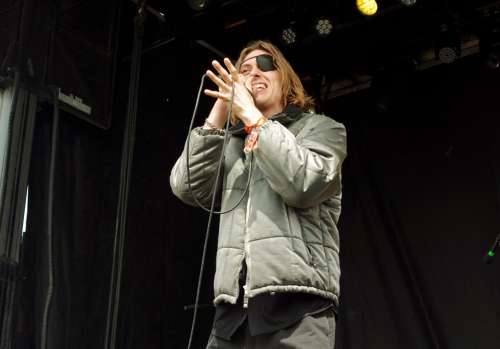 Fletcher Shears of The Garden – Photo by Kailey Harvey