Roskilde Festival 2018, day three: Stefflon Don spits bars and David Byrne gets brainy
Via NME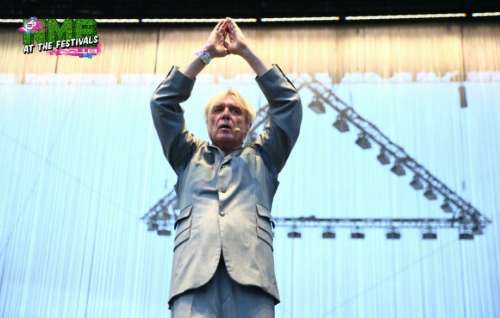 Photo Credit: Getty
By Helen Meriel Thomas
The Danish bash is over halfway through
The 48th edition of Roskilde Festival is over halfway done, but with the influx of 9-5 Copenhageners fresh off the post-work train here last night, the weekend seemed to just be getting started.
Sadly the first act for many would be Fleet Foxes, who despite being the soundtrack to many teenage indie heartbreaks of the late noughties, didn't manage to hold the attention of the now beer-weary crowd. The velocity of modern living may sometimes make the serenity of being still to observe beardy men from Seattle play acoustic guitar feels like an alien concept. Still, the couple doing country dancing to the sound of 'White Water Hymnal' on the outskirts of the tent seemed to be having a grand ol' time.
Over on the urban and electronic stage Apollo, Stefflon Don was representing Pecknold's musical antithesis. Flanked on each side by perfectly choreographed backup dancers, Steff smashed her way into each irresistible dancehall beat, with the crowd following suit as megahit '16 Shots' blared through the soundsystem. The track was delivered with a sharp aggression, which may have been Steff's means of throwing force behind her lyrics, or possibly something to do with this tweet:

Still, she'd cheered up by the time she posted this sass x Big Dingaling Energy Instagram post teasing her new mixtape, 'Secure'.
In the third big vibe pivot of the day, Nick Cave & The Bad Seeds entered the Orange stage for a headline set of biblical proportions. As is his custom, Nick Cave came to his pit of followers to let them greet him as a musical messiah or faith healer. He rocked the crowd with an uncontrollable emotional energy, all but weeping into the grand piano for 'Into My Arms'. By the time 'Jubilee St' came around two tracks later, the crowd were speaking in tongues and screaming uncontrollably.
Most of us needed a Horlicks and some 5-HTP after Nick's show, but there was no rest for the wicked as David Byrne and his brain kicked off on the Arena stage. Playing a condensed version of his London Apollo show last month, the Talking Heads star led a brilliantly choreographed barefoot line dance, maintaining a straight face in spite of the Danes dancing wildly to the new wave below. To the delight of basically everyone, Byrne culminated the performance with a trio of Talking Heads classics, 'Blind', 'The Great Curve', and 'Burning Down The House'. With an army of drummers lined up behind him, Byrne fired up a cover of Janelle Monae's 'Hell You Talmbout' as his powerful final track, drawing a close to the penultimate day of Denmark's biggest festival.