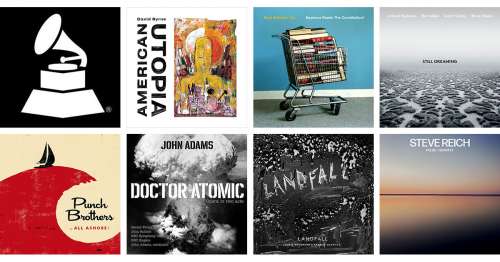 Congratulations to David Byrne, Brad Mehldau, Joshua Redman, Punch Brothers, John Adams, Laurie Anderson and Kronos Quartet, all of whom have been nominated for the 61st Annual Grammy Awards.
David Byrne's album American Utopia has been nominated for Grammy Award for Best Alternative Album. The album fits hand-in-hand with the vision for his series "Reasons To Be Cheerful" (named for the Ian Dury song), for which he has been collecting stories, news, ideas, and other items that inspire optimism. "American Utopia is an album full of pulsating beats and rich textures," says Stereogum. "The new album isn't a throwback; it feels like it could only exist right now." Q says: "Byrne remains as playful and brilliant as ever."
Brad Mehldau Trio's album Seymour Reads the Constitution! has been nominated for two Grammy Awards: Best Jazz Instrumental Album and Best Improvised Jazz Solo for Brad Mehldau for Elmo Hope's song "De-Dah." On the album, Mehldau and his longtime trio—drummer Jeff Ballard and bassist Larry Grenadier—perform three Mehldau originals combined with interpretations of pop songs, jazz tunes, and the American songbook. "This is sumptuous, collective improvisation of the highest order," exclaims The Arts Desk. "It's so good, it sounds effortless ... Gorgeous."
Joshua Redman, drummer Brian Blade, bassist Scott Colley, and cornetist Ron Miles are also up for Best Jazz Instrumental Album for Still Dreaming. The album was inspired by Joshua Redman's father Dewey Redman's band Old and New Dreams. That band had an all-star lineup of Ornette Coleman collaborators: Don Cherry, Charlie Haden, and Ed Blackwell. Still Dreaming features six new compositions by the new band plus one tune by Haden, one by Coleman. "Consistently riveting," says the Washington Post.
Punch Brothers' new album, All Ashore, their first self-produced album, has been nominated for Best Folk Album. "It's a meditation on committed relationships in the present day," says Chris Thile, "particularly in the present climate." The Independent calls it "an album of rich instrumentation and understated beauty that reveals deeper nuances on each and every listen." The Boston Globe says it's "a deeply meaningful and downright gorgeous record."
John Adams's Doctor Atomic has been nominated for Best Opera Recording. On this first recording of his opera, the composer leads the BBC Singers and the BBC Symphony Orchestra, with a cast led by Gerald Finley, who originated the role of J. Robert Oppenheimer. Peter Sellars created the libretto, drawing from original sources to explore the final hours leading up to the first atomic bomb explosion at the Alamagordo test site in New Mexico in July 1945. "A magnificent accomplishment that easily takes its place alongside the other Adams-Sellars triumphs," exclaims the Los Angeles Times. "It contains music of unearthly splendor." The two-CD boxed set includes a 64-page bound booklet with archival photos, libretto, and an essay by Mark Swed.
Laurie Anderson and Kronos Quartet's Landfall has been nominated for Best Chamber Music / Small Ensemble Performance. Inspired by Anderson's experience of Hurricane Sandy, it is the first collaboration between the iconic storyteller/musician and the groundbreaking string quartet, who perform together on the recording. Landfall juxtaposes lush electronics and traditional strings by Kronos with Anderson's powerful descriptions of loss, from water-logged pianos to disappearing animal species to Dutch karaoke bars. The Washington Post calls it "riveting, gorgeous."
Congratulations go as well to Judith Sherman, who has once again been nominated as Producer of the Year, Classical, for her work on albums this year that include Steve Reich's Pulse / Quartet, performed by International Contemporary Ensemble and Colin Currie Group, respectively.
The 61st Grammy Awards will take place on Sunday, February 10, 2019, broadcast live on CBS beginning at 8pm ET. For more information, including a complete list of nominees, visit grammy.com.
To pick up a copy of any of these nominated Nonesuch albums, head to the Nonesuch Store now, and listen to music from the albums in the Spotify, Apple Music, and YouTube playlists below.