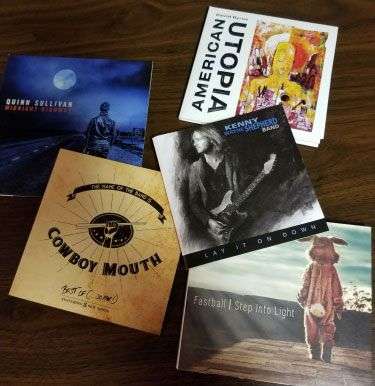 Image by Andrew W. Griffin / Red Dirt Report
By Andrew W. Griffin
ALBUM REVIEWS:
Kenny Wayne Shepherd Band – Lay It On Down (Concord Records) 2017
As noted on his website, Louisiana native and blues-guitar virtuoso Kenny Wayne Shepherd is not only an internationally-recognized "axeman" and "songsmith," he has "sold millions of albums while throwing singles into the Top 10.
And Shepherd, with his band – singer Noah Hunt, former Stevie Ray Vaughan & Double Trouble drummer Chris Layton, and bassist Kevin McCormick – has stuck to his tried-and-true formula, slick production that brings to mind the "big rock sound" of the 1980's, and plenty of room for Shepherd's guitar to do most of the talking, be it that wah-wah pedal on "Diamonds & Gold" to the cocaine-era Clapton sheen and groove of "Nothing But The Night." And for me, the rootsy strum and vibe of the acoustic-flavored title track is right up my alley.
Layton, who has been with the KWS Band for 12 years, likely loves "Down For Love," with its Stevie Ray stylings and pumping groove, gets mixed up front (to my ears, anyway) and to great effect.
And the Bayou State boy, who co-wrote "Louisiana Rain" - not to be confused with the Tom Petty & The Heartbreakers song of the same name – is a nice, folksy-blues-pop ballad that has the husky-voiced Hunt poetically singing, "history's no time machine / It's a photograph at most."
The more hardcore might not fully embrace the radio-friendly nature of these songs. But Shepherd and company serve a purpose – exposing listeners to a music style that has come and gone in terms of being fashionable, but, regardless, is as real as it gets when you come down to it. KWS understands this and Lay It On Down serves up a bluesy, rock stew worth enjoying.
David Byrne – American Utopia (Todo Mundo / Nonesuch) 2018
When Talking Heads singer/songwriter and returned to the pop music world with American Utopia earlier this year, my interest was heightened because, as Frank Zappa famously said, "Music is always a comment on society." And Byrne seems to have a finger or two on the pulse of society. Remember his Talking Heads song "(Nothing But) Flowers"? And how fast-food lifestyle was replaced with "nuts and berries"? So true, sir!
And recall how he warned, back in 2013, that "the Internet will suck all creative content out of the world?" He tried to warn us, folks!
Anyway, Byrne is back, with longtime musical collaborator Brian Eno, on what is one of my favorite albums he has released (and I did fancy that collaborative album he did with St. Vincent a few years back, Love This Giant). Byrne, now in his mid-60's, still refuses to be boxed in, while holding up a mirror to America and the world. We are far, far weirder than we think we are. Byrne has always understood that.
And you have to listen to the understated-but-canine-friendly song "Dog's Mind" to get a sense of where dog-loving Byrne is coming from. (Oddly, while typing this, the vet called me to say I could come and pick up my dog – fascinating!)
"To a place where nothing matters / Where the wheels of progress turn / Where reality is fiction / But the dogs show no concern."
They don't. And on the song before "Dog's Mind," the bouncy, humanitarian "Every Day Is A Miracle," Byrne gets down to it and reminds us that "The Pope don't mean shit to a dog."
It's not until the second song, "Gasoline and Dirty Sheets," with that sitar intro and smooooth groove, we sense that Byrne is excited to be back to doing the sort of quirky and musically diverse material he was doing in the wake of the Talking Heads' demise and the start of his solo era with 1989's worldbeat-Rei Momo (my favorite), and 1992's Uh-Oh.
"Bullet" - a song sung from the p.o.v. of a bullet, and the damage done - is very now, as is the worldly, danceable "Everybody's Coming To My House." The final song, with simple arrangement, seems to imply that information overload in our craptacular/spectacle society takes us away from being in the here and now. I wholeheartedly agree.
Fastball – Step Into Light (independent release) 2017
Tagged as a one-hit wonder 20 years ago, when they burst onto the charts with the brilliant tracks "Out Of My Head" and "The Way," Austin, Texas-based Fastball has always been a charming band with a classic, pop-rock sensibility and a rock trio tightness that compliments their smart lyrics. Vocalist/bassist Tony Scalzo, guitarist Miles Zuniga and drummer Joey Shuffield have found themselves in a studio every half-dozen years and popped out a solid, toe-tapping rock record.
Such is the case with Step Into Light, an independent release that features acoustic numbers like "Behind The Sun" and wry guitar-poppers like "I Will Never Let You Down" that sounds like a song recorded back in the late 90's - and I mean that as a compliment. (Those big, aforementioned hits came from 1998's All The Pain Money Can Buy, a title I swiped for a fairly recent Dust Devil Dreams post that referenced Fastball's "The Way").
Speaking of dreams, Scalzo is having "issues" on "Just Another Dream," a song that has you wondering what is real and what is not. For me, this song is the highlight of the record. And what is weird is that in my recent Dust Devil Dreams post "Dream of the red turtle," I reference (another top fave) Fastball's "Lillian Gish," as the word "dream" is sung as I was dwelling on the word "dream" in my post. It was full on synchronicity. I'm sure the Fastball guys can appreciate that.
"Tanzania" has an organ-fueled, surf-rock instrumental thing going on while "Secret Agent Love" has a punchy, Heartland rock feel that is polished for today's music listener.
There is a carefree playfulness to "Love Comes In Waves (check out Scalzo's bass lines here) while album closer "Frenchy and the Punk" seems to be the Texans' ode to Serge Gainsbourg, or something. In any event, it wraps up Step Into Light quite nicely.
Cowboy Mouth – The Name of the Band Is … Best Of (…So Far) (independent release) 2016
Combining elements of pop, punk, rock, and New Orleans funk, the Big Easy-based Cowboy Mouth first caught the attention of radio listeners with the 1996 album Are You With Me?, which featured the high-energy "Jenny Says" and the more ballad-minded "How Do You Tell Someone?" And both of those radio hits are featured on this two-year old "Best Of" collection by the Louisiana group, albeit featuring re-recorded versions of the aforementioned songs and other highlights from their catalog, going back 25 years or so.
And, since drummer Fred LeBlanc is also the lead singer, his instrument is highlighted on many songs, including the percussive "Love Of My Life" and a new song like "Broken Up."
While I have been a fan of Cowboy Mouth since the mid-90's, a few songs missing include the track "I Believe" and "Kelly Ripa," both featured on their 2008 album Fearless.
But we do get "Disconnected" (from 2003's Uh-Oh) and "New Orleans," a love note to LeBlanc's favorite city. (LeBlanc was formerly with the NOLA rock trio Dash Rip Rock). Rounding out the current line-up are guitarist John Thomas Griffith, former Dash Rip Rock colleague and bassist Brian Broussard and Matt Jones (formerly of Maryland-based Jimmie's Chicken Shack), also on guitar.
The rapid-fire rocker "Tell The Girl" (one pulled from Fearless, and re-recorded here) is a fan favorite and while the slide guitar on "Easy" takes the song to the next level.
Another new song, "Bad Men," doesn't do much for me. But "Everybody Loves Jill" has a sing-a-long quality that is perfect in a live setting. And I have to say that the collection closer, "These Days," captures the band hitting all the right notes, beginning with LeBlanc's take-no-shit vocal delivery style and skins pounding. And Griffith's guitar solo is an unexpected pleasure.
I just learned that there is a second "Best Of" volume out this year, complimenting this collection.
Quinn Sullivan – Midnight Highway (Mascot) 2017
A native of New Bedford, Massachusetts and not yet 20 years old, blues guitarist Quinn Sullivan has been wowing blues legends like Buddy Guy and B.B. King since he was but a wee lad, a prodigy with an appreciation for the blues and for Fender guitars.
The polished Midnight Highway is Sullivan's third album and was produced by Tom Hambridge, who produced Buddy Guy's recent The Blues Is Alive and Well. So, Sullivan is in good hands. And Buddy Guy has said nothing but positive things about this young blues guitarist, including "Players like Quinn come along once in a lifetime."
The title track, along with "Graveyard Stone" and a cover of George Harrison's Beatles song "While My Guitar Gently Weeps" (released exactly 50 years ago this month!) are true standouts, while the dreamy "Big Sky" is one that surprised me and reminded me a bit of Clapton's slowhand style or even David Gilmour of Pink Floyd. Really quite stunning fretwork and attention to detail from Sullivan.
Anyway, those are a few notable records I've played here in the office in the past year or so that have garnered some attention. We'll be highlighting more LPs in coming days, leading up to the new year. Cheers!