The 200 Best Albums of the 1980s
Via Pitchfork
Sometimes it feels like the neon thumbprint of the 1980s never went away. It's arguably the defining throwback aesthetic of American culture today, from the TV series we reboot to the prints we wear. And when it comes to its music, well, that's even more ubiquitous: The decade was one of great upheaval and innovation, and the seeds it planted continue to flourish. It was a time when disco and punk were in tatters, its artists rebuilding from the rubble with new innovations to birth hardcore and new wave. Rock was getting more ridiculous, with Aqua-Net to spare, but it was also paring back into the thoughtful nexus that would someday be called "indie rock"—or it was throwing up pentagrams, getting sludgier and meaner, and turning into metal. Jazz and ambient were pushing their experimental borders, getting more cinematic and free. Singer-songwriters in folk and R&B were plumbing new depths of the human experience, getting frank about social and gender politics. And hip-hop was evolving at a head-spinning clip, expanding its reach and ambition along the way.
Now, with hindsight, we're attempting to look at the '80s with new eyes—reassessing old favorites, rediscovering undersung gems. And that means, in part, looking at Pitchfork's own history frankly: Longtime readers may remember that, in 2002, we made a list of The Top 100 Albums of the 1980s. That list was shorter, sure, but it also represented a limited editorial stance we have worked hard to move past; its lack of diversity, both in album selections and contributing critics, does not represent the voice Pitchfork has become. For this new list, we gathered votes from more than 50 full-time staffers and regularly contributing writers to open up our discussion. Our list still reflects the realities of the '80s—many great artists worked more successfully in singles than in full albums, for example—but we hope it represents the best of what this innovative decade has to offer, as well as how people consume music now. Tune in.
Listen to selections from this list on our Spotify playlist and our Apple Music playlist.
---
Brian Eno / David Byrne
My Life in the Bush of Ghosts
1981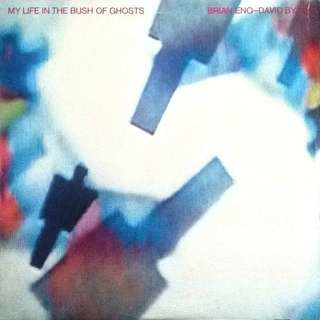 #81
In the downtime between 1979's Fear of Music and 1980's Remain in Light, Talking Heads frontman David Byrne and producer Brian Eno constructed a massive map of a music world that extended far past pop. Originally envisioned as the folk music of an imaginary country, My Life in the Bush of Ghosts eventually emerged as something more sophisticated and revolutionary in its use of found sound and samples. Byrne and Eno gathered voices from every source they could find: political radio call-in shows, an impassioned Baptist sermon, Lebanese mountain singers, and a particularly unsettling exorcism. The result is an exploration of folkloric styles and possible cultural intersections that's both avant garde and danceable. Its border-erasing grooves went on to be adapted by everyone from post-punk bands and early hip-hop groups, but neither age nor familiarity have managed to dull the album's unknown-transmission allure. –Nate Patrin
Listen: David Byrne / Brian Eno: "America Is Waiting"
---
Talking Heads
Remain in Light
1980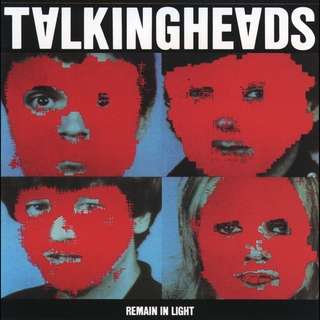 #5
At start of the glorious polyglot carnival that is Remain in Light, David Byrne chirps, "I'm a tumbler." Talking Heads' fourth album seems to move similarly, so eager and accelerative that, at times, all it can do is ride its own momentum. It's the distillation of four New York art punks' open-hearted curiosity for other cultures, grounded in quiet, binding anxiety. Recorded at Nassau's Compass Point Studios, it's the least chill thing to ever come from a vacation to the Bahamas, and we are luckier for it.
Remain in Light took the Talking Heads from punk mecca CBGB to dance haven Paradise Garage, with the band trading in their lean, agitated guitars for danceable polyrhythmic jams. Inspired by Afrobeat legend Fela Kuti, the quartet and producer Brian Eno stuffed in brass, keys, double bass, and King Crimson guitarist Adrian Belew over loping funk grooves. Atop the instrumental travelogue is Byrne at his impressionistic lyrical peak, pulling from such bleak prompts as the Watergate hearings, the autopilot of American consumerism, and terrorist bombings to drawl a sharp portrait of a country adrift at the dawn of the Me Decade. Remain in Light is the once-in-a-generation synthesis of global ideas and neighborly idealism, a pop mouthpiece for every wanderer who travels far and wide to understand their home better. –Stacey Anderson
Listen: Talking Heads: "The Great Curve"