The artists subverting the core of a live show
Via NME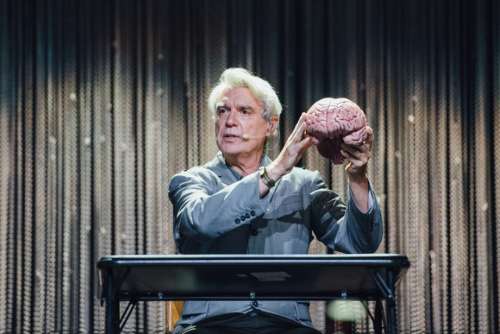 By El Hunt
All the world's a stage, darling, and many of your musical faves are turning themselves into theatrical players.
The way that we look at everything has changed completely. Uploading snaps of our most aesthetically pleasing dinners, and watching that gig your mate went to at Scala last night via blurry footage on Instagram stories: even the most mundane events are fully documented. There used to be a popular idiom about the validity of a tree falling over in a forest and nobody being there to hear it. Now life runs more along these lines: if there's no footage on social media, did it really happen?
The sheer ease of watching, well, everything, has prompted a distinct shift in the way that we all interact with popular culture. In a single click it's now possible to access thousands upon thousands of hours of entertainment; our attention spans navigate more distraction than ever before. Our favourite stars used to be untouchable. Now they're fighting with gammons in the comments section and posting pictures of their Ready-Brek on Twitter.
These days it only takes one amateur snap of a sulky Alex Turner waiting outside with his mum and dad to dissolve his rock star status for a second, and musicians are choosing different ways to play around with this new-found accessibility. Some artists have disappeared from social media completely, while others gladly share every moment of their day. And amid all this, there's also a distinct wave of artists choosing to subvert one of the few remaining moments where they can count on an audience's undivided attention. Increasingly, we're seeing some of the biggest musicians in the world questioning the essence of a live show, and sometimes ripping it to shreds.
Knock it down and start again
Towards the end of last year, fresh from releasing 'MASSEDUCTION', St Vincent put on one of the most divisive shows in recent memory. Parring off the convention of a support act entirely (instead she opted to screen her short horror film The Birthday Party) Annie Clark also did away with almost every element that you'd associate with a typical live show. A band was nowhere to be seen; a curtain unfurled to reveal a screaming face instead. Clark performed alone with her guitar, backed by garish day-glo visuals, for the entire show. Far from indulging the usual patter between songs there was zero audience acknowledgement, and in stark opposition to the brute physicality of her previous live shows – touring 'St Vincent' Clark frequently injured herself mid-performance – any movement was clinical and small. Shifting her microphone a metre to the left for one song, turning robotically to her right for another, it was less a gig, more a visual collage. It left some staggered by the bold move towards minimalism; others simply scratched their heads in confusion.
Musing on the trappings of fame, and the ways in which we are continually seduced by adverts, money, kinks and desires, 'MASSEDUCTION' is a album which grapples with power. "What do I share? What do I keep from all the strangers who sleep where I sleep," St Vincent sung at Brixton Academy on the pointedly chosen track 'The Strangers' (from her 2009 album 'Actor') inadvertently revealing the core of her whole theatrical experiment. Withholding everything we expected is surely the point of the entire exercise.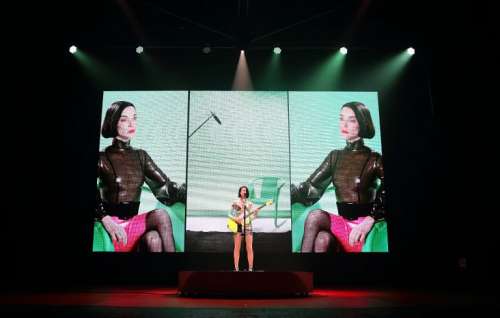 Hold me closer, tiny dancer
Currently on tour in the UK, Christine and The Queens has also taken a turn towards the theatrical, using a cast of charismatic dancers – each with distinct styles and clear personalities – to help pull her audience closer. As with St Vincent's 'MASSEDUCTION' her latest album 'Chris' also plays heavily with tensions around power and lust. Except in Christine's case, she's largely questioning how these things are typically wielded by women in the spotlight. To cut a long story much shorter, society doesn't tend to be a massive fan of women in assertive command of their sexuality – Christine and The Queens, however, doesn't really give a shit about this weird expectation. "I'm just trying to deflect the male gaze and to sabotage it slightly," is how she put it, talking to NME for our Big Read with the star earlier this year. "I'm horny, and I desire, and I'm sad, and happy, and joyful."
All these adjectives apply neatly to Chris' newest live incarnation, too; skipping and ducking among her entourage, getting caught up in passionate tussles and locking eyes with the characters that share her space, she navigates the stage like a miniature world, and being in the audience, it feels like a window into an intimate corner. Crossing out over half of her original moniker, and becoming the edgier, rawer Chris, she's challenging us to invest in a new persona, too – another instalment in the playbook of an ever-evolving artist. Meticulously crafted and jaw-droppingly well-rehearsed, this is pop as pure, boundary-pushing performance.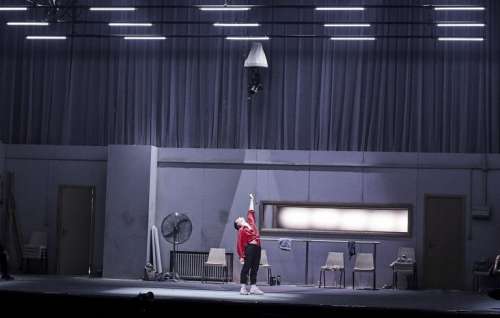 Legacy? What legacy?
Many of music's newest innovators are deftly navigating this Brave New World with ease; well used to leaving an embarrassing trail of future #TBT fodder and questionable fashion choices in their internet slipstream already. The same careful approach applies to how they ponder their place as an artist. More and more we're seeing icons-in-the-making making art that questions the entire premise of fame. Which leaves a question… what about the icons who made it years before any of this online chaos?
All too often, watching former frontmen cart themselves out for another lap around the block can be a genuinely harrowing experience. Lumbering about the stage in a state of mild boredom and gently plodding through the motions of their three best-known hit singles – before launching into a 40 minute rendition of a flute arrangement inspired by Federico Fellini's directorial flair – it's not just lazy, it's often self-indulgent. As much as it's nice to know you've got a fervent passion for the golden age of Italian neorealism, keep it for your weekly amateur film club, hun.
Even if you've never been subjected to such pretentious whimsy, everyone's seen a set a bit like it – a disappointing phone-in effort from an artist who used to break creative boundaries. Like resting on laurels, too many rely on legacy. It's why David Byrne's 'American Utopia' tour – hyped to high heaven for completely understandable reasons – is all the more refreshing in contrast, bucking the trend.
Skipping barefoot across the stage, flanked by a roving cast of marching-band dancers who dive in and out of the curtains lining the stage, David Byrne's show is carefully choreographed, but – as with Christine and The Queens' current show – it manages to feel very human. It's the opposite of alienating; the joy is pure and infectious. Even an alien landed straight from another galaxy with no working knowledge of the Talking Heads' staggering impact would get it straight away. Hell, it doesn't matter if you've only ever heard 'Psycho Killer' sampled on Selena Gomez's 'Bad Liar' (banger)
Tellingly, Byrne also subverts another tradition, too – instead of ending on a huge banger of his own, he swerves in a different direction and closes every show with a cover of Janelle Monáe's 2015 song 'Hell You Talmbout'. It feels fitting to see a true innovator using his time in the spotlight to pay it forward.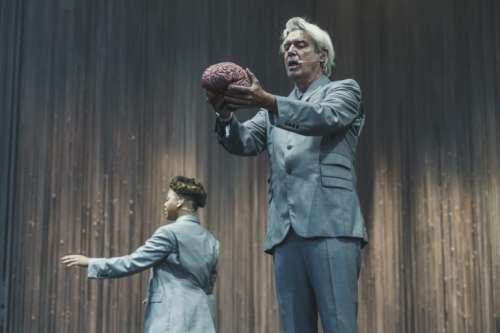 Curtains for convention?
Music's recent embrace of the theatrical doesn't spell the end of raucous, freewheeling live mayhem by any means. Instead, some of the world's biggest artists seem to be taking taking a harder look at what it means to perform and be watched; often they're pushing the boundaries to explore the full extent of what can be achieved in an hour and a half of undivided attention. Encore, please.