The inside story of the North Texas actors and locations in David Byrne's cult film 'True Stories'
Via Dallas News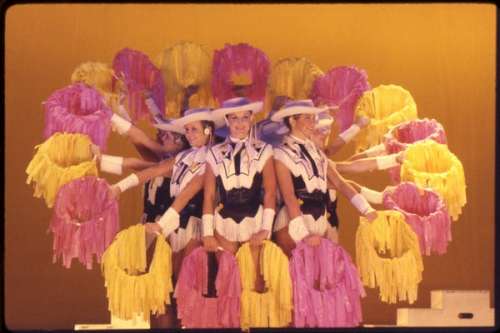 By Mark Rosen
Editor's note: This story is a companion piece to our special feature, "How David Byrne made the definitive North Texas movie with 'True Stories'."
Unlike most film productions on location shoots, True Stories was thoroughly open to local talent and prized eccentric personalities. Although fictional, the film today plays like a documentary of life in North Texas in the mid-'80s, exploring the region's people, music and developing landscape in more detail than any other movie of the period.
Before filming began, Byrne contacted Fort Worth-based photographer, journalist and video producer Christina Patoski, who over the following months would scout locations, find natives to flesh out smaller roles, and work as a jack-of-all-trades on the set. She found filming sites from a now-destroyed office building on what is now the grounds of the Great Wolf Lodge in Grapevine to St. Stephen Missionary Baptist Church on Beckley Street in South Dallas.
Byrne especially loved the Kenwell Street bungalow near Love Field that Patoski scouted to be the home of the shaman played by R&B legend Pops Staples. The house belonged to Dallas folk artist Willard Watson, a.k.a. The Texas Kid, and had so much kitschy pop-cultural detritus out front that it barely needed to be touched up to appear on camera.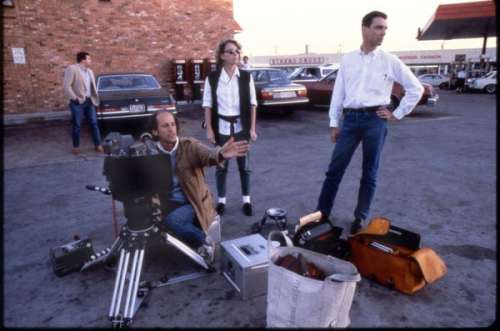 Christina Patoski/Special Contributor
Patoski also set up musical sessions at Studio Southwest in Sunnyvale, where the Heads' songs were sweetened with pedal steel guitar and the actors recorded their vocals to lip-sync in the film. Carl Finch of Denton-based avant-polka outfit Brave Combo also recorded several pieces of incidental music, the most notable of which, "Buster's Theme," consists entirely of his multitracked accordion, the score for a 50-accordionist march during the film's parade scene. Byrne had admired Life Out There, the Finch-compiled sampler of Texas exotica made by unsigned bands of all musical persuasions, which served as a partial blueprint for the eclecticism of the film soundtrack.
The cast and crew arrived full force in Dallas in midsummer 1985, with the production office set up in a private home on Oram Street, just off Lower Greenville Avenue. Producer Karen Murphy, who had come straight to the project from the immortal This is Spinal Tap, told The Dallas Morning News' Russell Smith in 1985 that Dallas provided an opportunity to shoot the film for much cheaper than in Hollywood, keeping the budget under $5 million.
"You're saving money because you can use a lot of local people.... Everybody wants to chip in and help, so it keeps the costs down." Even local students got involved, with the Arlington High School Drama Club enlisted to sew costumes and the St. Thomas Aquinas Catholic School Choir recording the schoolyard version of the Heads' "Hey Now" heard in the film.
Besides rehearsing the lead actors, few of whom were well known at the time (this was John Goodman's first major screen role), the producers set to work locking down locations and casting dozens of small roles and extras.
Inspired by a contest he had seen at the previous year's State Fair, Byrne recruited 50 pairs of identical twins from the region, who often appear without comment as extras in the background of crowd scenes, dressed in matching outfits.
Christina Patoski
For the film's climactic sesquicentennial-celebrating talent show, the producers placed an extraordinary ad in The News and other local papers for an open audition at the Arcadia Theater on Lower Greenville (now site of a Trader Joe's). "We are looking for unique and creative people with unusual and out of the ordinary acts. We need all-American entertainers for a pageant — NO PROFESSIONAL EXPERIENCE NECESSARY," went the ad. "No jugglers, no mimes, no magicians, no rock bands."
Line dancers, baton-twirlers, and a man who lit his foot on fire showed up at the Arcadia on Aug. 25, 1985. All told, 132 acts took the stage over the course of the day, and although few made the film's talent show, many were cast as extras in crowd scenes throughout the film. "Everybody came with whatever they did," remembers producer Karen Murphy in the new documentary, "and it was so entertaining you just didn't want it to stop." With only weeks to go before shooting began, excitement started to grow in the area.
"When David Byrne arrived, it was like the circus came to town," recalls Dallas-born cartoonist Marian Henley, whose comic strip Maxine! ran in The Dallas Morning News and a bunch of alternative weeklies at the time. The entire cast got paid basic union scale rates, which gives a sense of just how excited everyone was to take part.
Christina Patoski
What Henley calls her "flower-girl" looks got her cast as John Goodman's yoga-instructor date in a scene filmed in a stifling M Streets attic. Henley notes that among Dallas-area artists, actors and musicians, Byrne "was a hero, not only an artistic genius but able to manage his vision and commercial pressure at the same time." Although her character had no lines in the script, she asked if she could improvise a few lines in character with Goodman. Their interplay — where she tries to coax Goodman into a yoga pose beyond the capabilities of his "very consistent panda-bear shape" — remains in the film. Her takeaway from the experience? "I was euphoric! It was so much fun. John Goodman knew how to pull something out of me."
The six-week shoot began on Sept. 14, 1985, with the "Celebration of Specialness" parade sequence filmed on North Tennessee Street in McKinney. A Mexican Independence Parade had already been scheduled by the city that day, even if the cast and crew effectively overwhelmed it. "They piggybacked on an existing parade!" laughs Brave Combo's Carl Finch, whose accordion army included every player he knew from the Lone Star State, plus a number of guests and friends (among them famed rock historians Ed Ward and John Morthland, both up from Austin) who didn't play the instrument but could mime effectively. "It was very clever, since there was already a crowd assembled."
Most of the film's major characters appear in the parade sequence and the producers brought in local organizations, including Oak Cliff's Sunset High School Marching Band, the Plano Lawn Mower Brigade, the Tejas Low Riders Club, and a fleet of local Shriners in their mini Mustangs. Howard D. Putnam, former president of Southwest Airlines, also made an appearance. Amazingly, all of the parade footage was shot in a single day, despite the vast number of people involved.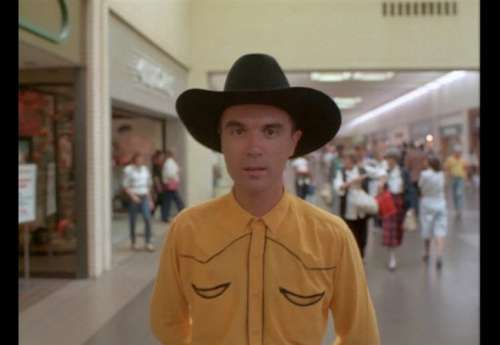 Warner Bros.
NorthPark features prominently as the fictional town of Virgil's mall of choice in two long sequences, one a series of tracking shots where Byrne and Goodman converse while walking before a series of long-lost storefronts (Kinney Shoes, Casual Corner, Wyatt's Cafeteria), the other an outrageous fashion show designed by Byrne's partner at the time, Adelle Lutz. In it, children don couture, adults dress in urban-camouflage brick suits, and a family prowls the catwalk in living-grass outfits created by Chicago performance artist Bill Harding (who went by the name Gene Pool). A stage was set up beneath the skylights in NorthPark's double-story atrium in front of the old Lord & Taylor, and although it was mostly a closed set one can easily spot outsiders watching from the mall's second level.
Among the locations that played an important role in the shoot were the Lower Greenville Avenue club Redux (better known from its previous incarnation Tango), where a procession of actors and extras gathered to lip-sync "Wild Wild Life." The club, now the site of a Taco Cabana, was owned by restaurant magnate Shannon Wynne and became the regular haunt of cast and crew after hours.
Angus Wynne III, Shannon's brother, also joined in the festivities. He managed the Arcadia Theater at the time, which hosted not only the open-call audition but also the recording of the Bert Cross Choir for the film's gospel version of "Puzzlin' Evidence." In a wordless interstitial scene, Wynne can be glimpsed through an office window as a businessman in a three-piece suit, dancing alone underneath fluorescent lights to the unseen accompaniment of Meredith Monk's brooding "Road Song."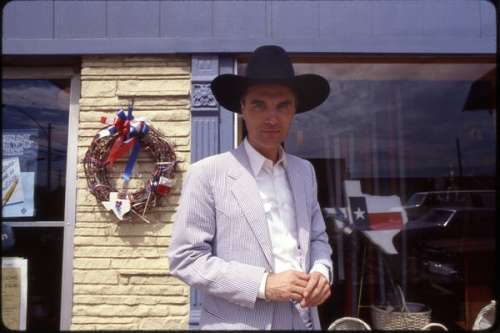 Christina Patoski
"The only reason I got to be friends with David was because Christina Patoski told him that I had danced onstage with James Brown," recalls Wynne, who knew the incendiary soul legend through his decades as one of North Texas' most important concert promoters. Brown had performed at Tango in the early '80s and while his band vamped onstage demanded that Wynne show his moves to the crowd. "The band is chugging, and all of a sudden he says, 'Go!' So I had to dance and do a spin, but there was no way I'd do the splits. Everyone was applauding but I ran off as soon as I could." Byrne asked him to re-create his moves for True Stories. The unseen wooden platform beneath his feet crumbled just as he was completing his rotation, and the jerky lurch that finishes the spin of course made the final cut of the film.
Much of the later shooting for True Stories centered around Waxahachie, especially the Dorchester Place subdivision that served as the exteriors of several characters' homes and the site of the mayor's plotted suburban expansion. True Stories is bookended by shots of a girl in a sleeveless white dress dancing before an expansive blue horizon on a dirt road, filmed just north of Waxahachie near the tiny Ellis County burg of Sterrett. That young girl is played by Paris-born, Texas-raised 11-year-old Capucine De Wulf, who as an adult would become a lifestyle mogul through her high-end tableware and jewelry line, Juliska.
The fields of Sterrett also hosted the film's climactic outdoor talent show, memorably filmed on a translucent stage framed against an open-prairie backdrop. In the film, yodeling trick roper Randy Erwin lassos two competing auctioneers, a dreamlike image that sets the stage for Goodman's cathartic belting of "People Like Us." The entire stage had to be dismantled mid-shoot when winds brought by Hurricane Juan threatened to turn its corrugated fiberglass panels into death-seeking projectiles. Byrne and company repaired to Lower Greenville for the days around Halloween until the storm passed, and the stage was then completely rebuilt and shooting could conclude.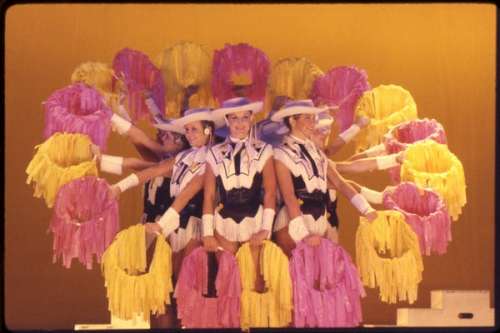 Christina Patoski
Byrne returned to Texas in April, 1986, to add a few shots to the film, mostly of him driving a boxy convertible around North Texas' most baroque freeway interchanges. Whenever he passes through the area these days while on tour, he never fails to contact Patoski, who shows him around the region's galleries and keeps him up-to-date on how the locations of True Storieshave evolved.