Watch: David Byrne covers Janelle Monae, honors victims of racial violence at Xponential Fest
Via Philly.com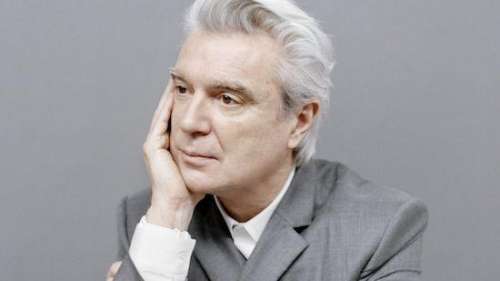 Photo by Jody Rogac
By Dan DeLuca
David Byrne closed out his headlining set at the XPoNential Music Festival in Camden on Friday in dramatic fashion.
The former Talking Heads leader finished off his performance at the BB&T Pavilion with a fiery version of "Hell You Talmbout," singer and actress Janelle Monae's 2015 protest song.
Byrne and the members of his band, all of whom wore gray suits and were barefoot all evening, shouted out the names of victims of racial violence in a percussive chant, following remembrances of the dead, including Walter Scott, Freddie Gray, Sandra Bland, Amadou Diallo, and Emmett Till, with the words Say his name! or Say her name!
It made for a powerful finish to a dazzling show by Byrne and his 12-person band, who were in constant motion on the BB&T stage, which was emptied of equipment as all the musicians, including multiple drummers and percussionists, carried their instruments around with them.
The white-haired singer's highly theatrical show — which began with him alone on stage for "Here," from his new album, American Utopia, holding a model of a human brain — mixed material from his lengthy solo career with seven Talking Heads songs, including deep cuts like "Slippery People" and crowd-pleasers such as "Once in a Lifetime" and "Burning Down the House."
Byrne's performance — in which he talked up the voter-registration group Headcount and urged audience members to vote in midterm elections — capped the first day of XPoNential 2018, which began with the Philadelphia funk band Swift Technique in the afternoon at adjacent Wiggins Park.
Torrential ran forced the cancellation of the folk harmony band the Lone Bellow, scheduled to be the final act at Wiggins before the fest moved next door for the evening to BB&T, where Byrne and Sylvan Esso played, with Clovers and Proper Dark opening the show.
Immediately after Byrne's set ended, his Sept. 20 show at the Mann Center in Fairmount Park was announced. The Oakland songwriter and bandleader Tune-Yards, a.k.a. Merrill Garbus, who scored Boots Riley's new sci-fi-workplace-and-race comedy Sorry To Bother You, will open. Tickets go on sale Aug. 3 at 10 a.m.
XPoNential continues through Sunday at the BB&T and Wiggins Park, with the Philadelphia rock band The War on Drugs and country rockers Sturgill Simpson playing the BB&T.