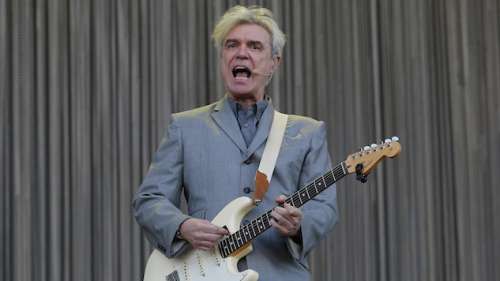 Photo by Marcelo Hernandez/Getty
By Lizzie Manno
David Byrne performed at Lollapalooza Chile this weekend and a YouTube user kindly uploaded the full set, though the video has since been taken down.
The festival's 2018 lineup also featured The Killers, Lana Del Rey, LCD Soundsystem, Chance The Rapper, The National, Liam Gallagher, Khalid, Red Hot Chili Peppers, Spoon, Pearl Jam, Tyler, The Creator and more.
Byrne performed six Talking Heads classics, his Brighton Port Authority collaboration ("Toe Jam") and four tracks from his latest solo album, American Utopia. Among the Talking Heads' songs he played were cuts from Remain in Light ("Once in a Lifetime," "Born Under Punches"), Fear of Music ("I Zimbra"), Speaking in Tongues ("Slippery People," "This Must Be The Place") and Naked ("Blind").
The American Utopia tracks he played included "Everybody's Coming To My House," for which he just released a new music video featuring students from the Detroit School of the Arts.
Byrne also recently announced a monstrous American Utopia world tour, which includes shows with Perfume Genius, Tune-Yards, Benjamin Clementine, Laura Mvula and others.
Watch highlights from Byrne's Lolla Chile set and a Paste Cloud performance of Byrne with Talking Heads below.
Note: Byrne's full set video was taken down—we've replaced it with fan-shot footage of his performance.