Watch: David Byrne Talks with "BBC Newsnight" About "American Utopia" and More
Via Nonesuch Records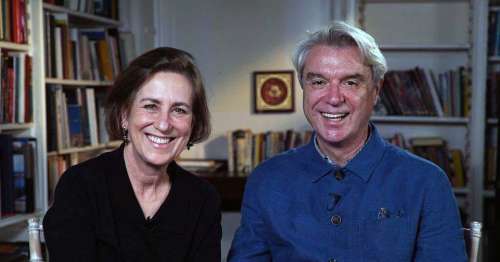 BBC Two
David Byrne, who began his American Utopia arena tour of the UK and Ireland at the First Direct Arena in Leeds last night, was a guest on BBC Newsnight on BBC Two last Friday. He spoke with Kirsty Wark about the American Utopia album and tour, the forthcoming release of the complete True Stories soundtrack ("the soundtrack to me is as I imagined it in my dreams"), and his work with St. Vincent and his collaboration with Fatboy Slim on the musical Here Lies Love. You can watch the interview below.
"We owe it to an audience to give them something more than just get up there and regurgitate the songs," Byrne tells Wark of the American Utopia tour. And of the album track "Everybody's Coming To My House," he says: "It's a kind of welcoming song—about inclusiveness, welcoming people in—and it seem like a time when that kind of inclusiveness instead of division is something that's kind of needed. We kind of represent that onstage by the sheer diversity and size of the band. We're a small town, a small community on our own."
And of his work with other artists, he says: "I love collaborating ... It gets me out of myself. It lets me see how another person works. It's a challenge. And sometime when it really works, one plus one equals three, you really get something better than the sum of its parts. You end up with something you never would have come up with on your own."
He also strongly encourages voters in the United States to turn out for the upcoming midterm elections on November 6!
The American Utopia tour continues at Hydro in Glasgow tonight. For details and tickets, see below or visit nonesuch.com/on-tour. "Byrne's brilliant and endlessly inventive current live show certainly indicates an artist at the peak of his creative powers as he enters his fifth decade in music," said the Yorkshire Evening Post of last night's tour-launching performance in Leeds. "Byrne and his exceptional cast of collaborators are surely redefining the possibilities of what an arena concert can be. And we are all the better for that."
To pick up a copy of the album American Utopia, head to your local music store, iTunes, Amazon, and the Nonesuch Store, where CD and vinyl orders include a download of the complete album at checkout. You can also listen to the album on Spotify and Apple Music.
DAVID BYRNE ON TOUR
Oct 22 Hydro* Glasgow, UK
Oct 24 3Arena* Dublin, IRELAND
Oct 27 Motorpoint Arena* Cardiff, UK
Oct 29 O2 Arena* London, UK
Oct 30 Brighton Centre* - Sold Out Brighton, UK
Nov 1 Motorpoint Arena Nottingham* Nottingham, UK
Nov 2 Manchester Arena* Manchester, UK
Nov 4 AFAS Live - Sold Out Amsterdam, NETHERLANDS
Nov 5 Zénith Paris, FRANCE
Nov 10 Clockenflap Festival Hong Kong, CHINA
Nov 13 TBS Bank Arena** - Sold Out Wellington, NEW ZEALAND
Nov 15 Horncastle Arena** Christchurch, NEW ZEALAND
Nov 17 Spark Arena** Auckland, NEW ZEALAND
Nov 20 ICC Sydney Theatre Sydney, AUSTRALIA
Nov 21 Convention Centre Gold Coast, AUSTRALIA
Nov 24 Margaret Court Arena - Sold Out Melbourne, AUSTRALIA
Nov 25 AEC Theatre Adelaide, AUSTRALIA
* w/special guest Benjamin Clementine
** w/special guest Kimbra