David Byrne's American Utopia Comes To Life On Broadway At The Historic Hudson Theatre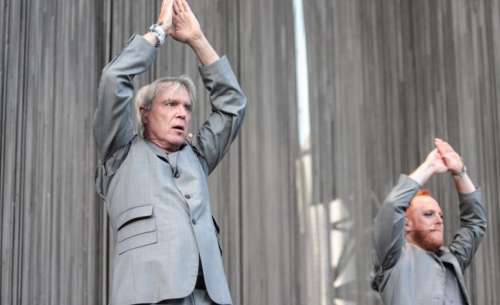 By Kelly Tucker
David Byrne the talented performer and former lead singer of the Talking Heads will be performing American Utopia on Broadway at the Hudson Theatre from October 4 through January 19, 2020 and 18 performances at Boston's Emerson Colonial Theatre from September 11 through September 28, 2019.
American Utopia is a theatrical concert with songs from Talking Heads and Byrne's solo career, where he played more than 150 dates in 27 countries. Byrne shared, "As I was recording the songs for my American Utopia album it occurred to me that they would be exciting to play live and I realized that a lot of my older material would fit right in. I imagined a live show… I pictured a lot of drummers, a kind of drum line/samba school/second line that would create the rhythms."
"Because of how theatrical the show is, others started telling me 'this needs to go to Broadway.' Why not? But what did that mean? Parked in a beautiful Broadway theater we can perfect the sound, the lights, the movement. I thought to myself that this new context might be good- it might bring out the narrative arc a little bit more, to make it just a little more explicit."
The choreographer Annie-B Parson has worked with Mr. Byrne since 2008 and said he is "writing things that are much warmer now." The Byrne she sees onstage is a giddy extrovert. "It's almost like he's from the old vaudevillian, British music hall tradition." Without turning into Norman Vincent Peale or Dory, he has edged in the direction of hope."
According to a NY Times article, "At the start of his career, when Mr. Byrne was the singer in Talking Heads, fans turned to him for alienation, not hope. He was so stressed and awkward onstage that people with Asperger's syndrome embraced him as one of their own. American Utopia, portrays "the state of the country: who we are, who we hope to be, all this kind of thing. The album title is neither ironic nor literal. I'm certainly not describing any utopia," said Mr. Byrne. Some of the verses, especially, are kind of dystopian, or not exactly cheerful. But they're countered by the choruses, which seem to give a sense of hope."
American Utopia features David Byrne with Jacquelene Acevedo, Gustavo Di Dalva, Daniel Freedman, Chris Giarmo, Tim Keiper, Tendayi Kuumba, Karl Mansfield, Mauro Refosco, Stephane San Juan, Angie Swan and Bobby Wooten III. The design team includes Rob Sinclair (lighting) and Pete Keppler (sound). Karl Mansfield is Musical Director. Alex Timbers is Production Consultant with Choreography and Musical Staging by Annie-B Parson.
Photo Credit: Kalyn Oyer