Stop Making Sense to Be Re-Released in Theaters for 40th Anniversary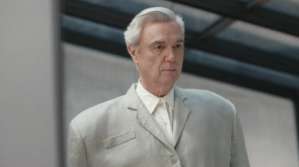 David Byrne, photo via A24
By: Alex Young

A newly restored 4K version of Talking Heads' groundbreaking concert film, Stop Making Sense, is being released in theaters later this year. As part of today's announcement, Talking Heads frontman David Byrne retrieves his famous oversized grey suit from the dry cleaner in a newly shared trailer.
Stop Making Sense 2023 comes courtesy of A24, which has acquired the film's worldwide rights and will release it in theaters later this year to coincide with its 40th anniversary. Directed by Jonathan Demme, Stop Making Sense captured the band as they performed at Hollywood's Pantages Theater in December 1983 in support of their fifth album, Speaking in Tongues. The highly choreographed production, unlike anything ever seen in its time, is universally acclaimed and remains the gold standard for concert films four decades later.
Accompanying the film will be a new deluxe edition of its soundtrack, due out on August 18th via Rhino Records. Available digitally with a Dolby Atmos mix of the complete concert and as a 2xLP set, the reissue is mixed by Jerry Harrison and E.T. Thorngren. Notably, the reissue adds on two previously unreleased performances of "Cities" and "Big Business / I Zimbra," as well as unseen photos and new liner notes from the band's four members. Pre-orders are now ongoing.
Byrne has been especially busy as of late. This past weekend, he performed "This Is a Life," his Oscar-nominated contribution to A24's Everything Everywhere All At Once, at the Academy Awards with Son Lux and Stephanie Hsu. He's also providing the music for John Mulaney's upcoming Netflix special, Baby J, and a version of his disco pop musical Here Lies Love is set to open on Broadway this summer.