By Tim De Lisle For Event Magazine
David Byrne
First Direct Arena, Leeds
Rating:

When David Byrne brought his American Utopia show to Britain in June, it was the best gig I'd seen in 15 years. So good, in fact, that I hesitated to see it again.
Could something so sensational ever be repeated? Would an evening packed with surprises be as much fun if you knew what to expect? And would its quirky magic survive the leap from theatres to arenas?
Yes, yes, yes. The chief brainwave from Byrne and his choreographer, Annie-B Parson, was clearing away all the clutter of the concert hall, from the amps to the drum riser, to leave an empty space to play with. And if there's one thing arenas do well, it's empty space. The stage is the same silver box, writ larger still, and flanked by video screens.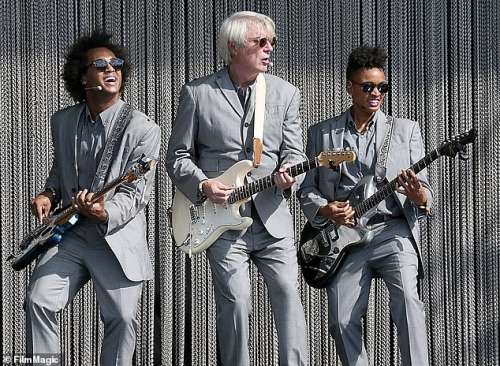 There are still surprises to be sprung, because even the most memorable evening only stays with you as a set of snapshots, and a show this bold can take your breath away all over again. It has audacity to Byrne.
Novelty turns out to be just one of its strengths. Great music doesn't become any less great when we hear it again. And there's still a thrill in the musicians' freedom of movement.
Byrne and his 11-strong band make full use of it, doing little dance routines that are like The Temptations with a twist of Antony Gormley. Never has so much joy been expressed by 12 people in grey suits.
This is not the Byrne of Psycho Killer, itching to unnerve us. It's the Byrne of I Zimbra, Remain In Light and all those Brazilian compilations, the man who once said that the purpose of music was ecstatic release.
He finds it here with a delirious Once In A Lifetime, a delicious This Must Be The Place, a skittish Lazy and a barnstorming Burning Down The House.
The seven songs from American Utopia, the album, are witty and likeable. The nine from Talking Heads are immense, confirming the suspicion that they were the greatest of all the post-punk bands, just pipping The Clash.
The set list ends up even better than last time as Byrne digs out Road To Nowhere, stirring as ever and rather too topical. The Talking Heads fans were hoping for Life During Wartime too, but, even without it, this is some party, this is some disco, this is some fooling around.
It's the kind of evening when the lure of the merchandise stall is hard to resist. Byrne being Byrne, even the merch is quirky. You may never get a better chance to say 'Been there, done that, bought the tea towel'.
There are still, astonishingly, some good seats left for the O2 concert tomorrow. Hope to see you there.