CityFolk Day 2: David Byrne and Co. put on a brilliant show
Via Ottawa Citizen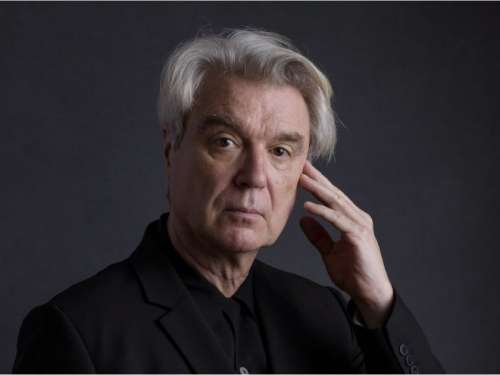 Photo: Drew Gurian / Invision / AP
By Lynn Saxberg
"This is the place in the set where I urge everyone to vote," Byrne said, as American artists do when they're on the road in the leadup to the U.S. midterm elections.
"There's good reason for Canadians to feel a little bit smug," he acknowledged, before adding that he learned about the Ford brothers at a recent show in Toronto. As the audience booed at the mention of the Ford name, he gave some advice: "Don't get too smug."
Politics aside, it was an unconventional and brilliantly conceived concert. Accompanied by an 11-person line of musicians who could also dance and were apparently unfettered by the clutter of microphones, amps or wires of any sort, Byrne was the eccentric , silver-haired genius at the centre of an approximately 90-minute show in which every note and every movement was meticulously choreographed and thoroughly rehearsed, resulting in one constant flow of motion cued to the music.
With everyone on stage on their feet, including half a dozen drummers, and clad in matching grey suits, the effect was part marching band and part modern-dance troupe. It was such a perfect theatrical spectacle that one could be forgiven for wondering if they were performing to the music, instead of actually making the music.
After four months on the road with his American Utopia tour, Byrne has had that question before, repeatedly, it seems, so he devoted a minute or two to assuring fans that, yes, the musicians were really playing their instruments, not just marching around with them. He's also come up with a way to prove it, by introducing each member and their sound individually to show how a song is constructed.
Adding to the dramatic impact of the performance was an inventive lighting design that made terrific use of colour and shadows, with beams that glinted off the dangling chains that served as a backdrop.
Considering the level of preparation that's obviously gone into the show, not to mention the number of times they've performed it in recent months, a lack of spontaneity would be understandable. But that was not the case; the tight playing and impeccable timing gave the music a fresh groove, while Byrne himself crackled with energy. His voice was strong, and he jumped and danced along with his musical entourage.
The setlist included nuggets from Byrne's Talking Heads catalogue like Slippery People, Once in a Lifetime and Blind, as well as material from his latest solo album, American Utopia. One highlight was I Dance Like This and its signature dance moves. To close out the show, Byrne invited opening acts Ani DiFranco and Tune-Yards back to the stage to join his band for a rousing version of the anthem Janelle Monae performed at the 2017 Women's March in Washington.