Coachella 2018: David Byrne debut was as close to a Talking Heads show as you could hope for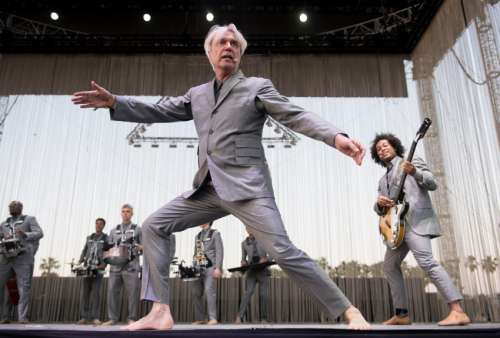 Photo by Kevin Sullivan, Orange County Register/SCNG
By PETER LARSEN
A Talking Heads reunion has always been one of the great white whales of music, out there but unobtainable, for fans in general, and the Coachella Valley Music and Arts Festival in particular.
But as with dreams of a Smiths' return at the desert fest — and before his death, an appearance by David Bowie — it's just not ever gonna happen.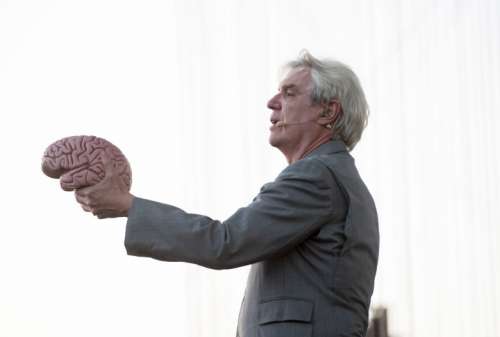 Photo by Kevin Sullivan, Orange County Register/SCNG
So what fans got at the Coachella debut of David Byrne on Saturday night was as close to a Talking Heads show as you could hope for, and it was glorious.
Byrne has always been interested in not just the way his music sounds, but how it is presented. You knew this would be special from the empty stage, surrounded by three walls of beaded chains, and the card table and chair — and large model of a human brain — that sat there awaiting Byrne's arrival.
Byrne slipped through the beads alone, picked up the brain and began to sing "Here," a song off his new album, "American Utopia." Other members of his 11-piece group joined him on it, and then the Heads' classic "I Zimbra," that followed.
All of the performers were dressed in identical light gray suits and shirts. Each carried their own instruments, including six who played drums. Byrne and the singers wore headset mics, creating an environment with no visible gear and the ability for everyone to move around the stage in intricate choreography.
But it's the music that made this such a wonderful hour-long set, and especially the Talking Heads' songs he included: "This Must Be The Place (Naive Melody)," "Once In A Lifetime," "The Great Curve," and "Burning Down The House," which had everyone singing and dancing along.
The new songs are strong and Byrne comes back to Southern California for shows at the Shrine Auditorium in Los Angeles and the Santa Barbara Bowl in August. You should be there.
Before Byrne I caught Brockhampton, a young hip-hop collective, or as one of its members told the crowd, "You are now watching the best (bleepin') boy band in the world."
The group has blown up in popularity in recent months which made Brockhampton's set one of those Coachella moments where the tent, in this case Mojave, can't possibly fit the crowd that wants in. I watched from just outside the entrance and their songs — "Gold" and "Star" were two I caught — were upbeat and fun if a little bit dirtier than your usual boy band fare.
The late afternoon also saw a handful of strong sets from women or female-run bands including the Söderberg sisters, Klara and Johanna, who despite hailing from Sweden do terrific Americana music, Priests, an arty punk band from New York City, and Angel Olsen, whose haunting alt-country sound was lovely as ever.