Coachella 2018: David Byrne Remains a Vital Artist
Via LA Weekly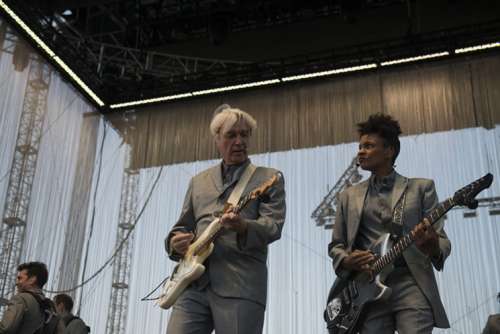 Photo: Shane Lopes
By Brett Callwood
The Talking Heads' 1984 Stop Making Sense is one of the all-time great concert movies. At the peak of their powers, the New York band choreographed a visual performance that matched the set list in that it was strange and quirky and compelling — and it had never been done before.
In that movie/at that show, frontman David Byrne entered the stage with a cassette player and went into "Psycho Killer." As the show progresses and songs are played, more band members join him, and all of the equipment is wheeled in around him. It's not until sixth song "Once in a Lifetime" that the whole band is up there. Going from nothing to everything was stunning.
Making his Coachella debut 34 years later, Byrne didn't quite go that far, but he certainly put in a shit-load of effort. This time, Byrne began the set seated at a table while holding a brain. As he worked his way through the song "Here," a couple of dancers appeared behind him, and the three moved delicately around the stage, with lines like, "As it passes through your neurons, like a whisper in the dark, raise your eyes to the one who loves you, it is safe right where you are" echoed beautifully by their movements.
At the end of that song, a full band entered the stage but there was no equipment to set up Stop Making Sense–style. Here, members of Byrne's solo group have drums and keyboards around their necks. The whole thing is portable. Which makes you wonder if Talking Heads might have taken that approach in '84 had the wireless technology been available.
How much you enjoy Byrne's set will depend entirely on how open-minded you are to his often wonderfully awkward solo work. But then, Byrne fans have to be used to the man being awkward by now. This is a man who has always loved to veer left when he's expected to go right, and vice versa. If there's an easy option, he'll skip it. This can be incredibly frustrating for old Talking Heads fans baying for a reunion (he's not interested) but a godsend for people who enjoy a musical challenge.
Photo: Shane Lopes
It can be easy to forget that Byrne and Talking Heads were born out of the same NYC CBGB's punk scene that also gave us The Ramones, Dead Boys, Television, Blondie, etc. That scene was far more eclectic than it's often given credit for but, while so many of those bands did go the reunion route, Byrne has stuck to his guns. He's only interested in looking forward, doing something new and collaborating with people who excite him, such as St. Vincent and Fatboy Slim.
That said, he did bless Coachella with some Talking Heads classics, notably "Once in a Lifetime" and "Burning Down the House." And he seemed into it, and they sounded great. But damn, there's something so fresh about songs like "Toe Jam," "Everybody's Coming to My House" and the insanely brilliant "I Dance Like This" that somehow eclipses the Heads tunes. The latter, for example, seems like it's about crap dancing but, in fact, is a metaphor about people struggling with their lives.
Synth-pop, punk rock, world music and industrial collide in dramatic fashion, and Byrne had already blown minds before the final song, a cover of Janelle Monáe's "Hell You Talmbout." Byrne and his band standing in a line, chanting the names of black Americans who have been killed by police, introducing the song by saying that it's "more relevant than ever," might well be the festival's most poignant moment.
Decades into his career, David Byrne remains an unpredictable, vital artist. There aren't many who can say that.