David Byrne is back with the pleasant but slightly dull American Utopia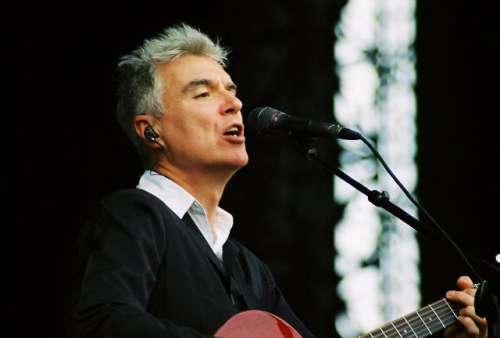 Image: xflickrx via. Flickr
By Alex Kintrea
3.5/5 stars
David Byrne: sharp-dresser, jolty-dancer, paranoid-wailer and leviathan of art-pop. It's comforting to know that such a figurehead is still going strong 25 years after the Talking Heads – his band who defined the sounds of the new-wave movement of the 1980s – broke up.
Since then, Byrne has enjoyed a fruitfully varied musical career, releasing the odd solo venture, developing his own record label, and collaborating with the likes of Fatboy Slim, Arcade Fire and even Brian Eno.
On American Utopia, we see Byrne return to some of his favourite themes: human experience and sensation, our place in the vast cosmos, and existential humanism. Tackling these thematic mammoths is quite the ask for an album which only reels in at 37 minutes, but naturally Byrne hardly bats an eyelid and rattles through the zany track-list, throwing in surprises and familiarities alike, while doing his best to hark-back to his high energy, frenetic dance days.
The joyous, religious chants on 'Every Day is a Miracle' instruct the listener to see the world from a new perspective, asking what heaven may look like to a chicken or what the Pope may mean to a dog. But the gospel influence is short lived, as Byrne steers the album into unforeseen territories.
The album soon becomes excessively mercurial; 'This is That' has an awe-filled piano-harpsichord and a strange ethereal backing which gives the song a rich psychedelic feel, for example, and 'It's Not Dark Up Here' has the air of a song you might find on mid-career Talking Heads records.
Similar to Byrne's imposing quiff, whose locks of jet black have transformed into a silvery hue, the style of his uniquely experimental vocals and musicality can't help but display unwanted ageing, however. His shrieks sound just ever-so-slightly tired, or even strained. It's especially noticeable on the opening track, where Byrne struggles to find the energy to match the heavy, almost industrial warps of the chorus, and 'Bullet' which at times sounds like a bored David Bowie impersonator.
Apart from these dull moments Byrne presents a sweet album, whose generally bouncy, yet reflective feel makes for some quirky listening as the days get longer and the sun rises into glorious spring.