David Byrne delivered a masterfully artistic performance at the Kauffman Center last night
Via The Pitch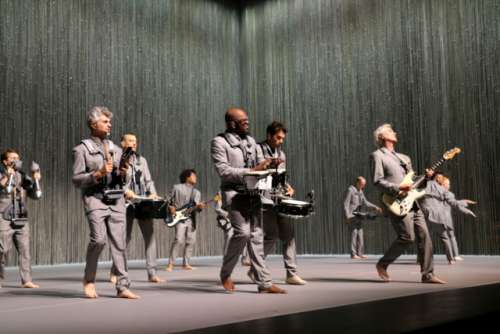 By Nick Spacek
Before David Byrne's show last night at the Kauffman Center for the Performing Arts, birdsong filled the theater, part of a nature sounds recording. For the 1,750 of us lucky enough to nab a ticket, it offered a peaceful contrast to the usual before-show music. And it preceded one of the most artful performances I've attended in my two-and-a-half decades of going to shows.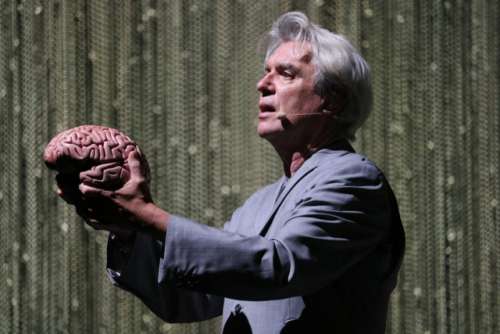 Byrne arrived onstage alone. Seated in a simple chair and holding a replica human brain, he performed "Here," a track from his latest record, American Utopia. Gradually, he was joined by a pair of dancers singing backup. As the set progressed, the rest of the band would join him.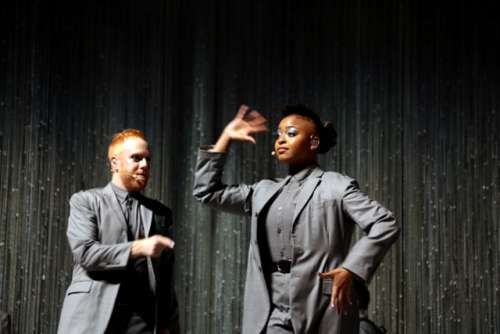 Byrne's show is, he's said in interviews, influenced by Jonathan Demme's seminal Talking Heads concert film, Stop Making Sense, and it's readily apparent in the staging — one man, alone on stage, with a band slowly taking shape around him. Interestingly, though, the band in Stop Making Sense appears around Byrne, but also behind him, whereas this show sees Byrne in the thick of a constantly moving, dancing, and performing group.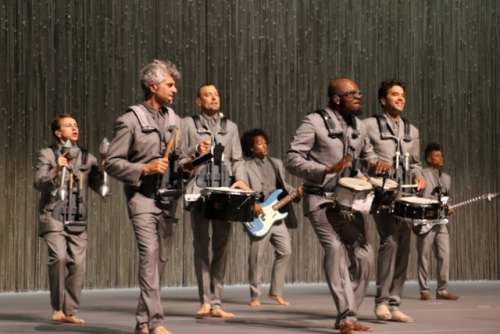 There are, to be sure, quite a few Talking Heads songs within the set. "Slippery People" had hands lifted and people singing along with the line He's alright; the gentleman in the second row exhorting people to their feet as "This Must Be the Place (Naive Melody)" kicked off was basically wasting his time. While Byrne's songs with St. Vincent and Fatboy Slim ("I Should Watch TV" and "Toejam," respectively) were well received, "Once In A Lifetime" and "Burning Down the House" had the sold-out crowd dancing as one.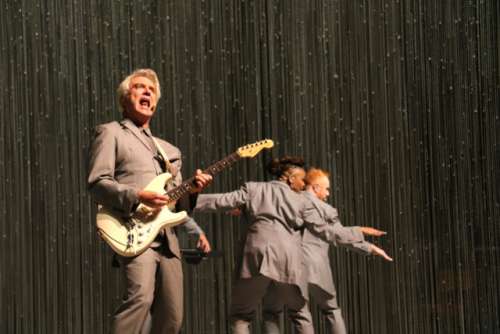 Hell, even the music critics — four of us locals were seated next to each other — were dancing. We're jaded as fuck by this point, and it's still a toss-up as to who was hooting and hollering the loudest during the show. The "Come on — get up!" shouts weren't needed. We were already up.
The show was at times political. After "Dog's Mind," an American Utopia track that begins, The judge was all hungover/ When the president took the stand/ So he didn't really notice/ When things got out of hand, Byrne spoke to the importance of voting. Headcount, an organization that uses music to engage American voters, was along for the tour, registering people to vote in the lobby.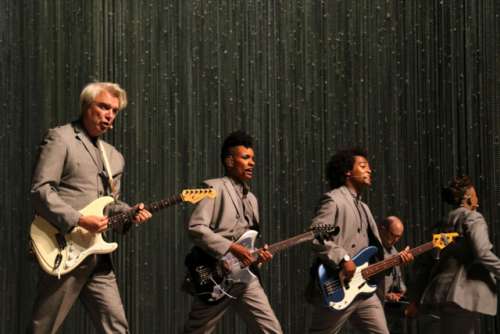 The show concluded with a cover of "Hell You Talmbout," by Kansas City's own Janelle Monae. The song recites the names of various African Americans who have died at the hands of law enforcement. In Byrne's hands on Thursday, with a chorus of drums and voices behind him, it rolled out into the crowd like a big, messy wave of anger, catharsis, and frustration. It didn't end the show on a low note — the song's too good for that — but it did hammer home the idea that the show we had experienced was about more than just having a good time. There was substance. There was purpose.
David Byrne setlist
Here
Lazy
I Zimbra (Talking Heads)
Slippery People (Talking Heads)
I Should Watch TV (David Byrne & St. Vincent cover)
Dog's Mind
Everybody's Coming to My House
This Must Be the Place (Naive Melody) (Talking Heads)
Once in a Lifetime (Talking Heads)
Doing the Right Thing
Toe Jam (Brighton Port Authority cover)
Born Under Punches (The Heat Goes On) (Talking Heads)
I Dance Like This
Bullet
Every Day Is a Miracle
Like Humans Do
Blind (Talking Heads)
Burning Down the House (Talking Heads)
Encore:
Dancing Together
The Great Curve (Talking Heads)
Second Encore:
Hell You Talmbout (Janelle Monáe cover)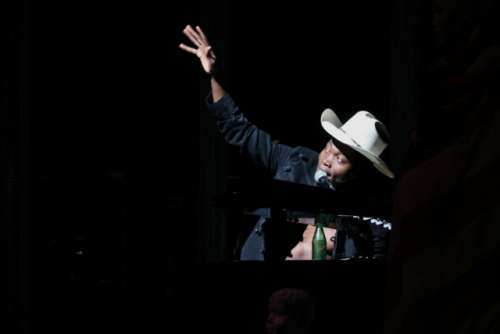 British soul singer-songwriter Benjamin Clementine opened with a set as minimal as Byrne's set was choreographed. He emerged tapping a piece of metal against the side of his microphone, the clanking echoing throughout the theater. He then sat down at the piano and played a short but intense set of songs, backed only by a bass player. His music was powerfully delivered, with the bass providing a dissonant counterpoint to Clementine's melodic voice.